Waikiki: the word is magic. Say it and images of a Hawaiian vacation with swaying palm trees, Diamond Head, a two-mile stretch of white sand beach and the crystal clear waters of the blue Pacific come to mind. Even if you've never been here, you've probably seen movies, television shows and magazines about Waikiki Beach, with flickering tiki torches, beautiful girls dancing the hula and the sound of slack key guitars. It is a place recognizable around the globe.
While Waikiki is all that, it is also the host to over seven million visitors a year and has a wide variety of Hawaii hotels from budget to luxury, shopping and restaurants of every cuisine possible. Waikiki is well defined, with a canal on one side, the ocean on the other and parks at each end. The beach is where most residents and tourists learn to surf with its gentle waves from beach boys. A short distance away is Diamond Head, where you can hike to the top from the crater floor for spectacular views of the reefs that surround Waikiki Beach. You can also visit the Honolulu Zoo and the Aquarium in Kapiolani Park or take in a concert at the bandstand in the park on Sundays.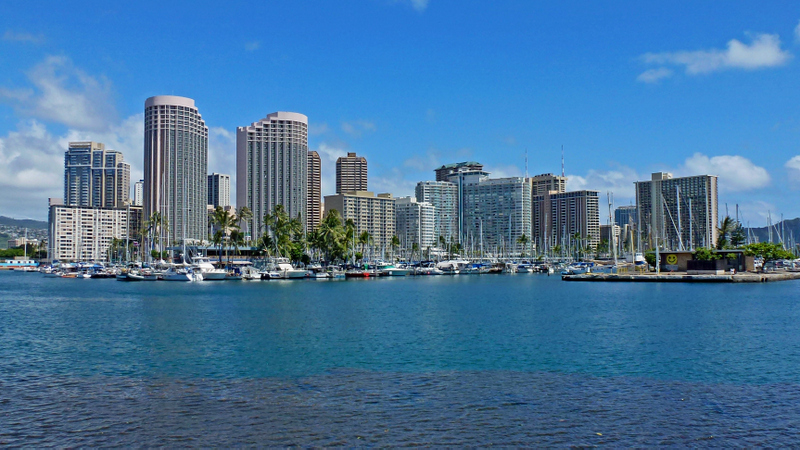 If you want a perfect Waikiki Beach vacation or a discount Hawaii vacation package, let our experienced agents help you. They are in the perfect position to do so, since Panda Travel ® is Hawaii's largest, award winning, locally owned and operated travel agency. We have been selling travel in Hawaii for over 35 years, helping thousands of customers each year. Through our website, Panda ® Online, you can easily use our quick-search tools to help you find great airfares, hotels and cars, which, when packaged together, can often times save a you a lot of money. So search online, or call one of our local experienced agents to help you find and choose among the many Hawaii travel deals for your own unforgettable Waikiki Beach vacation.