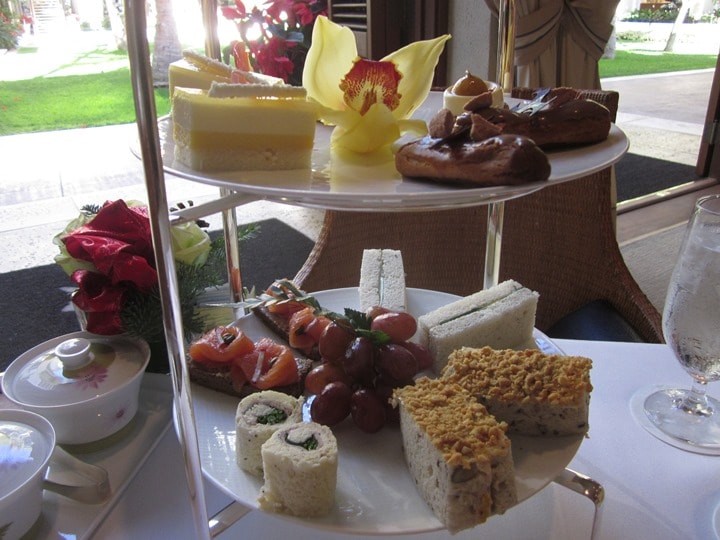 In the heart of Hawaii's busiest island of Oahu, Honolulu has a wide range of memorable restaurants. While the brunch options are virtually endless when you are vacationing in Hawaii, here are a few of the most notable classic or award-winning places to enjoy a scenic and delightful morning meal with your loved ones while staying in Hawaii's capital city.

Beach-front Dining with Matchless Views:  The Hau Tree Lanai at New Otani Kaimana Beach Hotel offers one of the best places to dine on exquisite brunch foods. The outdoor patio fronts the beach and has a landmark hau tree overhanging the restaurant's tables for maximal ambiance. The brunch menu (available from 7 am to 10:45 am) provides classics like taro pancakes, crab eggs benedicts, Hawaiian French toast with macadamia nuts and seafood omelets. Juices like fresh papaya, strawberry, orange, guava, lime and papaya makes this a stand-out restaurant.

Waikiki All-day Brunch and Bar: The famous Pancake Challenge was filmed on the Travel Channel's Man vs. Food show in 2009 at Mac 24/7. This restaurant still offers the same menu items as seen on the show, including The Elvis (pancakes, bacon, banana and peanut butter) and Cinnamon Streusel with vanilla glaze. They serve flavorful drinks like plantation iced tea and shakes and smoothies as well as creative plates like the bourbon red velvet pancakes, banana foster praline pancakes, freshly-baked muffins, grilled peaches, eggs any style and a long list of healthy breakfast menu items. The best part is, if you are out for a tropical cocktail, but are craving breakfast, brunch isn't limited to a late morning cutoff.  At Mac 24/7 breakfast foods are served around the clock, just as the title suggests.
Endless Brunch Buffet Options: Sunday brunch is served at Hawaii Prince Hotel's Prince Court from 10 am to 1 pm. Though the menu items tend to fluctuate, guests can find an assortment of items like guava and passion fruit juice, bacon and spinach omelets, freshly baked pastries, make-and-decorate waffle stations, fresh sushi stations and even a salad and soup bar for those who want a little less sugar to start their day. However, there are a handful of rich desserts for those who enjoy a sweet splurge on the weekend. The regular breakfast menu is available every other day of the week and is served from 6 am to 10 am.
French Countryside Brunching: Cream Pot is the perfect location for a dreamy brunch, with its European-feel garden ambiance. Replete with spring flowers, this warm and inviting restaurant serves scrumptious plates like their French rolled omelets, baked eggs, citrus salads, strawberry waffles, blueberry crepes, biscuits and gravy, fruit smoothies and French toast. Cream Pot is suitable for both early and late risers as it is opened Wednesday to Monday from 6:30 am to 2:30 pm.
Award-winning Brunch: The Halekulani Hotel's Orchids restaurant has been the winner of the Honolulu Magazine's Gold Award for best brunch and offer scenic views of Waikiki Beach and Diamond Head. Guests can choose from traditional American brunch plates, continental breakfast or the Japanese breakfast classic with broiled fish, soft boiled eggs, miso soup, oshinko (pickled vegetables) and okayu (rice porridge). There are also unique options such as the numerous smoked meats and fish, omelets, haupia bread French toast, quinoa carrot cake and the Halekulani's signature popovers which have been served since 1917. The Sunday brunches are world-class and are known across the city as one of the most elegant places to dine on the weekend. In addition to tasting the fine cuisine at one of Hawaii's most prestigious restaurants, guests can enjoy being serenaded with live music every Sunday morning.

Resort Dining with Ocean Views: The award-winning Plumeria Beach House restaurant at the Kahala Hotel & Resort serves brunch on a stunning outdoor patio where fresh breezes blow from the ocean. Breakfast is served from 6:30 am to 11:30 am on weekdays and from 6:30 am to noon on weekends. The menu offers everything from ornate omelet combinations to French toast topped with their signature maple butter, buttermilk pancakes, cereals, waffles and crepes. Guests can enjoy papaya and grapefruit sides, acai smoothies, yogurt and a variety of delicious tropical drinks for the adults. Kids under 5 years enjoy brunch for free.
Award-winning Quaint Cafe: At the Café Kaila brunch foods are served until the restaurant closes at 3 pm. Guests can try topping pancakes and Belgian malted waffles with caramelized apples or fresh berries or sip Kona coffee while enjoy piping hot frittata, lox and eggs, breakfast wraps, bagels or breakfast quesadillas. All the items are made from scratch, including the muffins, scones, banana bread, and French toast. There is no doubt why this amazing restaurant won the 2015 Hale Aina Award for best breakfast.
Classic Waikiki Beach Restaurant: Before heading out to the aqua waves, start the morning off with the most important meal of the day at the historic Royal Hawaiian Hotel's Surf Room. Here you can dine right against the sands at Waikiki Beach on gourmet dishes like prime rib au jus, veal and omelets with lemon caviar cream, exotic fruits and endless options from the extensive buffet. Not your average Sunday brunch menu, the Surf Room is well-suited for a special occasion.
Cozy Family-style: The brunch menu items at Sweet E's Café at Kilohana Square are served all day, offering delectable dishes such as spicy Portuguese sausage, breakfast burritos, kalua pig sliders and build-your-own omelets. One of the most endearing features of this restaurant (for those who appreciate creativity) is that every menu item is described by some adjective beginning with the letter "e." Here're examples on the menu:   Extreme Mess of Eggs, Elated Pancakes, Elegant Waffles, Enchanting French Toast, etc.
Lavish Brunch Served until Evening: Capitalizing on the trend that breakfast foods are being enjoyed throughout the day is why Yogurstory serves brunch until 5 pm daily. The luxurious list of decadent items is enough to make anyone's mouth water and the prices are all affordable. From a thick stack of purple-hued Filipino ube pancakes to oreo waffles with chocolate mousse or dulce de leche waffle topped with caramelized banana and pretzels, you may not have any room for the savory prime rib loco moco or the classic eggs benedict. There is also guava, pineapple, passion fruit or raspberry lemonade juice to wet your whistle.