Vacation Packages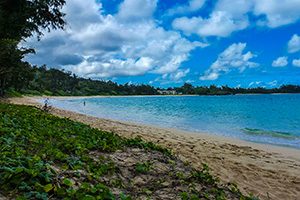 Hawaii Family Vacations
Our Hawaii family vacations start at $543 per person, double occupancy.* They're a great way to spend quality and uninterrupted time with family. It doesn't matter whether your family is comprised of two people or you plan an excursion with your extended family. Panda Travel ® can help make the most of your budget for your upcoming trip to Hawaii no matter how big or small.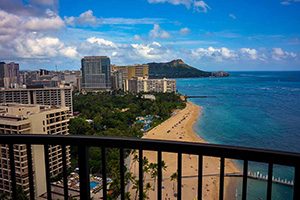 Hawaii Resort Vacations
Hawaii resort vacation packages, combining air and hotel, start at $943 per person, double occupancy.* There are no shortage of resorts in Hawaii. But finding the right one for your specific needs can be challenging and that's where Panda ® comes in. With decades of experience, Panda ® can help you select the right resort for your vacation.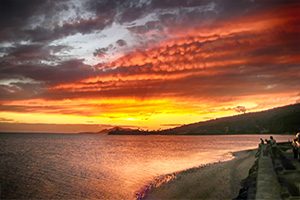 Luxury Hawaii Vacations
Our Hawaii luxury vacation packages range from $943 to $1,537 per person, double occupancy*. Hawaii is one of the most ideal vacation destinations in the world. As a result, there is certainly no shortage of luxury and opulence if that is the type of vacationing you prefer. Check out our Panda ® Online website to plan your dream vacation.
The Island of Lanai
Lanai, charmingly known as the Pineapple Island, is the smallest publicly accessible Hawaiian Island. With only one small town and a tiny airport, people once only knew it for its pineapple plantation. However, the island of Lanai has become a beautiful retreat for travelers looking to enjoy blissful solitude. Lanai now offers luxurious hotels, diving, whale-watching, horseback riding and world-class golfing.
Lanai Facts
The island of Lanai is roughly 18 miles wide at its furthest points and covers a total of 140 square miles. It faces Molokai across the Kalohi Channel and Maui across the Au'au Channel. There are only about 3,100 inhabitants. Many of the island's roads are unpaved.
Lanai History
King Kamehameha I had his favorite fishing place on the island. Settlers like Walter M. Gibson attempted to make it a Mormon colony in the 1870s and later a sugar plantation. But neither succeeded. But not until James Dole purchased most of the island and grew pineapples did the land become productive. He made it a part of the Hawaiian Pineapple Company, now Dole Food Company. In 1985, businessman David Murdock took control of the island. This was done as part of an acquisition of Castle and Cooke Corporation, which at the time owned Dole Foods.
Larry Ellison

Billionaire Larry Ellison, CEO of Oracle, purchased most of the island for $300 million in 2012. Ellison  reconstructed much of the hotel space to be the first economically viable, 100% green community. In addition to owning the land, Ellison owns the island's hotels. This includes two Four Seasons Hotels, the Four Seasons Resort Lanai and the Lodge at Kōʻele. Ellison also owns the historic 11-room Hotel Lanai.

Attractions on the Island of Lanai

Lanai City
This is the only town on the island and is just a few miles north of the small airport. It's a laid-back, idyllic town dating back to the turn of the century, reminiscent of the 1920s. There's a town square at Dole Park and one school, covering elementary to high school grades.
Garden of the Gods
Keahiakawelo or Garden of the Gods is a natural rock garden just a 45-minute drive from Lanai City. This is an expanse of deep red rock formations with some of the best views of the island. But visitors should be warned, stacking or stealing any rocks from this area is strictly kapu or prohibited. Moreover,  there is the legend in Hawaii that you might be forever cursed if you do. So why take a chance?
Shipwreck Beach
Shipwreck Beach stretches on for around 8 miles with various wrecks along the shallow coast. Among them are the remains of a 1940-era oil tanker, the most predominant wreck here. Although this is an eerie place, it is well-worth visiting. Be advised, swimming is not recommended here. And like many of the attractions in Lanai, driving to them requires a 4-wheel drive vehicle.
Lanai Golf
Golf on Lanai is definitely world class. Many consider it to be among the best places to golf in Hawaii. Some of the biggest name in golf designed two of the island's golf courses. The Challenge at Manele is a Jack Nicklaus-designed facility above scenic Hulopoe Bay. The Experience at Kōʻele is the island's other equally outstanding golf course. Greg Norman designed it on a hilly and challenging layout. For those who just want a relaxing and casual round, there is also the Cavendish Golf Course. It's a public 9-hole facility. Plus, you can't beat the price at Cavendish, because it's free.
Hulopoe Beach
Many know Hulopoe Beach not only as one of the best beaches in Hawaii, but also in all of America. Guests of the Four Seasons Resort Lanai at Manele Bay enjoy backyard access to the pristine bay. It's ideal for snorkeling, swimming and exploring the tide pools. Even day-trip visitors can make the most of the sun, surf and sand. This is because there are public picnic tables, barbeques, showers and restrooms on site. To give you a sense of its desirability, Bill Gates of Microsoft chose this location for his wedding in 1994.
Kaunolu Village
Kaunolu Village is the location hailed as King Kamehameha I's favorite fishing spot. Also nearby is Kahekili's Leap, a cliff 60 feet over the water. Here, warriors would display their courage by jumping from the heights into the ocean below.
Pu'u Pehe
Pu'u Pehe or Sweetheart Rock is a prominent rocky landmark. The waters around the jagged edges of this monolith are fairly shallow. Tragedy surrounds this solemn place. A young warrior named Makakehau buried his lost love long ago on top the rock, before jumping to his death. Pu'u Pehe is only a short hike from the Four Seasons Resort Lanai at Manele Bay. It's a breathtaking place to visit on the island of Lanai.
Awards & Affiliations