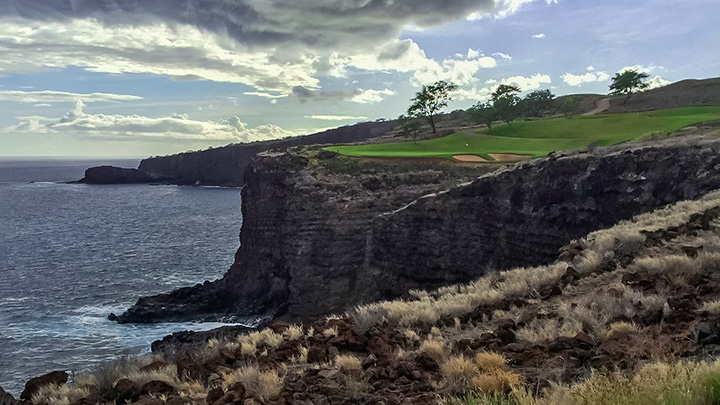 Lanai, charmingly known as the Pineapple Island, is the smallest publicly accessible Hawaiian Island. With only one small town, no traffic lights and a tiny airport, the remote island was once best known for being a pineapple plantation. However, Lanai has become one of the most beautiful retreats for travelers looking to enjoy blissful solitude, a few luxurious hotels and an abundance of delightful activities such as diving, whale-watching, horseback riding, hiking, four-wheeling and golfing on one of its world class courses. Acquaint yourself with this unique island through our list of facts and attractions below.
Lanai Facts
The Island of Lanai is roughly 18 miles wide at its furthest points and covers a total of 140 square miles. It faces the island of Molokai across the Kalohi Channel and the island of Maui across the Au'au Channel on the eastern side of the island. There are only about 3,100 inhabitants and many of the quaint island's roads are unpaved.
As legend goes, a Hawaiian prince from Maui was once banished to Lanai, which was considered haunted before the prince chased the spirits away. King Kamehameha I is believed to have had his favorite fishing place on the island. Settlers like Walter M. Gibson had attempted to make it a Mormon colony in the 1870s and later a sugar plantation, but neither succeeded. But not until James Dole purchased most of the island and made it a part of the Hawaiian Pineapple Company, now Dole Food Company, did the land become productive. In 1985, businessman David Murdock took control of the island as part of an acquisition of Castle and Cooke Corporation, which at the time included Dole Foods.
Billionaire Larry Ellison, CEO of software giant Oracle, purchased most of the island for $300 million dollars in 2012. Ellison is on the move to reconstruct much of the hotel space to be "the first economically viable, 100% green community." In addition to owning the land, Ellison owns all the hotels on the island and is reconstructing the two Four Seasons Hotels, the Four Seasons Resort Lanai and the Lodge at Kōʻele, to become more lavish and energy-efficient. Ellison also owns the historic 11-room Hotel Lanai as well as Island Air, one of two interisland air carriers that services Lanai. With these forthcoming improvements to the hospitality industry in Lanai, tourism to island is expected to increase substantially, and if you and your family members are considering a trip to Hawaii, you won't want to miss out on the Pineapple Island.

Lanai Attractions
Lanai City is the only town on the island and is just a few miles north of the small airport. Lanai City is a laid-back, idyllic town dating back to the turn of the century, sweetly reminiscent of the 1920s. There is a town square at Dole Park and one school, established in 1938, covering elementary to high school grades.
Keahiakawelo or Garden of the Gods is a striking natural rock garden is located just a 45-minute drive from Lanai City. There is a great expanse of deep red rock formations and some of the best 360 degree views of the island. But visitors should be warned, stacking or stealing any rocks from this area is strictly kapu (i.e., prohibited). Plus, there is the legend in Hawaii that you might be forever cursed if you do; so why take a chance?
Shipwreck Beach stretches on for around 8 miles and is littered with various wrecks along the shallow coast. Among them are the remains of a 1940-era oil tanker which is the predominant wreck that you can see here. Though this is an eerie place, it is well-worth visiting. Be advised, swimming is not recommended here, and like many of the attractions in Lanai, driving to the sites requires a 4-wheel drive vehicle to get there.
Golf on Lanai is definitely world class and many consider the island to be one of the best places to golf in Hawaii. Two of the island's golf courses were designed by some of the game's biggest names. The Challenge at Manele is a Jack Nicklaus-designed facility situated above scenic Hulopoe Bay. The Experience at Kōʻele is the island's other equally outstanding golf course, which features a hilly and challenging layout designed by Greg Norman. For those who just want a relaxing and casual round there is the Cavendish Golf Course, a public 9-hole facility. Plus, you can't beat the price at Cavendish because it's free.
Hulopoe Beach has been rated not one of the best beaches in Hawaii, but one of the most beautiful beaches in America. Guests of the Four Seasons Resort Lanai at Manele Bay get to enjoy backyard access to the pristine bay, which is ideal for snorkeling, swimming and exploring the tide pools. Even day-trip visitors can make the most of the sun, surf and sand, since there are public picnic tables, barbeques, showers and restrooms on site. To give you a sense of how desirable this place is, Bill Gates, the founder of Microsoft, chose this location for his wedding back in 1994.
Kaunolu Village is the location hailed as King Kamehameha I's favorite fishing spot, where there is also a cliff called Kahekili's Leap which plummets nearly 60 feet to the water. Here in the royal fishing waters, would warriors display their courage by jumping from the staggering heights into the ocean below.
Pu'u Pehe, also known as Sweetheart Rock, is a prominent rocky landmark. The aqua waters which circle the rough edges of this monolith are fairly shallow. Tragedy surrounds this solemn place, since a young warrior named Makakehau buried his lost love long ago on top of the rock, before jumping to his death. Pu'u Pehe is only a short hike from the Four Seasons Resort Lanai at Manele Bay and is a breathtaking place to visit on your trip to Lanai.