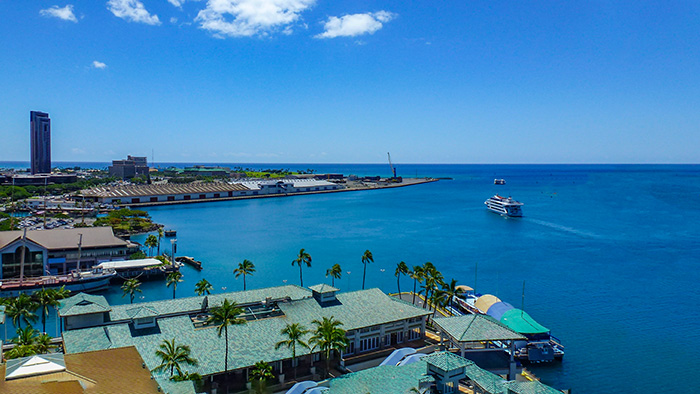 As the evening approaches, the Star of Honolulu glides over serene blue waters into the breath-taking horizon while fluffy white clouds turn to pink and fiery red in the setting sun.  You and your family will be taken on a stunning journey across the Waikiki coastline while watching skilled entertainers dance and sing, enjoying a gourmet meal and indulging in the beauty of a Hawaiian sunset on the water.
The Star of Honolulu Dinner Cruise has a variety of dining options available tailored for your specific preferences.  From casual and delectable 3-course cuisine to a lavish 7-course meal of French finery, there is not a mediocre menu item on the list.  All options include coffee and tea, dinner, cruise fee, entertainment and at least one alcoholic beverage.  The excursion time is usually a total of 4.5 hours.
Let Panda Travel ® help you bring your Hawaiian vacation to a dynamic and euphoric close.  Time will stand still as you savor every last moment aboard the Star of Honolulu.  Whether you are spending your honeymoon in Hawaii or planning a rehearsal dinner for your wedding or simply enjoying quality time with family and close friends, there is nothing more bonding the breaking the finest bread together in a tropical Hawaiian paradise.  Cherish these memories forever on this unforgettable sunset cruise!  We are happy to help you book any of the dining options, including any amenity or special arrangements you'd like to add to this travel package.  Contact us today toll-free at (800) 303-6702 to see how we can make your Hawaiian vacation the best holiday you have ever had.