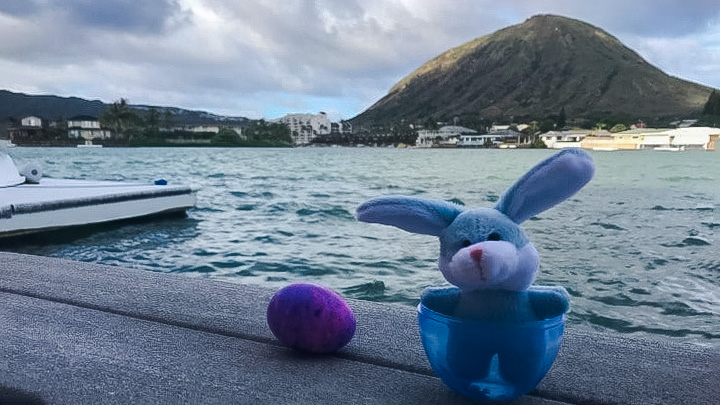 Spring is a season of new beginnings, fragrant flowers and sunny weather, making it the perfect time to plan a vacation to Hawaii. Whether you escape to the islands in early March or late May, there are ample exciting activities and events for families and groups of friends to enjoy.  From Easter bunny sightings to garden egg hunts, beach sunrise services, traditional Hawaiian festivals or open-air concerts, take a glance at the list below to see what things are happening in Hawaii in the spring.
Spring Events
The Merrie Monarch Festival occurs the week following Easter and is hosted on the Big Island in Hilo.
This classic festival has been honoring King David Kalakaua and Hawaiian culture annually since 1963. Here people can witness authentic hula dancing, listen to traditional music, taste Hawaiian delicacies and make Hawaiian crafts. Those that enjoy hula can attend what many feel is the world's most prestigious hula dance competition on this merry occasion.
Vacationers on Oahu should visit the Hawaiian Theatre Center for an entertaining night on the town. The events during this time of year often include fashion shows, theatrical performances, orchestras, hula dance recitals and local band concerts. There are also a number of other notable festivals and fairs for all ages on Oahu in the months of April and May. These include the Annual Sweet Onion Festival, Creations of Hawaii Pet Festival & Fair, the Waikiki Art Fest (which takes place in May) and the Recollection of Art and Dance Hali'a Aloha event which consists of hula dancing, concerts as well as craft and local food vendors.
There are a handful of fun family oriented events in Oahu this spring, including the Mauka to Makai Environmental Event and Exposition where kids can learn about appreciating as well as protecting the ocean. In mid-April there is also an Art Night at the Salvation Army's Kroc Center in Ewa Beach where you can celebrate spring by painting and print-making together as a family.
The months of March, April and May are filled with fairs, crafts, art nights and Hawaiian cultural events on Kauai and the Big Island. Visitors to the Big Island can kick off springtime by signing up for family fun-runs, 5K runs and walking tours at the Hawaii Volcanoes National Park. Kauai visitors during this time of the year can enjoy open air slack-key guitar concerts, the Kauai Fashion Week shows, spring lei-making workshops and the Kauai Art Tour event.
Maui hosts the yearly East Maui Taro Festival near Hana that highlights Hawaii's use of taro along with food, entertainment, crafts and free general admission. In Early April, Maui-dwellers celebrate the Agricultural Festival and the Celebration of Arts Festival. In mid-April there is the Annual Haiku Ho'olaulea and Flower Festival where local Hawaiian flowers are displayed.
Traditional Easter Celebrations
Oahu is the place to be on Easter Sunday as there are activities, events and services galore. Kick the week off by taking Easter Bunny photos at the Kahala Mall. Take the kids for an Easter Egg hunt at the Windward Mall or at Kapolei Commons where children can get their faces painted, do arts and crafts, play games and hunt for eggs. For a greater challenge, go to Gunstock Ranch where there are over 8,000 hidden bight candy-filled eggs as well as petting zoos and pony rides. Or escape for a romantic getaway on the Star of Honolulu where you can savor an Easter Champagne Brunch Cruise with the one you love. Honolulu has a plethora of locations and events where groups visiting Hawaii can enjoy unforgettable island Easter festivities.
Spending Easter in Maui can involve egg hunting at the Lahaina Animal Farm, cycling at the Bike Park in Makawao to find Easter eggs or attending the Maui Mall's Annual Easter Eggstravaganza, which is a must-do for children. Families can also book Easter brunches which are offered at most resorts and hotels.
Kauai has Easter egg hunts at the local farmer's markets and family brunches at The Garden Café in Kilauea as well as numerous friendly church services to attend. Molokai celebrates Easter for every age with the popular Lions Club real-egg hunt and with the King's Chapel Molokai hunt where thousands of eggs are hidden at Kaunakakai Park.
Easter Church Services
One of the most popular and well-attended services has been celebrated for over a century, at Annual Easter Sunday Service held at the National Memorial Cemetery of the Pacific at Punchbowl crater on Oahu. Here local and visiting Christians can gather at sunrise to commemorate Jesus' resurrection. The service is accompanied by local bands and choirs and thousands of congregants. There are also numerous Easter services at various beach parks throughout the island that feature ocean baptisms.
Other notable sunrise services are Maui's Keawala'i Church in Makena and Hope Chapel in Kihei which offer Good Friday and Easter services. Kauai also holds Easter church services at over 20 locations. The Big Island celebrates Easter with sunrise services overlooking the water at Living Stones Church at Royal Poinciana along with countless other Christian church services throughout the island. The island of Molokai also has Easter services at the Kualapu'u Community Center and at St. Damien of Molokai Church.
Wherever you find yourself this spring, Hawaii promises to delight both residents and visitors with its vibrant and artistic events, exciting festivals and Easter services for Christians. Spring is the best season to feel at home while on your Hawaiian vacation in paradise.