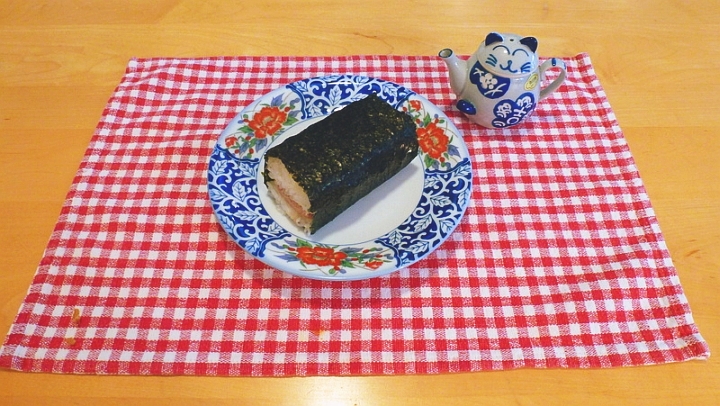 For those who have never tasted Spam, or have less than positive presuppositions about Spam, it may seem difficult to understand why the people of Hawaii enjoy it so much.
A Look at the Past
More than just a trendy meat, Spam has a history with Hawaii that started in the 1940's.  After the attack at Pearl Harbor launched the American involvement in World War II, there was an increased military presence in Hawaii.  On the heels of the Great Depression, sufficient quantities of meat were hard to come by, and the troops needed a consistent supply of rations with a long shelf life.
Spam, supposedly short for "spiced ham," was introduced in 1937 when the Hormel Foods Corporation developed a luncheon meat product created from pieces of pork, salt, water, potato starch, sugar, and sodium nitrite.  Intended for the US military, Spam was shipped by Hormel Foods to Allied troops at a quantity of 15 million cans per week.  According to the Spam official website, more than 100 million pounds of this version of luncheon meat were shipped to soldiers from 1941 to1945.
Because of Spam's history, many from the US mainland have looked down on this luncheon meat as something you only buy because you can't afford anything else.  Names that match the product's supposed acronyms have been invented for it such as:  special army meat, special processed American meat or shoulders of pork and ham.  Spam even was teasingly highlighted in a 1970 Monty Python comedy sketch.
Despite the negativity, since the first appearance of Spam on the Hawaiian Islands, kama'ainas (long-time residents) have developed a genuine and lasting appreciation for this product. Whatever the reason, be it heritage or taste preference, it is clear that many residents of Hawaii love Spam. There are a number of other competing brands; but the good people of Hawaii overwhelmingly choose Spam as their preferred luncheon meat product.
Favorite Spam Recipes
Probably the most popular Spam dish in Hawaii today is the Spam musubi. A musubi, which is Japanese for "rice ball," is similar, but definitely not the same as a sushi, which is a distinction not often appreciated by the uninitiated.  In the case of a Spam musubi, a slice of fried Spam is placed on rice– molded into a rectangular shape matching the dimensions of a sliced Spam–and then wrapped in a sheet of nori (dried seaweed).  There are even other ways to jazz-up a Spam musubi:  the Spam can be marinated in teriyaki sauce; the rice can be seasoned with furikake (a Japanese rice garnish); and/or it can be accompanied with a thin slice of scrambled egg positioned between the rice and Spam. These combinations create an even more delicious way to eat this local dish. While many are made at home, Spam musubis are also readily available at many local convenience stores and other establishments that offer fast foods.
Fried rice with Spam is also a popular local favorite. This dish is made by first slicing and then frying the Spam.  Then one should add and fry white rice with the Spam, season it with pepper, soy and/or oyster sauce and then add vegetables, sliced green onions and scrambled eggs.  It's a fairly easy and fast dish to make, especially when you have leftover white rice at home.  Fried rice with Spam can be also be found and savored at many local diners and cafes.
Spam for breakfast, with fried eggs and plain white rice, is the island equivalent the popular mainland dish of sausage, eggs and hash browns.  In addition to being able to order it for breakfast in many local diners and cafes, you can even order breakfast combinations featuring Spam at McDonald's and Burger Kings throughout Hawaii.
A bento is the Japanese word for "box lunch." Because Japanese culture has had a heavily influence in Hawaii, it's not surprising that bentos are very popular for lunches and dinners and are served at many fast food establishment and convenience stores throughout the Aloha State. A typical bento box lunch typically consists of fish, chicken or some kind of meat, and maybe a side dish, on a bed of rice. A good many number of bentos include fried Spam as one of their choices of meat.
One of Hawaii's most popular comfort food is saimin, which is Hawaii's equivalent of ramen, a Japanese noodle and soup dish. Like ramen, saimin can be eaten made from scratch at local diner; but it is also available in many store-bought instant varieties. Whatever the case, whether fresh-made or pre-made, many residents in the Aloha State, garnish their saimins with slivers of tasty fried Spam.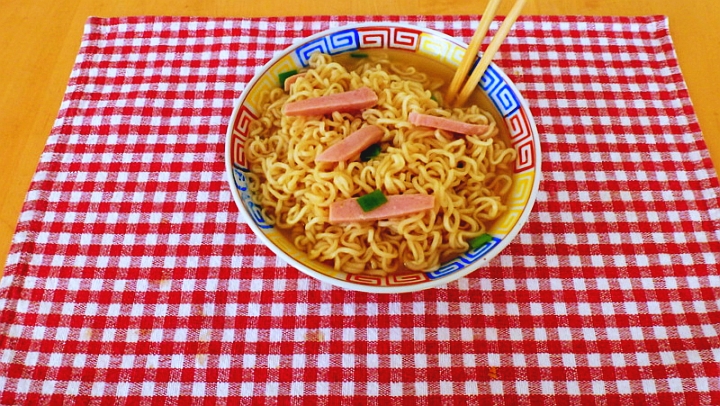 Celebrating Spam
Hawaii celebrates Spam with a popular festival that takes place in Waikiki on Oahu, one Saturday in April or May each year.
The Waikiki Spam Jam celebrates the beloved Hormel Foods' product, with a street festival that has been rated as one of the top food events in Hawaii. Though not long in duration (the event lasts from 4:00 pm to 10:00 pm), it is an enjoyable family-friendly experience for kama'ainas and malahinis (tourists) alike. Nearly 25,000 people attend the event every year, and Kalakaua Avenue, Waikiki's main thoroughfare, is blocked off so people can meander and enjoy the festivities.
Tents selling Spam-themed goods provide a fun atmosphere for shoppers to purchase paraphernalia such as shirts, shorts, balls, slippers, etc.  Hawaiian craft-booths are a great addition for children attending, and the stage performances are free of charge.
The two stages host live shows through the festival, and several popular Honolulu restaurants offer Spam-centered dishes.  Some inventive creations you can find are:  Spam-burritos, Spam and curry, Spam lettuce wraps, Spam pancake sliders, Spam and macadamia nut sundaes, and even peanut butter ice cream with candied Spam on top.  For those who want a truly varied sampling of Spam dishes, this festival proves to be an experience you do not want to miss.
Spam has become popular not only in Hawaii, but also in Guam, Korea, the UK and is now an established and well-known meat world-wide.  In 2012, Hormel Foods celebrated the 75th anniversary of the creation of Spam, and has reportedly sold over 7 billion cans since its humble beginnings in 1937.
For more interesting facts about Spam, visit the Official Spam Homepage to view vintage posters and further details on the popularity of this product.