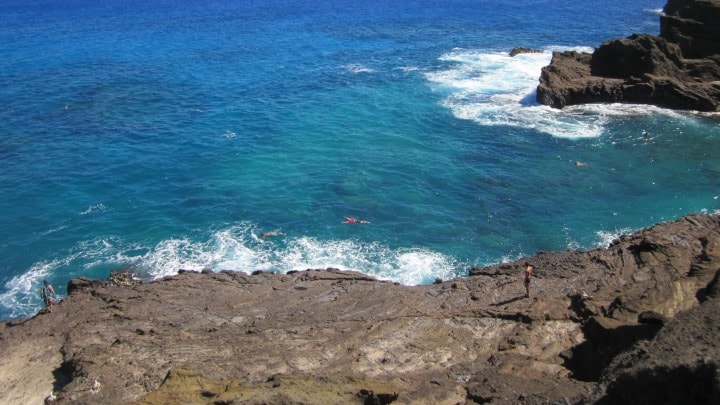 Many people believe that the most stunning terrain in Hawaii lies below the crashing waves. Thousands of tourists each year venture beneath the surface to catch a glimpse of the varied marine life and explore the vibrant reefs of the Pacific Ocean. Visitors to Hawaii can enjoy gazing at the seascapes from a distance or investigate on a closer scale fathoms below the ocean through snorkeling, scuba or snuba diving.
For those who may be unfamiliar with the diving methods, snorkeling involves wearing a face mask and short breathing tube that enables the swimmer to glide face-down on the surface of the ocean. This limits the swimmer from diving very deep (as he has no continuous oxygen supply), but is a great option for those who want to swim in shallow waters or perhaps keep their distance from the creatures below.
The sport of scuba diving requires extensive training and certification. In scuba diving, divers are connected to oxygen tanks while wearing facemasks, wet suits and fins. The practice of safe scuba diving requires discipline and patience as well as extensive training as divers can subject themselves to significant immediate and long-term risks in this sport.
Snuba diving provides a happy medium between the two options, as there is no need to be certified to snuba dive. Now through snuba diving, divers can explore down to 20 feet below the surface, with their oxygen air lines and mask. Snuba diving is a perfect way for people to enjoy the deeper parts of the ocean without being restricted to staying relatively near the surface.
Best Places to Snorkel in Hawaii
Oahu: Hanauma Bay is one of the most popular snorkeling locales, as one of Oahu's Marine Life Conservation Districts, and is constantly teeming with both tropical fish and admirers.
Maui: The small crescent shaped island of Molokini, off the coast of Maui, is an exquisite place to snorkel since the fish are not skittish or uncomfortable with divers.
Kauai: Ke'e Beach has a relatively shallow lagoon and plenty of colorful creatures that create a setting for a beginning snorkeler's paradise.
Big Island: Kealakekua Bay might require a brief kayaking trip to get to some of the best places, but once you arrive, expect to see tropical beauties such as dolphins, honu (green sea turtle), uhu(parrot fish), lau'i pala (yellow tang) and even kikakapu (butterfly fish). Another great snorkeling option on the Big Island is Kahalu'u Beach Park.
Molokai: Murphy's Beach is a great place for beginners to explore a shallow lagoon.
Lanai: Hulopoe Bay has been rated as one of the best beaches in America and the underwater sites and nearby tide pools make the location that much more idyllic.
Best Places to Snuba Dive in Hawaii
Oahu: Ko Olina is a great place for tourists to join a catamaran sailing tour, while snuba'ing to their hearts' content.
Maui: Besides Molokini, the sparkling Honolua Bay and Ka'anapali Beach are ideal places to experience world-class snuba diving. There are also snorkeling and snuba diving excursions from Lahaina Harbor to the Hulopoe Beach on Lanai.
Kauai: Poipu Beach is one of the most famous shores on Kauai Island and the seascapes below the surface of the water are every bit as dynamic. Visitors can catch a guided snuba tour at the town of Poipu to enjoy the depths in a group.
Big Island: Kailua-Kona on the Big Island also offers guided tours highlighting the marvels of Kamakahonu Bay and the areas off Honokohau Harbor.
Lanai: Snuba tours often begin by boarding eager divers at Lahaina, Maui and then making a short boat trip l to Lanai.