When you travel to the Hawaiian Islands in hopes of a sunshiny tropical paradise, it can be very disappointing to hear that the weather forecast will be rainy. Frequent rainfall can be expected in the Aloha State; but on the other hand, this is why the islands are so attractively verdant and green. Fortunately, just because the rain clouds roll in, it doesn't mean that fun vacation plans have to be inhibited in any way. There are plenty of exciting indoor activities to do in Hawaii, such as in its largest city of Honolulu, when the sun decides to take a vacation. Here are some of our favorite ways to play inside while the rain washes the Hawaiian Islands.
Performing Arts: Live entertainment can often be found at some of the public shopping centers in Honolulu, such as the Royal Hawaiian Shopping Center. To learn what plays, concerts and performances are showing during your stay, grab a complimentary copy of the "The Week Oahu" or other comparable tourist publications, which are readily available at the airport, hotels and shopping areas. When in doubt, ask your concierge what movies, concerts or plays (such as those at the Hawaiian Theater Center or the Diamond Head Theater) are playing in town.
Aquariums: The Waikiki Aquarium has both indoor and outdoor exhibits, where friends and family can learn about the wealth of marine animals that swim in Hawaiian waters. Among the most famous of these are green sea turtles, monk seals and a wide variety of reef fishes numbering to nearly 490 species at the aquarium. Children can experience hands-on exhibits and observe stunning marine life up close. If you haven't gotten your fill of observing life under the ocean, avoid the raindrops by descending into a submarine and going for an underwater experience with the Atlantis Submarine Coastal Tours.
Museums: Honolulu is a historical hub full of museums, significant sites and memorials as well as art galleries and cultural centers. One of the best places to visit on rainy days is the Bernice Pauahi Bishop Museum. Here guests can find a vast collection of artifacts and exhibits that detail the last 125 years of life in Hawaii, providing societal and geographical insights into the Aloha State's history. Another great museum to visit is Iolani Palace, which is the only palace in the United States where monarchs once lived. The Honolulu Museum of Art has over 50,000 pieces on display and the Hilton Hawaiian Village (open to the public) has paintings, sculptures and lush indoor greenery. Another must-see for every American is the Pacific Aviation Museum on Ford Island in Pearl Harbor.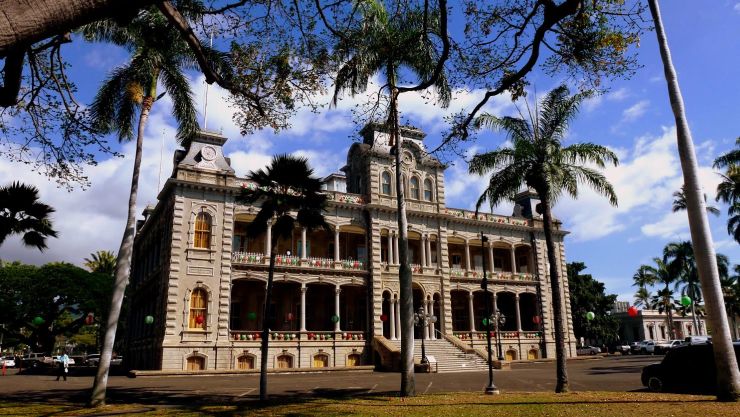 Shopping: A rainy day is the perfect time to look for gifts and souvenirs to bring home. Those staying in Honolulu are fortunate since some of the best shopping in Hawaii is available in the capital city of Oahu. You can shop at Hawaii's largest mall, the Ala Moana Shopping Center, on rainy days without getting wet by parking under the unexposed areas as well as staying under the covered parts of the 290 shops and restaurants. For more shopping options, visit the Royal Hawaiian Center in Waikiki, Ward Center in Kaka'ako, Pearlridge Mall in Pearl City or Windward Mall in Kaneohe.

Treat Yourself: Enjoy a luxurious vacation by investing some time in inner peace and relaxation indoors. Sign up for a yoga class or a meditation session. Better yet, find out what spa services your hotel offers, or the best spa nearby and opt for a deep-tissue massage. Nothing is as peaceful as staying cozy inside with the rain patters against the window. Experience a Polynesian steam-therapy session, lomilomi treatment or a seaweed scrub at one of Honolulu's premier spas. If you aren't in the mood to leave your hotel in search of the perfect manicure, pedicure or Swedish massage, many resorts have on-site masseuses who can set up massage tables right in the comfort of your room.

Restaurants: Grab your umbrella and your companion and head out in the drizzle to experience Hawaii's wide range of dining options ranging from quirky, but delicious hole-in-the-wall places to fancy, high-end restaurants. Let others opt for room service, while you go on an excursion to find the best cuisine on the island.
Rainy days in Honolulu, Hawaii won't limit your fun, but will rather open new opportunities! For more useful tips, check out our travel to Hawaii guide.