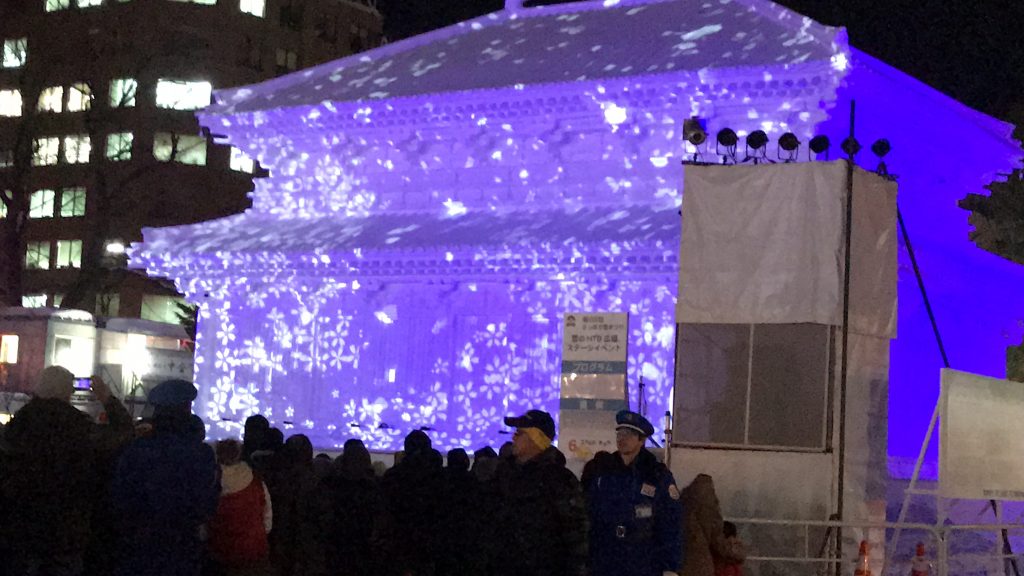 Sapporo Snow Festival Tours
On Sapporo Snow Festival tours in Japan you'll see spectacular ice sculpture displays. You'll find them in Hokkaido's capital, Sapporo, each February. High school students first started the Snow Festival in 1950 when they built a few snow statues in Odori Park. But now it's a large, popular event, featuring spectacular snow and ice sculptures. It attracts more than two million visitors annually from Japan and across the world. Visitors can find the event in three places: the Odori Site, Susukino Site and Tsu Dome Site.
Odori Site
The main site is the Odori Site in Sapporo's Odori Park. Here, you can view the festival's famous large snow sculptures. Some measure more than 25 meters wide and 15 meters high. Festival organizers will keep the exhibit lights on until 10:00 pm. Besides about a dozen large snow sculptures, the Odori Site exhibits more than one hundred smaller snow statues. Plus, it hosts several concerts and events, many of which use the sculptures as their stage. The Sapporo TV Tower provides a good view over Odori Park, which stands at the eastern end of the park.
People can enter the from 9:00 am on weekdays and from 8:30 am on weekends to 10:30 pm during the festival. You can buy either a day or a night ticket for 1,000 yen. While admission to the top observatory deck costs 700 yen per adult.
Susukino Site
The Susukino Site, exhibits about one hundred ice sculptures. You can find this site one subway stop south of Odori Park. The ice sculptures here are lit up daily until 11:00 pm and until 10:00 pm on the festival's last day.
Tsu Dome Site
You can find three types of snow slides and snow rafting at the Tsu Dome Site. It is a family oriented site featuring more snow sculptures. Inside the dome, there are many food stands and a stage for events. The Tsu Dome Site is open daily from 9:00 to 5:00 pm.
Panda Travel ® has been bringing its customers from Hawaii for some time now and our tours always offer a memorable time to those that attend. Come join us to see Japan's most talented sculptors put their work on display by checking out our Japan Tour Packages online.