Some vacationers traveling to Hawaii often may be so focused on the beaches and the glorious terrain of the islands, that they might miss the wealth of history and culture of the Pacific Islands. Don't be one of them. One of Oahu's most exciting attractions for visitors is the Polynesian Cultural Center on the northern end of the island. Here guests get to explore the history of several Polynesian cultures, watch live shows, learn new skills and taste authentic food from these tropical island. With suitable entertainment for all ages, a day spent at the Polynesian Cultural Center is an absolute must-do for all travelers to Hawaii.
Activities
Set in a scenic village with authentic huts representative of each culture, guests can visit areas dedicated to Samoa, Aotearoa (the Maori name for New Zealand), Fiji, Tahiti, Tonga, Marquesas and Hawaii and watch regular presentations throughout the afternoon.
Samoa: Here visitors can wander through the village, learn how Samoans prepared food, made fire from sticks, created coconut milk and skillfully climbed coconut trees to harvest coconuts.
Aotearoa: Find out how the Maori, the indigenous people of New Zealand, carved wood, danced the haka in preparation of war and what their facial tattoos signified. Kids can play games and learn dances of the Maori people or try sporting a removable face tattoo for the day.
Tonga: Visitors will come to appreciate the large and melodious drum instruments of the Tongan people. Join in and become a part of the musical performance, try the sitting dance, play shuffle board or practice throwing spears.

Fiji: From the wide array of war weapons from Fiji to the structurally impressive 6-story temple, guests will be impressed by the dedication of the Fijian people. Learn the historical significance of the temple's design as well as the religious practices and rules of a typical Fijian temple.

Tahiti: The Tahitian section of the village will delight the senses with aesthetically beautiful dancing, gorgeous leis made from shells and flowers, unique music and delicious coconut bread. There is also a spear throwing area for those who want to learn the art and technique of Tahitian warfare.

Hawaii: Don't just watch hula, learn how the Hawaiians tell stories through movement and music! Make leis, taste the tart poi as well as find out more about the Hawaiian kapu system and lua martial arts.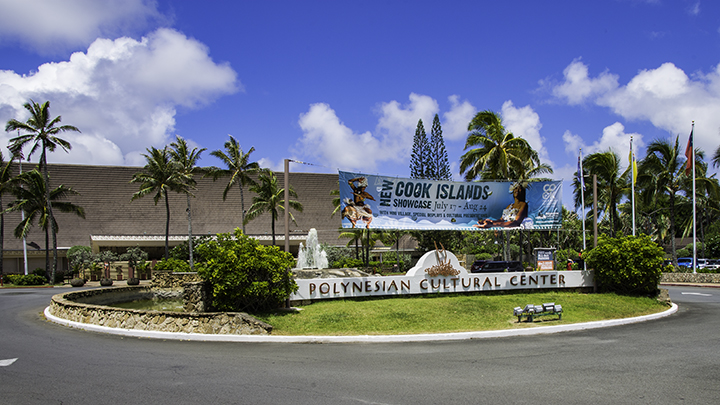 Crafts and skills:   Visitors to the cultural center can also go to different stations and partake in the following workshops, crafts and lessons, including: Maori poi dancing and movement, cooking Samoan food, tiki wood carving, racing canoes or taking canoe tours down the river.
Dining and Shows

After spending a day spent soaking up Polynesian culture, there are several dining options guests can choose from. Every day before the evening show, there is the Ali'I Luau Buffet. The doors open at 4:45 pm and the show begins at 5:30 pm, staged before stunning waterfalls and rainforest vegetation. Guests are presented a flower lei before they dine on dishes like steamed fish, poi, lomi salmon, poke, guava cake and fruit platters while enjoying the performance of Hawaiian dancers.
The second option is to savor a more formal meal of Prime Dining Buffet at the main dining hall. Entrées like shrimp scampi, prime rib or kalua pork are available, along with fruit cups made of papaya, and a variety of delectable Polynesian desserts served at 5:00 pm daily.
The third dining option involves the best of all worlds with the Island Buffet which serves classic Asian, American and Polynesian plates. This might be the best option for groups where no one can agree about where to eat for dinner. From kalua pork to deep fried chicken, mochi and chocolate cake, those who want to continue to enjoy the island flavors can do so, while others can choose typical American style meals.
There is also a BBQ lunch available daily from noon to 1:45 pm as well as snack bars and food stands that sell basic sandwiches, snacks, burgers, hot dogs and authentic Polynesian bites through the day. But be sure to save some room for dinner though, as the evening feasts at the Polynesian Cultural Center are not to be missed.
After all the guests have supped on the finest Polynesian foods, there is a live performance every evening from 7:30 to 9 pm. When you have exhausted the abundance of resources available at the center and have learned everything you can about the ancient Polynesians, sit back with your family and watch a world-class performance. Watch fire throwing and dances to rhythmic music and drums, as well as symbolic hula story-telling as the perfect way to end an eventful day. Make your Hawaiian vacation more than just a happy holiday, but an entire cultural and historical learning experience that you and your family will never forget!