arrow_backPrevious
Nextarrow_forward
Treasure Valley Weekender at "The Blue"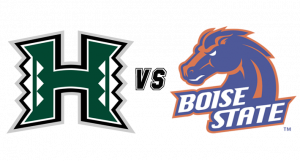 2019 UH Road Warriors- "Back in Black" road game series
UH  vs  Boise State
Treasure Valley Weekender at "The Blue"
Albertsons Stadium- The "Blue" – October 12th, 2019
Escorted– October 9-13, 2019 
4nts from: $1,295 quad, $1,395 triple, $1,495 double, $1,895 single
Small Group Tour- Maximum 35 members!  
Its football Saturday at Alberstons Stadium, home to the famous blue "Smurf" turf football field as the Rainbow Warriors battle the Broncos of Boise State University. The atmosphere around the stadium on game day is electric.
Once you get into the stadium, an entire field in blue, the only blue astro turf in the world. Only seeing with your own eyes, do you appreciate the true flavor of this blue field. Lay your eyes upon it and its WOW! And then, the amazing views from the stadium, treetops, the capital building, downtown Boise, and the mountains in the distance. It is breathtaking.
Our hale for this football weekender is the Hampton Inn & Suites Boise-Downtown, the perfect spot to enjoy this vibrant city. Walk just a few minutes and you are in BoDo, the South 8th Street Historic District, offering a variety of shopping, entertainment, and over 80 restaurants. 
We have also included a half-day guided tour for local sightseeing as well to capture the beautiful fall colors. Its peak foliage season, so bring along your camera!
Come, join us on this fun-filled UH weekender tour. 
Your 2019 Treasure Valley Weekender at "The Blue" Escorted Tour includes:
Round trip air via United Airlines from Honolulu.
Round trip airport transfers
Four nights at the Hampton Inn and Suites Boise-Downtown.
Signature Hampton Inn hot breakfast
WiFi complimentary
Gratuities for hotel porters and bus drivers
Saturday UH vs Broncos football tickets-group seating
Round trip game transfers provided by hotel shuttle
2019 "Black in Black" commemorative t-shirt
Reserve with a $200 per person nonrefundable deposit.
Final payment due by July 8th , 2019. Package is non-refundable after this date.
Not included in the tour:
Gratuities for the hotel chambermaids
Baggage fees are additional and payable directly to United Airlines at check-in. Current fees are $30 for the 1st bag and $40 for 2nd bag.
Please note:
We highly recommend the purchase of trip cancellation insurance.
Click here for more information
Starting from $1,295 per person quad occupancy (4 persons sharing existing bedding).
Starting from $1,395 per person triple occupancy (3 persons sharing existing bedding).
Starting from $1,495 per person double occupancy
Starting from $1,895 single occupancy.
Space is Limited!
Flight Schedule
10/09/19 – Depart Honolulu on United Airlines flight 372 at 7:00 am and arrives in San Francisco at 3:00 pm.
10/09/19 – Depart San Francisco on United Airlines flight 5577 at 5:00 pm and arrive Boise at 7:42 pm.
10/13/19 – Depart Boise on United Airlines flight 5358 at 7:00 am and arrives in San Francisco at 8:08 am.
10/13/19 – Depart San Francisco on United Airlines flight 1175 at 9:01 am and arrive Honolulu at 11:20 am.
Group #12129
More Information...
Additional Tours
Titans at Oakland Coliseum Football Weekender-SOLD OUT!
December 5-9, 2019. Starting from: $1,549 per person triple occupancy
Details
Ninth Island Showdown-Weekender #1 (Hawaiian Airlines & The Cal)-SOLD OUT!
November 13-17, 2019. Starting from: $1,379 per person double, triple or quadruple occupancy
Details
Ninth Island Showdown-Weekender #2 (Hawaiian Airlines & Fremont Hotel)
November 13-17, 2019. Starting from $1,379 per person double occupancy
Details
Ninth Island Showdown-Weekender #3 (Hawaiian Airlines & Golden Nugget)
November 12-18, 2019. Starting from $1,469 per person double occupancy, triple or quad occupancy
Details
Ninth Island Showdown-2 night Land Only Package (Golden Nugget)
November 15-17, 2019. Starting from $299 per person double occupancy, triple or quad occupancy
Details