arrow_backPrevious
Nextarrow_forward
Traveling the Tokaido Road Cherry Blossom Tour 2022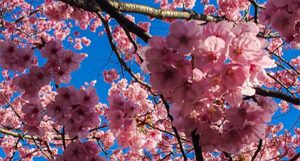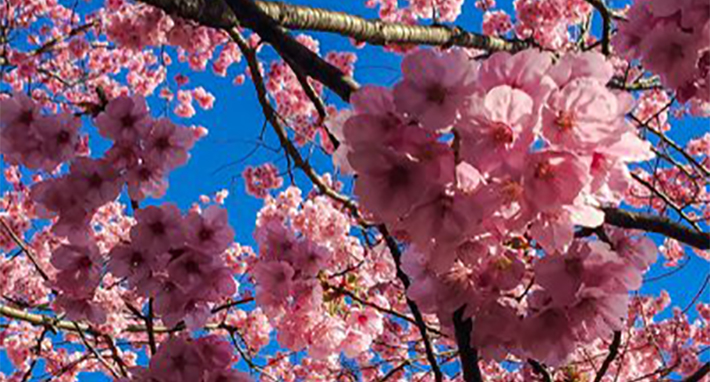 March 26th- April 4th, 2022 escorted from Honolulu
$3,395 per person triple occupancy; $3,495 per person double occupancy; $4,195 single occupancy
From late March through the entire month of April, it is the season of the cherry that tinges Japanese islands in delicate shades of pink. The blossoms that signal the end of winter and the arrival of spring have more than a symbolic presence in Japan's floral culture.
A long, long time ago, the cherry tree was revered as a "dwelling of the gods"; when in full bloom, people offered sake and food to its splendor in exchange for a good harvest. Today every village, town and city let business-as-usual slide to indulge in days of hanami, flower viewing parties, with friends, family, and co-workers.
Of course, there is far more to cherry blossoms. On this, our most popular itinerary we travel from Tokyo to Osaka. It all begins with three nights in Tokyo then on to the Izu Peninsula where the famed Kurofune (Black Ships) of U.S. Commodore Perry dropped anchor in 1854. Today, it is a popular onsen town with lush greenery and rugged coastlines. Kyoto, Nara, Osaka, and Kobe make up the remainder of this Tokaido Road Cherry Blossom tour. Come, join us!
Your Traveling the Tokaido Cherry Blossom Tour – 2022 – includes:
Round trip airfare via Hawaiian Airlines from Honolulu.
Note: Airline baggage fees are additional and paid directly to the carrier.
8 nights' accommodations in first class hotels.
Daily sightseeing with local English-speaking guide throughout the tour
Admission fees included based on itinerary
Inflight meals, breakfast daily at your hotel, 3 lunches and 1 dinner
All transportation via private charter bus
All tour related taxes included in price
Panda Travel® escorts throughout your tour.
Reserve with $75 per person deposit, refundable up to 60 days prior to departure, January 25th , 2022
Final payment due by February 9th , 2022. Package is non-refundable after this date.
Special Assistance: At the time of reservation, you must inform Panda Travel® of any disability requiring special attention. We reserve the right to cancel your reservation should your disability/special need deemed not suitable for the tour or if you are not accompanied by a companion to provide the assistance you will require.
Not included in the tour:
Gratuities for local English speaking guide
Additional baggage fee charges from the airlines.
Alcohol and soft drinks with meals
Please note:
A minimum of 16 participants required for tour to operate.
A valid passport is required of all U.S. citizens & must be valid at least 6 months from the return tour date. Non-U.S. passport holders need to check with the Japanese Consulate to see if a visa is required.
Land tour cost is based on current currency conversion rates. Should there be any major changes that would affect the cost, we will advise and you will have the option to cancel with full refund or pay the difference.
Air ticket fare is guaranteed; however taxes, fees and fuel surcharges are subject to change until tickets are issued. If there is any difference at ticketing date, approximately 45 days out, we will advise you.
We highly recommend the purchase of trip cancellation insurance.
Land Tour Operator is Nippon Travel Agency.
Click here for more information
From $3,395 per person triple occupancy
From $3,495 per person double occupancy
From $4,195 per person single occupancy
Space is Limited!
Flight Schedule
03/26/22 – Depart Honolulu on Hawaiian Airlines flight 821 at 11:15 am and arrives in Narita at 4:00 pm, 03/27
04/04/22 – Depart Kansai on Hawaiian Airlines flight 450 at 8:45 pm and arrive in Honolulu at 9:25 am (same day).
Group #12711
More Information...
Additional Tours
Osaka and Kyoto Kurisumasu Shopping & Fall Foliage Tour 2021
November 23-28, 2021. Starting from: $2,095 per person triple occupancy
Details
Sapporo and Otaru Kurisumasu Shopping Tour 2021
November 23-29, 2021. Starting from: $1,895 per person double or triple occupancy
Details
Tokyo Kurisumasu Shopping Tour 2021 – #1
November 23-28, 2021. Starting from: $1,795 per person double/triple occupancy
Details
Tokyo Kurisumasu Shopping Tour 2021-#2
November 24-29, 2021. Starting from: $1,795 per person double/triple occupancy
Details
New Years 2022 in Osaka and Kyoto
December 26, 2021-January 1, 2022. Starting from: $2,695 per person triple occupancy
Details