Nextarrow_forward
Titans at Oakland Coliseum Football Weekender-SOLD OUT!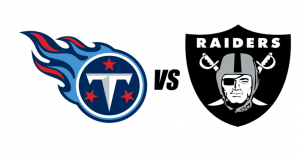 December 5-9, 2019 from Honolulu
From: $1,549 per person triple occupancy; $1695 per person double occupancy: $2,195 single occupancy
It's a history making football weekender as Hawai'i's own Marcus Mariota & the Tennessee Titans battle the Oakland Raiders in the next to the last EVER Raiders' game at the Oakland Coliseum.
We are doing this tour in style, beginning with Hawaiian Airlines, the official airline of the Oakland Raiders. Once in the city, 4 nights at Hawaii's favorite San Francisco hale, The Handlery Union Square Hotel. It gets better, our game tickets, field view in the 60 seat "Locker Room Loge Suite" complete with tailgate party food and beverages, private early stadium entrance, full east and west side club level access, and cash bar for spirited drinks just steps away.
But, there's still more as you can enjoy 2 complete free weekend days to catch up on Christmas shopping and sightsee at leisure. On Saturday, get out and enjoy "SantaCon" or "Santarchy". This is San Francisco's annual city-wide Santas-only pub crawl. It brings out hundreds of folks all dressed up in Santa costumes parading around the city.
The Titans at Oakland Coliseum Football Weekender Tour includes:
Round trip air via Hawaiian Airlines.
Four nights at the Handlery Union Square Hotel
Bag handling fee at hotel included
Round trip airport transfers
Field view game tickets in the Locker Room Loge Suite
Tailgate party food and non-alcoholic beverages
Game day transfer to the Oakland Coliseum
All taxes and fees
Reserve with a $250 per person nonrefundable deposit.
Final payment due by September 27th, 2019. Package is non-refundable after this date.
Not included in the tour:
Alcohol beverages at the tailgate function- cash bar available
Additional baggage fee charges from the airlines.
Please note:
We highly recommend the purchase of trip cancellation insurance.
Starting from $1,549 per person triple occupancy*
Starting from $1,695 per person double occupancy*
Starting from $2,195 per person single occupancy
*triple occupancy based on 3 person sharing 2 double beds. A limited number of roll-away beds are available at an additional daily fee of $15.
Double occupancy rooms are either 1 bed or 2 doubles.
Space is Limited!
Flight Schedule
12/05/19 – Depart Honolulu on Hawaiian Airlines flight 12 at 2:45 pm and arrives in San Francisco at 9:45 pm.
12/09/19 – Depart San Francisco on Hawaiian Airlines flight 11 at 9:55 am and arrives in Honolulu at 1:45 pm.
Group #12223
Additional Tours
Ninth Island Showdown-Weekender #2 (Hawaiian Airlines & Fremont Hotel)-SOLD OUT!
November 13-17, 2019. Starting from $1,379 per person double occupancy
Details