arrow_backPrevious
Nextarrow_forward
The Great Festivals of Tohoku plus a Taste of Tokyo 2019-#1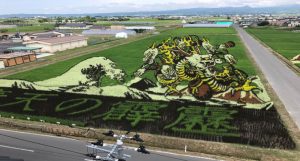 July 31st – August 11th , 2019 from Honolulu
From: $4995 per person double/triple occupancy; $5,595 single occupancy
When the snow completely melts, and the summer heat turns up, Tohoku becomes the liveliest region in Japan. Summer festivals in Japan are incredibly fun, some of the best, passed down from long ago. Every festival has its own distinct charm and attraction. They dance, they shout, they cheer, they rule! Come along, meet, and join the people behind these energetic and vibrant festivities-the soul of Tohoku summer festivals. 
This unique tour takes in the "Three Great Summer Festivals "of Tohoku, The Nebuta Festival in Amori, Akita Kanto Festival and the Sendai Tanabata Festival. But this is only the beginning as we have also included Yamagata Hanagasa Matsuri, where over 10,000 city residents participate and a stop at Inakadate Village to view the "Field of Dreams", dramatic scenes among the rice fields created by local villagers. They attract thousands of visitors each summer.
It's still not over as we have included 2 hands-on experiences, fruit picking at a local farm, a sake brewery visit and Matsushima Bay cruise. Not so quick, as there's a day trip to Nikko and 4 nights in Tokyo, 2 at the beginning and 2 at the end, for that big city feel. Here we will be visiting a few of the more popular spots, Tsukiji Market, Ameyoko, Asakusa and Meiji Shrine. Shopping, yes, enough free time to shop your heart out! Also experience the bullet train, not once, but twice! 
Your Great Festivals of Tohoku plus a Taste of Tokyo #1- 2019 includes:
Round trip air via Hawaiian Airlines from Honolulu.
Ten nights accommodations in first class hotel
In flight meals, breakfast daily at your hotel, 6 lunches and 2 dinners.
English speaking guide and Panda Travel ® representative throughout your journey.
All transportation via charter bus.
Daily sightseeing per itinerary.
Admission fees included based on itinerary.
Reserve with a $200 per person non refundable deposit.
Final payment due by June 14, 2019. Package is non-refundable after this date.
Not included in the tour:
Alcohol and soft drinks with meals.
Gratuities for the local Japanese English speaking guide.
Additional baggage fee charges from the airlines.
Please note:
A minimum of 16 participants required for tour to operate.
A valid passport is required of all U.S. citizens & must be valid at least 6 months from the return tour date. Non-U.S. passport holders need to check with the Japanese Consulate to see if a visa is required.
Land tour cost is based on current currency conversion rates. Should there be any major changes that would affect the cost, we will advise and you will have the option to cancel with full refund or pay the difference.
Air ticket fare is guaranteed; however taxes, fees and fuel surcharges are subject to change until tickets are issued. If there is any difference at ticketing date, approximately 45 days out, we will advise you.
We highly recommend the purchase of trip cancellation insurance.
Land Tour Operator is Nippon Travel Agency.
Click here for more information
Starting from $4,995 per person double/triple occupancy.
Starting from $5,595 single occupancy.
Space is Limited!
Flight Schedule
07/31/19 – Depart Honolulu on Hawaiian Airlines flight 821 at 3:35 pm and arrives in Narita at 7:00 pm, 8/1.
08/11/19 – Depart Narita on Hawaiian Airlines flight 824 at 9:25 pm and arrive Honolulu at 10:15 am. (same day).
Group #11991
More Information...
Additional Tours
Hokkaido Lavender Tour 2019 #1-GUARANTEED!
July 9-17, 2019. The panorama of Hokkaido's summer scenery is about to unfold.
Details
Hokkaido Lavender Tour 2019 #2-SOLD OUT!
July 13-21, 2019. Starting from: $3,295 per person triple occupancy
Details
Sapporo Summer Fest and Otaru Tide Festival Tour 2019-SOLD OUT!
July 23rd-28th , 2019. Starting from: $2,195 per person double or triple occupancy
Details
Alpine Route Adventure plus Tokyo Fall Foliage in Japan's Northern Alps
September 29th -October 7th , 2019. Starting from: $3,395 per person triple occupancy;
Details
Along the Cassiopeia Road Fall Break 2019-SOLD OUT!
October 5-14, 2019. Starting from: $3,695 per person double or triple occupancy.
Details