Nextarrow_forward
Summer on Cape Cod, Boston & the 106th annual Feast of the Blessed Sacrament -2021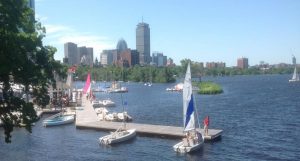 July 24th – August 2nd , 2021 escorted from Honolulu
From: $3,095 per person quad occupancy; $3,295 per person triple occupancy; $3,595 per person double occupancy; $4,495 single
Cape Cod, where the Atlantic Ocean crashes on a coastline strewn with quaint harbors, windswept beaches, glorious dunes, and blinking lighthouses. Many areas are architectural and culinary gems-full of weathered shingles, whaling captains' mansions, cranberry bogs, and chowder shacks.
Join us on a truly unique tour that begins on Cape Cod, America's postcard perfect summertime destination. From there, off to New Bedford, nicknamed "The Whaling City", once one of the world's most important whaling ports in the nineteenth century. Herman Melville, in his masterpiece novel, Moby Dick wrote, "nowhere in all America will you find more patrician-like houses, parks and gardens more opulent, than in New Bedford."
After a visit to the New Bedford Whaling Museum and Seamen's Bethel, we are off to enjoy the festivities at the 106th Annual Feast of the Blessed Sacrament, the largest Portuguese feast in the world. It is a 4-day event featuring continuous entertainment on 4 stages, traditional Portuguese foods, wines, and carnival. 
Then, off to Boston for 3-nights to enjoy time in America's oldest city and one that prides itself on its history. You can hardly walk a step over its cobblestone streets without running into some historic site.
Our eight-night tour captures that very best of a Massachusetts summer holiday. It all begins with a 5-night stay in Hyannis, located on Nantucket Sound and known as the "heart" of Cape Cod. Its mid-cape location is ideal for our day trips that include the seaside village of Chatham, Nantucket Island, once the whaling capital of the world and Provincetown, the picturesque town on the very tip of Cape Cod, where artists and writers from all over the world have come to work, lured by the creative atmosphere, breathtaking colors and scenic landscapes. More, yes, much more as we visit a cranberry bog, a sand dunes excursion and a hands-on "Lobster Tales Cruise" to see how lobsters are harvested.
Accommodations in Boston are at the Boston Marriott Copley Place Hotel, in the heart of the city, alongside The Prudential Center and adjacent to Copley Place Mall. Fenway Park is just a 15-minute walk, fashionable Newbury Street, one block away. The Boston Commons, Public Gardens, Charles Street are all within walking distance. Turn the other direction and discover Boston's Back Bay, famous for its rows of Victorian brownstone homes-considered one of the best-preserved examples of 19th-century urban designs in the United States. 
We have included a 2-day hop-on, hop-off trolley pass. It is the perfect addition so that you can get out and discover at your leisure. Best thing yet, it stops right in front of the hotel! 
Your Summer on Cape Cod, Boston & the 106th annual Feast of the Blessed Sacrament Tour – 2021 includes:
Round trip airfare via Hawaiian Airlines from Honolulu.
Note: Airline baggage fees are additional and paid directly to the carrier.
8 nights in first class hotels
Sightseeing with local guide for the 5-night Cape Cod tour portion
Admission fees included based on itinerary
Inflight meals, breakfast daily at your hotel, 1 lunch, and 3 dinners
All transportation via private charter bus
Meal taxes, meal gratuities, room taxes & maid gratuities (Holiday Inn), local guide gratuity, Nantucket Island tour bus driver gratuity, Dune tour driver gratuity, cranberry bog guide gratuity, motor coach driver gratuity-ALL INCLUDED
Panda Travel® escort throughout your tour.
Reserve with $75 per person deposit, refundable up to 60 days prior to departure, May 25th , 2021
Final payment due by May 25th , 2021. Package is non-refundable after this date.
Special Assistance: At the time of reservation, you must inform Panda Travel® of any disability requiring special attention. We reserve the right to cancel your reservation should your disability/special need deemed not suitable for the tour or if you are not accompanied by a companion to provide the assistance you will require.
Not included in the tour:
Maid gratuities at Boston Marriott Copley Place Hotel
Additional baggage fee charges from the airlines.
Alcohol and soft drinks with meals
Please note:
A minimum of 16 participants required for tour to operate.
We highly recommend the purchase of trip cancellation insurance.
Land Tour Operator for the Cape Cod portion of the tour is Cape Cod Custom Tours
Click here for more information
From $3,095 per person quad occupancy (sharing existing bedding- 2 beds)
From $3,295 per person triple occupancy (sharing existing bedding-2 beds)
From $3,595 per person double occupancy
From $4,495 per person single occupancy.
Space is Limited!
Flight Schedule
07/24/21 – Depart Honolulu on Hawaiian Airlines flight 90 at 2:00 pm and arrives in Boston at 5:50 am, 07/25
08/02/21 – Depart Boston on Hawaiian Airlines flight 89 at 9:20 am and arrive in Honolulu at 2:45 pm (same day).
Group #12659
More Information...
Additional Tours
Brilliant New England Fall Foliage Tour 2021
October 2-11, 2021. Starting from: $3,395 per person triple occupancy
Details