arrow_backPrevious
Nextarrow_forward
Spring Break – March Madness in Las Vegas #2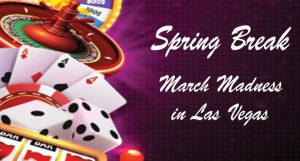 March 16th- 21st , 2021 – 5 nights from: $599 per person!
Airfare via
Deposit – Only $49 per person- Cancel for ANY REASON by December 11th, 2020– FULL REFUND!!  
Final Payment not due until February 8th, 2021!
Las Vegas in March, warm in the sun, the air is crisp, it is a perfect time to visit the most exciting city in the world. 
The Spring Break -March Madness in Las Vegas #2 package includes:
Round trip airfare via United Airlines
Note: Airline baggage fees are additional and paid directly to the carrier.
5 nights at the California Hotel & Casino
5 days Hawaiian meal package- 3 meals per day! – Must be 21 years or older for meal package
Hotel taxes and baggage handling at hotel included
Reserve with $49 per person deposit, cancel for any reason by December 11th , 2020- Full Refund!
Final payment due by February 8th , 2021. Package is non-refundable after this date.
Special Assistance: At the time of reservation, please inform Panda Travel® of any disability requiring special attention.
Please note the following:
This package is not escorted.
Airport transfer are not included
Economy Plus seats are subject to availability and can only be purchased once airline tickets are issued, shortly after the final payment date.
Sorry, no deviations to this package
A minimum of 20 participants required for tour to operate.
From $599 per person quadruple occupancy Family Package-2 adults/2 children under 21 years of age
From $699 per person double/triple or quad occupancy*– adults 21 years of age and older. *Quad (4 adults) will have 2 separate rooms
From $799 per person single occupancy
Space is Limited!
Flight Schedule
03/16/21 – Depart Honolulu on United Airlines flight 372 at 7:00 am and arrives in San Francisco at 3:01 pm.
03/16/21 – Depart San Francisco on United Airlines flight 394 at 5:45 pm and arrive in Las Vegas at 7:18 pm.
03/21/21 – Depart Las Vegas on United Airlines flight 521 at 6:00 am and arrives in Los Angeles at 7:01 am.
03/21/21 – Depart Los Angeles on United Airlines flight 1158 at 9:05 am and arrive in Honolulu at 12:01 pm.
Group #12632
Additional Tours
Presidents' and Valentine's Day Weekend 2021
February 10-15, 2021. Starting from: $719 per person quadruple occupancy.
Details
Spring Break – March Madness in Las Vegas #1
March 14-19, 2021. Starting from: $599 per person quadruple occupancy
Details
Mother's Day Weekend in Las Vegas
May 6-10, 2021 – 4 nights from: $729 per person
Details
Memorial Day Weekend 2021 in Las Vegas-From Honolulu
May 26-31, 2021. Starting from: $819 per person quadruple occupancy
Details
Memorial Day Weekend 2021 in Las Vegas-From Maui
May 26-31, 2021. Starting from: $799 per person quadruple occupancy
Details