arrow_backPrevious
Nextarrow_forward
Quack Attack Football Weekender-Land Only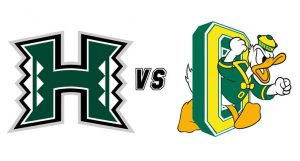 Aloha UH Road Warriors! We are off to Eugene, Oregon for "Football Saturday" at Autzen Stadium, known as one of the most intimidating college stadiums. While only a capacity of 54,000, Autzen is loud, one of the loudest in college football. It's a place you'll hear long before you'll see it, but boy, is it a sight, big, beautiful and noisy as a typhoon.
Football Saturday begins with Puddles, the Oregon Duck, one of college football's most popular mascots leading the team onto the field while on the back of a roaring Harley Davidson. There's nothing quite like a visit to Autzen Stadium.
2-night Quack Attack Football Weekender Land Only package includes:
2-nights' accommodations at Holiday Inn Express Eugene-Springfield
Buffet breakfast for 2 days in Eugene
Official UH Tailgate Party and game ticket
2020 UH Road Warrior T-Shirt
Charter bus transfers to/from tailgate/stadium
Gratuities for bus drivers and food service staff included
Reserve with a $250 per person non-refundable deposit
Final payment is due by June 2nd , 2020. Package is non-refundable after this date.
Non-Refundable deposit valid only for the tour booked and cannot be applied to another tour.
Starting from $379 per person quad occupancy
Starting from $429 per person triple occupancy
Starting from $499 per person double occupancy
Starting from $759 per person single occupancy
Space is Limited!
Group #12357
More Information...
Additional Tours
Along the "One-oh-One" to Eugene, Oregon-Tour #1- LAST 3 ROOMS!
September 13-20, 2020. Starting from: $2,695 per person quadruple occupancy
Details
Along the "One-oh-One" to Eugene, Oregon-Tour #2-SOLD OUT!
September 12-20, 2020. Starting from: $2,795 per person quadruple occupancy
Details
Quack Attack Football Weekender plus Las Vegas-GUARANTEED!
September 17-24, 2010. Starting from: $1850 per person quadruple occupancy
Details
Quack Attack Weekender
September 18-20, 2020. Starting from:$1,295 per person quadruple occupancy
Details
UH vs Air Force Academy Falcons – Purple Mountain's Majesty Tour
October 14-22, 2020. Starting from: $2,095 per person quadruple occupancy
Details