arrow_backPrevious
Nextarrow_forward
Ninth Island Showdown-Weekender #1 (Hawaiian Airlines & The Cal)-SOLD OUT!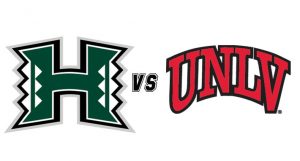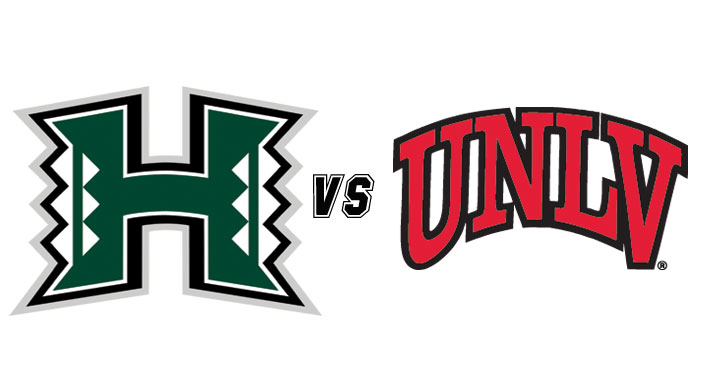 Its football Saturday at Sam Boyd Stadium and time for the "Ninth Island Showdown" as the Rainbow Warriors battle the Rebels of UNLV. The winner receives the rights to the Island Showdown Trophy, in the shape of a gold pineapple and nicknamed "The Ninth Island". This award ceremony began in 2017 and now each year the winner takes home the pineapple trophy.
This is the ultimate face-off between Hawai'i and UNLV, marking a 50-year-old rivalry that began on October 25th, 1969. The schools have faced each other 28 times with the Rainbow Warriors leading the all-time series, 16-12.
Football Saturday begins with the official pre-game UH Tailgate Party held in the Main Street Station parking lot, drawing over 1,000 Hawai'i fans. From there, it's a short bus ride to Sam Boyd Stadium as the battle begins. After the UH victory, back to downtown Las Vegas to celebrate into the wee hours! 
If you have any doubts on how exciting this game will be, below, a headline from last year's match-up.
"Chevan Cordeiro leads Warriors to epic comeback over UNLV, into Hawaii Bowl" 
Your escorted weekender package includes round trip air on Hawaiian Airlines, airport transfers, 4 night at the California Hotel & Casino, 4-day meal coupons, official UH tailgate party, sideline game tickets, transfers to and from Sam Boyd Stadium, commemorative "Black is Back" t-shirt and all taxes and fees. Panda Travel staff will be on the ground all weekend long to assist. 
The Ninth Island Showdown-Weekender #1 package includes:
Round trip airfare from Honolulu to Las Vegas via Hawaiian Airlines.
Note: airline baggage fees are additional and paid directly to the carrier.
Round trip airport transfers
Four nights at the California Hotel & Casino
4-day Hawaiian Meal Coupons for adults 21yrs and older
Official UH Tailgate Party which includes food, drinks and entertainment
Sideline game tickets at Sam Boyd Stadium
2019 "Back in Black" commemorative t-shirt
Round trip game day transfers from the tailgate party to Sam Boyd Stadium
All hotel taxes and fees
Book with $200 non-refundable deposit per person. Final payment due by August 30th , 2019. Package is non-refundable after this date.
Non-refundable deposits are only valid for the tour booked for and cannot be applied to another tour.
Click here for more information
Space is Limited!
Starting from $1,469 per person single occupancy*
Starting from $1,379 per person double, triple or quad occupancy*
*Single or double rooms -choose 1 king or 2 queen beds, choose smoking or non-smoking
*Triple room- 2 queen beds, choose smoking or non-smoking
*Quad room- 2 separate rooms and can chose king or 2 queen beds in each. 
Flight Schedule
11/13/19 – Depart Honolulu on Hawaiian Airlines flight 6 at 8:05 am and arrive in Las Vegas at 3:50 pm
11/17/19 – Depart Las Vegas on Hawaiian Airlines flight 5 at 5:30 pm and arrive in Honolulu at 10:00 pm.
Group #12109
More Information...
Additional Tours
Summer Break Disneyland/Vegas 2019
June 2-12, 2019Starting from $1,179 per person quadruple (4) occupancy in a Family Package (2 adults and 2 children under 21 years old). Standard room with 2 beds at each hotel.
Details
Fall School Break Disneyland/Vegas 2019
October 7-14, 2019. Starting from $945 per person quintuple (5) occupancy in a Family Package
Details
Ninth Island Showdown-Weekender #2 (Hawaiian Airlines & Fremont Hotel)
November 13-17, 2019. Starting from $1,379 per person double occupancy
Details
Ninth Island Showdown-Weekender #3 (Hawaiian Airlines & Golden Nugget)
November 12-18, 2019. Starting from $1,469 per person double occupancy, triple or quad occupancy
Details
Ninth Island Showdown-Weekender #4 (American Airlines & Golden Nugget)
November 14-18, 2019. Starting from $1,049 per person double occupancy, triple or quad occupancy
Details