arrow_backPrevious
Land of the Samurai Fall School Break Tour #2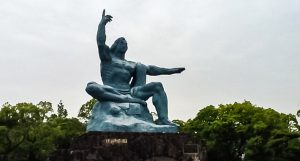 October 5-13, 2019 – from Honolulu
From: $3,195 per person double or triple occupancy; $3,595 single occupancy
Japan has a rich history that stretches back thousands of years and the country's ancestors have left their imprint everywhere. It is a world apart – a cultural Galápagos where a unique civilization blossomed, and today thrives in delicious contrasts of traditional and modern. The Japanese spirit is strong, warm, and incredibly welcoming.
We begin in Fukuoka, on the northern tip of Kyushu Island, Japan's most western happening city and gateway to the country. Set amid splendid natural diversity – bordered by mountains, flanked by sea, and dotted with hot springs – the metropolis is an exciting hub of modern city life. Rich with tradition and modern cultural attraction, contemporary art, architecture, shopping, and cuisine complement centuries'-old temples and shrines.
From here, we are off to Hiroshima, a walk along the Peace Memorial Park, the A-Bomb Dome and visiting the Hiroshima Peace Memorial Museum. You also get to enjoy time on Miyajima complete with the Miyajima Ferry as our form of transportation.
On to Kurashiki to visit the historical quarter, and then Kyoto, old Japan with its quiet temples, sublime gardens, and colorful shrines. 
Much more, as we have included visits to the Reclining Buddha at Nanzion Temple, not one, not two, but three bullet train rides, 3 hands-on experiences, Japanese doll painting, handkerchief painting and seasonal fruit picking at a local farm. And then, onto Tokyo, Japan's capital to enjoy the very best of omiyage shopping, sightseeing and a visit to the Ueno Zoo to see the panda bears.
It's a perfectly balanced tour offering history and culture combined with time to explore, shop, and enjoy Japan's cuisine. Come, join us!   
Your Land of the Samurai Fall Break 2019 Tour #2 includes:
Round trip air via Delta Air LInes.
Seven nights in first class hotel accommodations.
In flight meals, breakfast daily at your hotel and 2 lunches and 1 dinner
English speaking guide and Panda Travel ® representative throughout your journey.
All transportation via charter bus.
Daily sightseeing per itinerary.
Admission fees included based on itinerary.
Reserve with a $200 per person non refundable deposit.
Final payment due by July 1, 2019. Package is non-refundable after this date.
Not included in the tour:
Alcohol and soft drinks with meals.
Gratuities for the local Japanese English speaking guide.
Baggage fee charges from the airline.
Please note:
A minimum of 16 participants required for tour to operate.
A valid passport is required of all U.S. citizens & must be valid at least 6 months from the return tour date. Non-U.S. passport holders need to check with the Japanese Consulate to see if a visa is required.
Land tour cost is based on current currency conversion rates. Should there be any major changes that would affect the cost, we will advise and you will have the option to cancel with full refund or pay the difference.
Air ticket fare is guaranteed; however taxes, fees and fuel surcharges are subject to change until tickets are issued. If there is any difference at ticketing date, approximately 45 days out, we will advise you.
We highly recommend the purchase of trip cancellation insurance.
Land Tour Operator is Nippon Travel Agency.
Click here for more information
Starting from $3,195 per person double or triple occupancy.
Starting from $3,595 single occupancy.
Space is Limited!
Flight Schedule
10/05/19 – Depart Honolulu on Delta Air Lines flight 599 at 1:23 pm and arrives in Fukuoka at 5:55 pm, 10/06.
10/13/19 – Depart Narita on Delta Air Lines flight 180 at 7:25 pm and arrive in Honolulu at 7:59 am (same day).
Group #12025
Additional Tours
Presidents' & Valentine's Day 2019 Omiyage Tokyo Weekender
February 13-18, 2019
Starting from: $1,895 per person double or triple occupancy
Details
Niigata 2019 Sake Festival, Sado Island & Tokyo Tour
March 4-14, 2019
Starting from $3,995 per person double or triple occupancy.
Details
Kanto Spring Break Odyssey Tour 2019 #1-SOLD OUT!
March 17-25, 2019Starting from $3,095 per person triple occupancy
Details
Japan-Land of the Samurai Tour-Spring Break 2019 #1-GUARANTEED!
March 16-24, 2019
Starting from $3,695 per person triple occupancy
Details
Japan-Land of the Samurai Tour-Spring School Break 2019 #2-GUARANTEED!
March 16-24, 2019
Starting from $3,595 per person double or triple occupancy.
Details