arrow_backPrevious
Land of the Ascending Dragon-Highlights of Vietnam Plus Seoul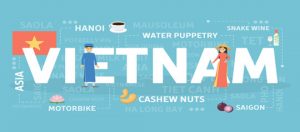 February 24-March 7, 2020 – Escorted from Honolulu
From: $3,695 per person double or triple occupancy; $4,595 single occupancy
Come, join us on this breathtaking escorted tour to "The Land of the Ascending Dragon", Vietnam plus a fun weekend in Seoul for sightseeing and some of Asia's best shopping. Accommodations in Vietnam, the 5-star Pan Pacific Hotel in Hanoi and the Rex Hotel Saigon in Ho Chi Minh City. In Seoul, we are at the 4-star Sejong Hotel, ideally located in the heart of Myeongdong.
With a population of 92.7 million, Vietnam ranks as the 9th most populated nation in Asia. It is a land of stunning natural beauty, dynamic megacities and hill-tribe villages, both exotic and fascinating.
Our tour begins in Hanoi, Vietnam's capital city, where layers of history reveal periods of French and Chinese occupation. As we make our way south to Ho Chi Minh City, our travels get into the heart of Vietnam and many of its major attractions. There's the landscape of the Red River Delta countryside as we visit UNESCO-listed Ha Long Bay, followed by an overnight 5-star all-inclusive cruise.
In central Vietnam, we will be visiting Hue, the seat of Nguyen Dynasty emperors and the national capital from 1802 to 1945. From here, Hoi An, graceful and historic, Vietnam's most atmospheric and delightful town. And then, there is Da Nang, the country's 5th largest city, located on the coast of the South China Sea, at the mouth of the Han River, one of Vietnam's most important ports.
Our tour ends in Ho Chi Minh City, formally Saigon where you can see the major developments of Vietnam's efforts to be a part of today's world. While here, we will visit the Mekong Delta, the "rice bowl" of Vietnam. It is a vast maze of rivers, islands, and home to floating markets, Khmer pagodas and quaint riverside villages.
As we bid good-bye to Vietnam, it's off to Seoul, South Korea's bustling capital. It is a huge metropolis where modern skyscrapers, high-tech subways and pop culture meet Buddhist temples, palaces and street markets. Accommodations here, the 4-star Sejong Hotel, in the heart of Myeongdong, one of the most popular shopping districts.
The Land of the Ascending Dragon, Highlights of Vietnam plus Seoul Tour includes:
Air flights via Asiana Airlines from Honolulu.
Inter Vietnam air flights via Vietnam Airlines
12 night accommodations, 5-star in Vietnam and 4-star in Seoul
1 night on the 5-star Alisa Cruise in Vietnam
In-flight meals, breakfast daily, lunch and dinners as specified on itinerary
English speaking guide and Panda Travel ® representative throughout your journey.
All transportation via charter bus.
Daily sightseeing per itinerary.
Admission fees for sites visited and gratuities for local guides
Vietnam Visa processing is included in your tour package price
Reserve with a $250 per person nonrefundable deposit.
Final payment due by December 16th, 2019. Package is non-refundable after this date.
Non-Refundable deposits are valid only for the tour that it is booked for & cannot be transferred to another tour.
Not included in the tour:
Alcohol & soft drinks with meals
Additional baggage fee charges from the airline. Currently Asiana Airlines does allows 2 free bags to be checked in. Vietnam Airlines currently allows 1 free checked in bag up to 20Kilos (44lbs). There is a charge for additional bag and is calculated by weight.
Please note:
A minimum of 16 participants required for tour to operate.
A valid passport is required of all U.S. citizens & must be valid at least 6 months from the return tour date.
A visa is required for U.S. citizens. If your passport is from another country, please check with us or the Vietnam Counsel. 
Land tour cost is based on current currency conversion rates. Should there be any major changes that would affect the cost, we will advise and you will have the option to cancel with full refund or pay the difference.
Air ticket fare is guaranteed; however taxes, fees and fuel surcharges are subject to change until tickets are issued. If there is any difference at ticketing date, approximately 45 days out, we will advise you.
We highly recommend the purchase of trip cancellation insurance.
Land Tour Operator is Pacific Ocean Travel and Rye Tours
Starting from $3,695 per person double or triple occupancy
Starting from $4,595 per person single occupancy
Space is Limited!
Flight Schedule
02/24/20 – Depart Honolulu on Asiana Airlines flight 231 at 11:10 am and arrives in Incheon at 5:30 pm, 2/25.
02/25/20 – Depart Incheon on Asiana Airlines flight 733 at 7:30 pm and arrive in Hanoi at 10:00 pm.02/28/20 – Depart Hanoi on Vietnam Airlines flight 1549 at 7:00 pm and arrive in Hue at 8:15 pm.
03/02/20 – Depart Da Nang on Vietnam Airlines flight 117 at 10:00 am and arrive in Ho Chi Minh City at 11:25 am
03/04/20 – Depart Ho Chi Minh City on Asiana Airlines flight 732 at 12:05 pm and arrive in Incheon at 7:25 pm
03/07/20 – Depart Incheon on Asiana Airlines flight 232 at 8:20 pm and arrive in Honolulu at 9:30 am (same day).
Group #12260
More Information...
Additional Tours
The London Explorer Tour-Spring Break 2020-1 ROOM LEFT!
March 14-22, 2020 - fr: $3,195 per person double or triple occupancy
Details
Globus Alpine Countries 2020
August 13-August 30, 2020 Escorted from Honolulu 16 nights and 18 days- From: $6495 double or triple; $7395 single
Details
Globus Italy Highlights 2020
July 20-August 2, 2019 Escorted from Honolulu. 11 nights and 14 days- From: $5,895 triple; $5,995 double; $6,695 single
Details