arrow_backPrevious
Nextarrow_forward
Kyushu Flowers and Springtime Tour 2020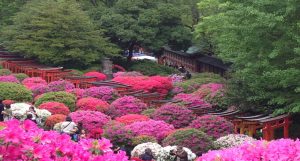 Festival of Flowers
April 12-20, 2020 from Honolulu
From: $3,095 per person triple occupancy; $3,195 per person double occupancy;$3,595 single occupancy
Reserve by October 1st-Save $50 per person
Since ancient times, Japanese have been attuned to the passing of spring, summer, autumn, and winter through the blooming of flowers. Japans' spring flowers are an explosion of colors! No soft greens and little flowers. Japan goes all out, gathering in masses to witness the spectacle that nature stages.
Now, with summer approaching, join us on this truly unique tour and be introduced to wonderful flowers of the season. Enjoy visiting 5 flowering areas to see nemophila (baby blue eyes), azaleas, yellow rapeseed, Keishu-En, a Japanese garden, and Glover Garden. 
There is still much more, 2 onsen stays, dinner with a Geiko performance, Green Park to visit the kangaroos and wallabies, a ropeway ride with amazing night views, Kumamoto Castle, Nagasaki Peace Park and Atomic Bomb Museum. 
Your Kyushu Flowers and Springtime Tour 2020 includes:
Round trip air via Hawaiian Airlines from Honolulu.
Seven nights in first class hotel accommodations.
In flight meals, breakfast daily at your hotel, 3 lunches and 3 dinners.
English speaking guide and Panda Travel ® representative throughout your journey.
All transportation via charter bus.
Daily sightseeing per itinerary.
Admission fees included based on itinerary.
Reserve with a $200 per person non refundable deposit.
Final payment due by February 12, 2020. Package is non-refundable after this date.
Non-Refundable deposits are valid only for the tour that it is booked for & cannot be transferred to another tour.
Not included in the tour:
Alcohol and soft drinks with meals.
Gratuities for the local Japanese English speaking guide.
Additional baggage fee charges from the airlines.
Please note:
A minimum of 16 participants required for tour to operate.
A valid passport is required of all U.S. citizens & must be valid at least 6 months from the return tour date. Non-U.S. passport holders need to check with the Japanese Consulate to see if a visa is required.
Land tour cost is based on current currency conversion rates. Should there be any major changes that would affect the cost, we will advise and you will have the option to cancel with full refund or pay the difference.
Air ticket fare is guaranteed; however taxes, fees and fuel surcharges are subject to change until tickets are issued. If there is any difference at ticketing date, approximately 45 days out, we will advise you.
We highly recommend the purchase of trip cancellation insurance.
Land Tour Operator is Nippon Travel Agency.
Click here for more information
Starting from $3,095 per person triple occupancy.
Starting from $3,195 per person triple occupancy.
Starting from $3,595 single occupancy.
Space is Limited!
Flight Schedule
04/12/20 – Depart Honolulu on Hawaiian Airlines flight 827 at 12:15 pm and arrives in Fukuoka at 5:55 pm, 4/13.
04/20/20 – Depart Fukuoka on Hawaiian Airlines flight 828 at 7:55 pm and arrive in Honolulu at 9:05 am (same day).
Group #12319
More Information...
Additional Tours
Along the Cassiopeia Road Fall Break 2019-SOLD OUT!
October 5-14, 2019. Starting from: $3,695 per person double or triple occupancy.
Details
Columbus Day Sapporo & Otaru Omiyage Weekender Tour 2019-GUARANTEED!
October 8-13, 2019
Starting from: $2,095 per person double or triple occupancy
Details
Tokyo Columbus Day Omiyage 2019-GUARANTEED!
October 9 -14, 2019 Escorted from HonoluluFrom: $1,895 per person double or triple occupancy
Details
Hokkaido's Autumn Foliage Tour 2019-SOLD OUT!
October 22-30, 2019. Starting from: $2,995 per person double or triple occupancy
Details
Niigata, Sado Island & Tokyo Fall Foliage Tour 2019-SOLD OUT!
October 29 – November 7, 2019. Starting from: $3,495 per person double or triple occupancy
Details