arrow_backPrevious
Nextarrow_forward
Kyushu Fall Foliage and Sumo Tournament Tour 2019-GUARANTEED!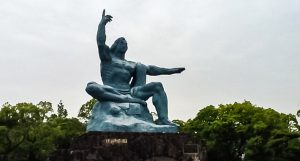 November 5-14, 2019 from Honolulu
From: $3,595 per person triple occupancy; Starting from $3,695 per person double occupancy; $3,995 single occupancy
Wind chimes and icy colors are essential in summer. Then its autumn, when a host of goodies are harvested one after the other. Autumn in Japan is magnificent. It may even be more visually stunning than the cherry blossoms of spring, maybe.
This Kyushu Fall Foliage Explorer is one you do not want to miss. The very best of fall foliage viewing spots are included with visits to Hakata, a gondola-like boat cruise on the Yanagawa River, onto Nagasaki, a welcoming, peaceful city boasting a colorful trading history, alluring churches, shrines and temples, and an East-meets-West culinary scene, all set prettily around a gracious harbor. There is also Kumamoto and the hot spring towns of Yufuin and Beppu. 
 Ah, but so much more! Get ready as we have seats to the Fukuoka Grand Sumo Tournament. It's the last major tournament of the year as wrestlers battle it out for 15 days to decide the eventual championship. 
More unique additions added this year include a visit to Hibikinada Green Park, one of the most beautiful parks located near the sea side of Kitakyushu. There's a rose garden with 320 different kinds of roses, Hibiki Animal World with approximately 250 kangaroos which you can get up close to pet and feed, wallabies and wallaroo. As well, you can enjoy the tropical ecology garden and the urban greening center.
For more unique fun, a visit to the TOTO Museum. It looks more like a modern art gallery and once inside you will see why. Truly, an experience you won't want to miss sitting or standing.
The Kyushu Fall Foliage Explorer and Sumo Tournament Tour includes:
Round trip air via Japan Airlines.
Eight nights in first class hotel accommodations.
In flight meals, breakfast daily at your hotel, 4 lunches & 1 dinner.
English speaking guide and Panda Travel ® representative throughout your journey.
All transportation via charter bus.
Daily sightseeing per itinerary.
Admission fees included based on itinerary.
Reserve with a $200 per person non refundable deposit.
Final payment due by August 2nd , 2019. Package is non-refundable after this date.
Not included in the tour:
Alcohol & soft drinks with meals
Gratuities for the local Japanese English speaking guide
Additional baggage fee charges from the airlines.
Please note:
A minimum of 16 participants required for tour to operate.
A valid passport is required of all U.S. citizens & must be valid at least 6 months from the return tour date. Non-U.S. passport holders need to check with the Japanese Consulate to see if a visa is required.
Land tour cost is based on current currency conversion rates. Should there be any major changes that would affect the cost, we will advise and you will have the option to cancel with full refund or pay the difference.
Air ticket fare is guaranteed; however taxes, fees and fuel surcharges are subject to change until tickets are issued. If there is any difference at ticketing date, approximately 45 days out, we will advise you.
We highly recommend the purchase of trip cancellation insurance.
Land Tour Operator is Nippon Travel Agency.
Starting from $3,595 per person triple occupancy
Starting from $3,695 per person double occupancy
Starting from $3,295 per person single occupancy
Space is Limited!
Flight Schedule
11/05/19 – Depart Honolulu on Japan Airlines flight 783 at 1:10 pm and arrives in Narita at 5:25 pm, 11/06.
11/06/19 – Depart Narita on Japan Airlines flight 3057 at 7:00 pm and arrives in Fukuoka at 9:15 pm.
11/14/19 – Depart Fukuoka on Japan Airlines flight 3052 at 7:20 am and arrives in Narita at 9:00 am.
11/14/19 – Depart Narita on Japan Airlines flight 786 at 7:55 pm and arrives in Honolulu at 8:00 am (same day).
Group #12056
More Information...
Additional Tours
Alpine Route Adventure plus Tokyo Fall Foliage in Japan's Northern Alps
September 29th -October 7th , 2019. Starting from: $3,395 per person triple occupancy;
Details
Along the Cassiopeia Road Fall Break 2019-SOLD OUT!
October 5-14, 2019. Starting from: $3,695 per person double or triple occupancy.
Details
Kanto Fall Break Explorer Tour 2019-SOLD OUT!
October 6-14, 2019. Starting ffrom: $2,750 per person triple occupancy
Details
Land of the Samurai Fall School Break Tour 2019 #1-LAST 5 SEATS!
October 5-14, 2019. Starting from: $3,195 per person double or triple occupancy
Details
Columbus Day Sapporo & Otaru Omiyage Weekender Tour 2019-GUARANTEED!
October 8-13, 2019
Starting from: $2,095 per person double or triple occupancy
Details