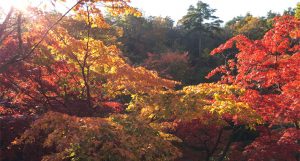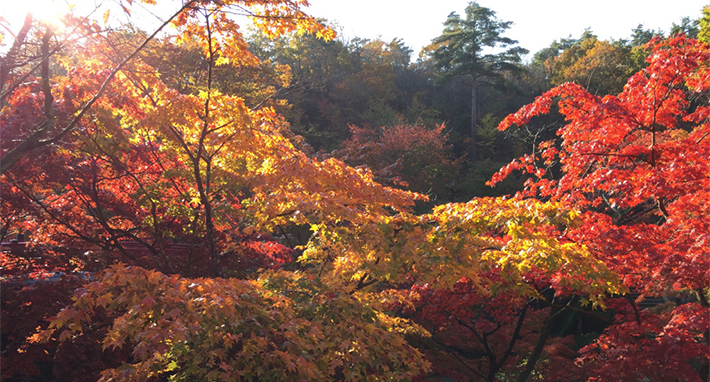 "A Journey Through the Fall Foliage"
October 25-November 2nd, 2018, escorted from Maui
From: $2,395 per person triple; $2495 per person double occupancy; $2,895 single occupancy
Book Early and save $50 PER PERSON!
Cool temperatures and colors change from the vibrant greens of summer to a rich palette of red, orange, and yellow, signaling the arrival of autumn. South Korea is renowned for having some of the most beautiful autumn foliage and fall landscapes in the world. Though numerous areas across Korea offer brilliant displays of autumn leaves, the mountains are still considered the quintessential destination.
On this tour, not only can you enjoy the fall foliage in Seoul, but we have also included Pyeongchang, the site of this years' Winter Olympics for specular mountains colors along with an experience of temple life at Woljeongsa Temple and a walk along the spruce tree road. While here an opportunity to practice Buddhist meditation as well as lotus lantern making.
We have also included the coastal city of Gangnueng and a visit to the Haslla Art World Museum with over 100 artistic and sculpture elements, indoors as well as outside, representing the harmony between art and humankind in nature. We guarantee this will be one of the tour's more memorable stops.
Your Korea's Autumn Colors 2018 tour includes:
Round trip air via Hawaiian Airlines from Maui.(flight schedule)
Seven nights in first class hotel accommodations.
In flight meals, breakfast daily at your hotel, 5 lunches and 4 dinners.
English speaking guide and Panda Travel ® representative throughout your journey.
All transportation via charter bus.
Daily sightseeing per itinerary.
Admission fees included based on itinerary.
Reserve with a $200 per person non refundable deposit.
Final payment due by September 14, 2018. Package is non-refundable after this date.
Non-refundable deposits are valid only for the tour that is booked for and cannot be transferred to another tour.
Tour land cost is based on current currency conversion rates. Should there be any major changes that would affect the cost, we will advise and you will have the option to cancel with full refund or pay the difference.
Air ticket fare is guaranteed; however taxes, fees and fuel surcharges are subject to change until tickets are issued. If there is any difference at ticketing date, approximately 45 days out, we will advise you.
Book Early and save $50 PER PERSON!
Not included in the tour:
Alcohol and soft drinks with meals.
Gratuities for the local English speaking guide.
Baggage fee charges from the airline.
Please note:
A minimum of 16 and maximum of 21 participants required for tour to operate.
A valid passport is required of all U.S. citizens.
Land Tour Operator is Rye Tours.
Starting from $2,395 per person triple occupancy.
Starting from $2,495 per person double occupancy
Starting from $2,895 single occupancy.
Space is Limited!
Flight Schedule
10/25/18 – Depart Maui on Hawaiian Airlines flight 185 at 12:19 pm and arrives in Honolulu at 1:00 pm.
10/25/18 – Depart Honolulu on Hawaiian Airlines flight 459 at 02:30 pm and arrives in Incheon at 8:00 pm, 10/26.
11/02/18 – Depart Incheon on Hawaiian Airlines flight 460 at 10:00 pm and arrive in Honolulu at 11:45 am (same day).
11/02/18 – Depart Honolulu on Hawaiian Airlines flight 356 at 1:40 pm and arrive in Maui at 2:26 pm.