arrow_backPrevious
Nextarrow_forward
Hokkaido's Winter Festivals 2020-Tour #1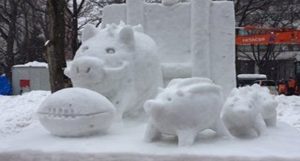 January 30-February 7th , 2020 from Honolulu
From: $3,495 per person double or triple occupancy; $4,095 single occupancy
For seven days, every February Sapporo is turned into a winter dreamland of crystal-like ice and white snow.
The Sapporo Snow Festival, one of Japan's largest winter events attracts nearly two million visitors who come to see the many snow and ice sculptures along Odori Park and the main street in Susukino. They include an array of intricate ice carvings as well as massive snow sculptures that are bigger than some of the city buildings.
On this Hokkaido Winter Festivals Tour #1, we welcome in the 71st Sapporo Snow Festival, but this is only the beginning as we will be visiting a total of 5 festivals. In additional to the Sapporo Snow Festival, we have the Suskino Ice Sculptures, The Lake Shikotsu Ice Festival, The Sounkyo Ice Light Up Festival, and the Asahikawa Snow Festival. 
And yet there is more, much more, 2 onsen stays, a day visiting the historic harbor city of Otaru, 2 sake brewery visits, Asahikakwa Zoo to witness the Penguin Walk, Sunagawa Highway Oasis for the very best omiyage shopping under one roof, 2 fish markets, Jogai Fish Market and Sapporo's Nijo Fish Market, shopping and eating. If this wasn't enough, how about 3 nights at Sapporo's finest hotel, Century Royal Hotel Sapporo. 
Hokkaido's Winter Festivals 2020 Tour #1 includes:
Round trip air via Hawaiian Airlines.
Seven nights in first class hotel accommodations.
Inflight meals, breakfast daily at your hotel, 1 lunch & 2 dinners.
English speaking guide and Panda Travel ® representative throughout your journey.
All transportation via charter bus.
Daily sightseeing per itinerary.
Admission fees included based on itinerary.
1 pair of Snow straps per person
Reserve with a $200 per person nonrefundable deposit.
Final payment due by December 2nd , 2019. Package is non-refundable after this date.
Not included in the tour:
Alcohol & soft drinks with meals
Gratuities for the local Japanese English speaking guide
Additional baggage fee charges from the airlines.
Please note:
A minimum of 16 participants required for tour to operate.
A valid passport is required of all U.S. citizens & must be valid at least 6 months from the return tour date. Non-U.S. passport holders need to check with the Japanese Consulate to see if a visa is required.
Land tour cost is based on current currency conversion rates. Should there be any major changes that would affect the cost, we will advise and you will have the option to cancel with full refund or pay the difference.
Air ticket fare is guaranteed; however taxes, fees and fuel surcharges are subject to change until tickets are issued. If there is any difference at ticketing date, approximately 45 days out, we will advise you.
We highly recommend the purchase of trip cancellation insurance.
Land Tour Operator is Nippon Travel Agency.
Starting from $3,495 per person double or triple occupancy
Starting from $4,095 per person single occupancy
Space is Limited!
Flight Schedule
1/30/2020 – Depart Honolulu on Hawaiian Airlines flight 441 at 11:50 am and arrives in Chitose at 5:00 pm, 1/31.
2/7/2020 – Depart Chitose on Hawaiian Airlines flight 442 at 7:45 pm and arrives in Honolulu at 8:00 am (same day).
More Information...
Additional Tours
Along the Cassiopeia Road Fall Break 2019-SOLD OUT!
October 5-14, 2019. Starting from: $3,695 per person double or triple occupancy.
Details
Columbus Day Sapporo & Otaru Omiyage Weekender Tour 2019-GUARANTEED!
October 8-13, 2019
Starting from: $2,095 per person double or triple occupancy
Details
Tokyo Columbus Day Omiyage 2019-GUARANTEED!
October 9 -14, 2019 Escorted from HonoluluFrom: $1,895 per person double or triple occupancy
Details
Hokkaido's Autumn Foliage Tour 2019-SOLD OUT!
October 22-30, 2019. Starting from: $2,995 per person double or triple occupancy
Details
Niigata, Sado Island & Tokyo Fall Foliage Tour 2019-SOLD OUT!
October 29 – November 7, 2019. Starting from: $3,495 per person double or triple occupancy
Details