arrow_backPrevious
Nextarrow_forward
Hokkaido Winter Wonderland Weekender 2024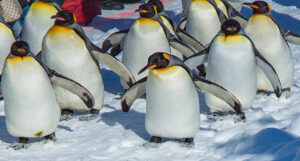 February 3 – 9, 2024 (5 nights/7 days) escorted from Honolulu 
Haneda – Chitose – Sapporo – Otaru – Asahikawa
Starting from: $3,998 per person double/triple occupancy, $4,219 single occupancy 
Contact us to see how you can save $100 per person!  
Come along as we journey to the magical winter dreamland of Hokkaido! Each February, Sapporo hosts one of Japan's largest winter events. Attracting nearly 2 million annual visitors, the Sapporo Snow Festival greets its visitors with unique ice carvings and massive snow sculptures larger than some city buildings. But this is only just the beginning! With a total of 3 festivals, we'll also visit: Lake Shikotsu Ice Festival, Sapporo Snow Festival and Asahikawa Winter Festival.
And yet there is more! Our tour also includes: an onsen stays, a visit to the historic harbor city of Otaru, a visit to a sake brewery, Asahikawa Zoo to witness the Penguin Walk, Sunagawa Highway Oasis for the very best omiyage shopping under one roof, Sapporo's Jogai Fish Market and Tanukikoji Shopping Arcade for ono shopping.
For a detailed itinerary, please click "more information…" below.
Your Hokkaido Winter Wonderland Weekender 2024 includes:
Round trip airfare via Hawaiian Airlines from Honolulu.
One way airfare via All Nippon Airways from Haneda to Chitose.
One way airfare via Japan Airlines from Asahikawa to Haneda.
Note: Airline baggage fees are additional and paid directly to the carrier.
5 nights' accommodation in centrally located hotels.
All sightseeing with a local English-speaking guide throughout the tour.
Admission fees included based on itinerary.
Inflight meals, breakfast daily at your hotel and 1 dinner.
All transportation via private charter bus.
All tour-related taxes are included in the price.
Panda Travel® escorts throughout your tour.

Reserve with $75 per person deposit, refundable until October 20, 2023

Final payment due by November 24, 2023. Package is non-refundable after this date.

Special Assistance: You must inform us of any disability/impairment that requires special attention at the time of your making the reservation. We reserve the right to cancel the reservation(s) if the disability/impairment is unsuitable for the tour. You are also responsible for any costs and/or accommodations related to your disability/impairment, such as providing your own travel companion.
Not included in the tour: 
Gratuities for local English-speaking guide.
Additional baggage fee charges from the airlines.
Alcohol and soft drinks with meals.
Please note:
A valid passport is required of all U.S. citizens & must be valid at least 6 months from the return tour date. Non-U.S. passport holders must check with the Japanese Consulate to see if a visa is required.
Land tour costs are based on current currency conversion rates, which are subject to change.
Air ticket fare is guaranteed, but taxes, fees and fuel surcharges are subject to change until tickets are issued.
We highly recommend the purchase of trip insurance. Please ask our representatives for more information.
Land Tour Operator is Nippon Travel Agency.
From $3,998 per person double/triple occupancy
From $4,219 per person single occupancy
Space is Limited!
Flight Schedule:
02/03/24 – Depart Honolulu on Hawaiian Airlines flight 863 at 12:20 pm and arrive in Haneda at 5:10 pm on 02/04/24.
02/05/24 – Depart Haneda on All Nippon Airways flight NH53 at 8:00 am and arrive in Chitose at 9:30am.
02/09/24 – Depart Asahikawa on Japan Airlines flight JL554 at 1:10 pm and arrive in Haneda at 3:00 pm. 
02/09/23 – Depart Haneda on Hawaiian Airlines flight 864 at 8:05 pm and arrive in Honolulu at 7:45 am (same day).
Group #13058
More Information...
Additional Tours
Ganbatte UH Men's Volleyball Booster Japan Tour 2023-NEW!
November 9-17, 2023. Starting from: $3,998 per person double/triple occupancy
Details
Tokyo Omiyage Weekender 2023
October 5-10, 2023. Starting from: $2,759 per person double or triple occupancy
Details
Fukuoka Omiyage Weekender 2023
Oct 6– 11, 2023. Starting from: $2,898 pp double/triple occupancy; $2,998 single occupancy
Details
Discover Japan Fall Break 2023
October 6-13, 2023. Starting from: $3,548 per person triple occupancy
Details
Japan's Park Hopper Fall Break 2023
October 7-15, 2023. Starting from: $3,898.00 per person double/triple occupancy
Details