arrow_backPrevious
Nextarrow_forward
Fukuoka and Nagasaki Columbus Day Omiyage Tour 2020-GUARANTEED!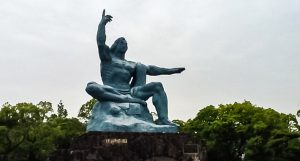 October 6-11, 2020 – Escorted from Honolulu
From: $1,995 per person double or triple occupancy; $2,150 single occupancy
Reserve by April 15th– Save $25 Per Person!
Welcome to Fukuoka, on the northern tip of Kyushu Island, it is western Japan's most happening city and gateway to the country. Set amid splendid natural diversity – bordered by mountains, flanked by sea, and dotted with hot springs – the metropolis is an exciting hub of modern city life. Rich with tradition and modern cultural attraction, contemporary art, architecture, shopping, and cuisine complement centuries'-old temples and shrines.
Dining- Fukuoka is renowned throughout Japan for its ramen, and no trip to the city is complete without tasting the distinctive noodles and broth dish. Ramen can be sampled at hundreds of vendors throughout the city. The city's many yatai (open-air street food stalls) offer yet another unique Fukuoka dining experience. Hundreds of stalls – operate from early afternoon into the evening.
Shopping-There is Canal City, "a city within a city", a large shopping and entertainment complex centered around the canal. The city's business district is home to many shops and department stores including an underground mall.
And yet, there is much more as we travel to Nagasaki via the legendary pottery center of Okawauchiyama Village and Arita Sera, 24 shops specializing in Arita-yaki.
Nagasaki, forever marked as a distinct destination, is today vibrant and full of diverse charm, with a modern energy that embraces the past while looking toward the future.
On this Omiyage Weekender, we have also included Glover Garden, an opportunity to get up and close with kangaroos and wallabies at Green Park, hands-on experience, the TOTO Museum, cable car ride, Nagasaki Peace Park and all-important shopping time. 
Fukuoka and Nagasaki Columbus Day Omiyage Weekender Tour 2020 includes:
Round trip air via Hawaiian Airlines from Honolulu.
Four nights in first class hotels.
In-flight meals, breakfast daily at your hotel & 2 lunches.
English speaking guide and Panda Travel ® representative throughout your journey.
All transportation via charter bus.
Daily sightseeing per itinerary.
Admission fees included based on itinerary.
Reserve with a $200 per person non refundable deposit.
Final payment due by August 6th, 2020. Package is non-refundable after this date.
Non-Refundable deposits are valid only for the tour that it is booked for & cannot be transferred to another tour.
Not included in the tour:
Alcohol & soft drinks with meals
Gratuities for the local Japanese English speaking guide
Additional baggage fee charges from the airline.
Please note:
A minimum of 16 participants required for tour to operate.
A valid passport is required of all U.S. citizens & must be valid at least 6 months from the return tour date. Non-U.S. passport holders need to check with the Japanese Consulate to see if a visa is required.
Land tour cost is based on current currency conversion rates. Should there be any major changes that would affect the cost, we will advise and you will have the option to cancel with full refund or pay the difference.
Air ticket fare is guaranteed; however taxes, fees and fuel surcharges are subject to change until tickets are issued. If there is any difference at ticketing date, approximately 45 days out, we will advise you.
We highly recommend the purchase of trip cancellation insurance.
Land Tour Operator is Nippon Travel Agency.
Starting from $1,995 per person double or triple occupancy
Starting from $2,150 per person single occupancy
Space is Limited!
Flight Schedule
10/06/20 – Depart Honolulu on Hawaiian Airlines flight 827 at 12:50 pm and arrives in Fukuoka at 5:55 pm, 10/07.
10/11/20 – Depart Fukuoka on Hawaiian Airlines flight 828 at 7:55 pm and arrive in Honolulu at 9:25 am (same day).
Group #12465
More Information...
Additional Tours
Hokkaido's Autumn Treasures and Festivals Tours 2020
September 29- October 09, 2020. Starting fomr: $3,495 per person triple occupancy
Details
Along the Cassiopeia Road-Fall Break Tour 2020
October 03-12, 2020. Starting from: $3,795 per person double or triple occupancy
Details
Kanto Fall Break Explorer Tour 2020
October 3-10, 2020. Starting from: $2,695 per person double or triple occupancy
Details
Historical Japan Fall Break Tour 2020
October 3-10, 2020. Starting from:$2,895 per person double or triple occupancy
Details
Tokyo and Disney Park Fall Break Tour #1- 2020
October 3-11, 2020. Starting from: $2,895 per person double or triple occupancy
Details