arrow_backPrevious
Nextarrow_forward
"For the Love of the Game"-Baseball's East Coast Classic Road Trip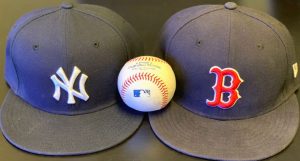 May 30- June 9, 2019
Come, join us on this truly one of a kind baseball road trip beginning in New York City for 6, yes 6 nights in the city that never sleeps followed by 3 nights in Boston, one of America's oldest cities, at times referred to as "one enormous outdoor history museum".
Our hotel selection is top-notch, starting with 6 nights at the Sheraton New York Times Square and followed by 3 nights at the Sheraton Boston, right in the heart of the city. Talk about location, walk out the front door of either hotel and there's a world waiting for you to explore!
And now, the lineup for our road trip includes not one, but 2 games at Yankee Stadium as they take on but who else, the Boston Red Sox. Rest up for a day and then off Citi Field as the Mets take on the San Francisco Giants. Enjoy a second free day in the Big Apple before we journey up to" Bawston" for 2 games at legendary Fenway Park, known as "America's Most Beloved Ballpark". The Red Sox welcome in the Tampa Bay Rays.
This escorted tour includes round trip flights on Hawaiian Airlines, 9 nights hotel, airport transfers, charter bus transfer to and from the Yankee and Mets game, game tickets, and all taxes and gratuities.
Tour Details:
Round trip airfare from Honolulu via Hawaiian Airlines.
Note: airline baggage fees are additional and paid directly to the carrier.
6 nights at the Sheraton New York Times Square
3 nights at the Sheraton Boston Hotel
Free WiFi at both hotels
All taxes and gratuities
Game tickets to all 5 games (2 at Yankee Stadium, 1 at Mets Citi Field and 2 at Fenway Park)
Book with $300 non-refundable deposit per person. Final payment due by March 15, 2019. Package is non-refundable after this date.
Non-refundable deposits are only valid for the tour booked for and cannot be applied to another tour.
Important Notice: In case of a rained out game, the game tickets are non-refundable. If the make-up game is during our stay, we will make arrangements to attend. If not, policies vary depending on the organization. Options are to use on a make-up day, choose alternate date or try and sell via a ticket outlet. These rain date options would need to be handled by you personally and does not include airfare nor transportation.     
Click here for more information
Starting from $3195 per person quad (4 persons sharing 1 room with 2 beds)
Starting from $3395 per person triple (3 persons sharing 1 room with 2 beds)
Starting from $3895 per person double (choose room with 2 beds or 1 queen/king)
Starting from $5,395 per person single occupancy (choose room with 2 beds or 1 queen/king)
Space is Limited! Only 10 rooms available!
Flight Schedule
05/30/19 – Depart Honolulu on Hawaiian Airlines flight 50 at 3:05 pm and arrive in New York (JFK) at 6:55 am, 5/31/19.
06/09/19 – Depart Boston on Hawaiian Airlines flight 89 at 8:55 am and arrive in Honolulu at 2:25 pm.
Additional Tours
4th of July Weekend in Boston 2019
July 1-7, 2018, Starting from: $1,895 per person quad occupancy
Details
Boston and Cape Cod Summer 2019
August 24-September 3, 2019. Starting from $3,195 per person quad occupancy (4 persons sharing 2 beds in 1 room).
Details