arrow_backPrevious
Nextarrow_forward
Fall Explorer in Kyoto, Nara, Osaka, Miyajima, Hiroshima & Kobe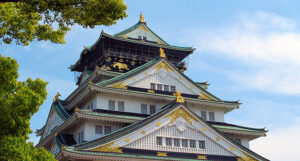 Oct 7 – 14, 2023 escorted from Honolulu
$3,835 per person triple occupancy; $3,898 per person double occupancy; $4,398 single occupancy 
Cancel for any reason up to 60 days prior to departure date for a FULL REFUND!
Contact us to see how you can save $100 per person!  
Japan has a rich history that stretches back thousands of years and the country's ancestors have left their imprint everywhere. It is a world apart – a cultural Galápagos where a unique civilization blossomed, and today thrives in delicious contrasts of traditional and modern. 
We begin in Kyoto, the ancient capital of Japan and cultural heart of the country. Set amid beautiful historical landmarks–traditional temples, shrines, and gardens–this metropolis is also an exciting hub for modern city life. 
We'll then head over to Osaka, a nocturnal megalopolis illuminated by dazzling neon and vivid storefronts. Above all, Osaka is a city that loves to eat: its unofficial slogan is kuidaore ("eat until you drop"). 
Next, we'll visit Hiroshima, a city rebuilt following the horrific split second on August 6, 1945, when it became the site of the world's first atomic bomb attack. Today, Hiroshima has become the spiritual center for the peace movement and the largest industrial city in the region.
We'll also make our way to Kobe, a dreamy destination with beautiful scenery and world-renowned cuisine, including mouth-watering Kobe beef!
Here are a few highlights from the tour: rides on bullet trains, ferries and ropeways, visits to 5 UNESCO sites, trips to cultural landmarks, an adventure to Universal Studios, and plenty of shopping opportunities!
Your 2023 Fall Explorer in Kyoto, Nara, Osaka, Miyajima, Hiroshima, Kobe – includes:
Round trip airfare via Hawaiian Airlines from Honolulu.
Note: Airline baggage fees are additional and paid directly to the carrier.
6 nights' accommodations in centrally located hotels.
All sightseeing with local English-speaking guide throughout the tour
Admission fees included based on itinerary.
Inflight meals, breakfast daily at your hotel, 2 lunches and 2 dinners.
All transportation via private charter bus.
All tour-related taxes included in the price.
Panda Travel® escorts throughout your tour.

Reserve with $75 per person deposit, refundable up to 60 days prior to departure, August 8, 2023

Final payment due by August 20, 2023. Package is non-refundable after this date.

Special Assistance: You must inform us of any disability/impairment that requires special attention at the time of your making the reservation. We reserve the right to cancel the reservation(s) if the disability/impairment is unsuitable for the tour. You are also responsible for any costs and/or accommodations related to your disability/impairment, such as providing your own travel companion.
Not included in the tour:
Gratuities for local English-speaking guide
Additional baggage fee charges from the airlines.
Alcohol and soft drinks with meals
Please note:  
A minimum of 16 participants is required for the tour to operate.
A valid passport is required of all U.S. citizens & must be valid at least 6 months from the return tour date. Non-U.S. passport holders must check with the Japanese Consulate to see if a visa is required.
Land tour costs are based on current currency conversion rates, which are subject to change.
Air ticket fare is guaranteed, but taxes, fees and fuel surcharges are subject to change until tickets are issued, approximately 45 days out.
We highly recommend the purchase of trip insurance. Please ask our representatives for more information.
Land Tour Operator is Nippon Travel Agency.
Click here for more information  
From $3,835 per person triple occupancy 
From $3,898 per person double occupancy 
From $4,398 single occupancy
Space is Limited! 
Flight Schedule 
10/07/23 – Depart Honolulu on Hawaiian Airlines flight 449 at 2:25 pm and arrives in Kansai at 6:45 pm, 10/08/23
10/14/23 – Depart Kansai on Hawaiian Airlines flight 450 at 8:45 pm and arrive in Honolulu at 9:40 am (same day).
Group #12981
More Information...
Additional Tours
Kanto Cherry Blossom 2023 – Tour #2
March 28 - April 4, 2023. Starting from: $3,796 per person double/triple occupancy
Details
Tokaido Road Cherry Blossom Tour 2023
March 28-April 5, 2023. Starting from: $4,238 per person double/triple occupancy
Details
Kyushu Cherry Blossom Tour 2023
March 28-April 5, 2023. Starting from: $4,168 per person triple occupancy
Details
Niigata, Sado Island & Tokyo Spring Explorer Tour 2023
April 11-21, 2023. Starting from $4,802 per person triple occupancy
Details
Tokyo Festival of Flowers 2023
April 17-24, 2023. Starting from: $3,249 per person triple occupancy
Details