Nextarrow_forward
Along the "One-oh-One" to Eugene, Oregon-Tour #1- LAST 3 ROOMS!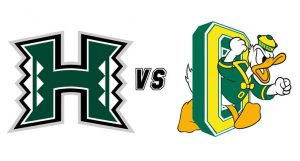 Aloha UH Road Warriors! We are off to Eugene, Oregon for "Football Saturday" at Autzen Stadium, known as one of the most intimidating college stadiums. While only a capacity of 54,000, Autzen is loud, one of the loudest in college football. It's a place you'll hear long before you'll see it, but boy, is it a sight, big, beautiful and noisy as a typhoon.
Football Saturday begins with Puddles, the Oregon Duck, one of college football's most popular mascots leading the team onto the field while on the back of a roaring Harley Davidson. There's nothing quite like a visit to Autzen Stadium.
Ah, but before we arrive in Eugene, we have planned out a road trip quite like no other experience. It begins with a 3-night stay in Santa Rosa at the Hyatt Regency Sonoma Wine Country. As we travel north, two one-night casino hotel stays, Blue Lake Casino & Hotel and The Mill Resort on Coos Bay, Oregon. Our last 2 nights, the Courtyard Marriot Eugene-Springfield, walking distance to restaurants and shopping.
In Santa Rosa, our tour includes, Safari West, a renowned 400-acre private wildlife preserve. Climb onboard the custom safari vehicles and we are off to explore the Sonoma Serengeti. There is also a visit to the Charles M. Schulz Museum, housing the largest collection of Peanuts strips in the world. Wine country without visiting a winery, no way! We will be visiting two wineries complete with tastings and lunch, Kendall-Jackson Wine Estate & Gardens as well as Barra of Mendocino in Redwood Valley.
Along the way, visits to the Humboldt Redwoods State Park via the Avenue of the Giants and a stop at Legend of Big Foot, a gift shop in the middle of one of the most amazing forests. The shop is chock full of carvings and just about any Bigfoot souvenir imaginable. And, Trees of Mystery to experience a nearly 1/3-mile journey through the forest tree tops via their unique SkyTrail gondola.
More, oh yes, a visit at Prairie Creek Visitors Center where stately giant redwoods are just a short walk away. There's also a giant dune buggy tour along Oregon's dunes, covering 8-miles of dunes and 2-miles of ocean beach. One last stop on the 101 before Eugene, exploring the small coastal town of Florence and its bustling little downtown.
Guaranteed, this is a one-of-a-kind tour, a one-time only experience, and this UH Road Warrior tour is one you do not want to miss.
Along the "One-oh-One" to Eugene, Oregon tour includes:
Escorted from Honolulu
Round trip air via United Airlines
7-nights hotel accommodations.
Daily buffet breakfast, 4 lunches and 2 dinners
Daily sightseeing as detailed in the itinerary
Official UH Tailgate Party & game ticket
2020 UH Road Warrior T-shirt
All transfers by charter bus (airport, touring & game day)
Gratuities for bus drivers and food service staff included
Reserve with a $250 per person non-refundable deposit
Final payment is due by June 2nd , 2020. Package is non-refundable after this date.
Non-Refundable deposit valid only for the tour booked and cannot be applied to another tour.
Not included in the package price:
Airline baggage fees
Gratuities to hotel housekeeping staff
Starting from $2,695 per person quad occupancy
Starting from $2,795 per person triple occupancy
Starting from $2,995 per person double occupancy
Starting from $3,795 per person single occupancy
Space is Limited!
Flight Schedule
09/13/20 – Depart Honolulu on United Airlines flight 372 at 7:00 am and arrive in San Francisco at 3:00 pm.
09/20/20 – Depart Eugene on United Airlines flight 572 at 6:00 am and arrive in San Francisco at 7:38 am.
09/20/20 – Depart San Francisco on United Airlines flight 1175 at 8:45 am and arrive in Honolulu at 11:04 am.
Group #12357
More Information...
Additional Tours
Along the "One-oh-One" to Eugene, Oregon-Tour #2-SOLD OUT!
September 12-20, 2020. Starting from: $2,795 per person quadruple occupancy
Details
Quack Attack Football Weekender plus Las Vegas-GUARANTEED!
September 17-24, 2010. Starting from: $1850 per person quadruple occupancy
Details
Quack Attack Weekender
September 18-20, 2020. Starting from:$1,295 per person quadruple occupancy
Details
Quack Attack Football Weekender-Land Only
September 18-20, 2020. Starting from: $379 per person quadruple occupancy
Details
UH vs Air Force Academy Falcons – Purple Mountain's Majesty Tour
October 14-22, 2020. Starting from: $2,095 per person quadruple occupancy
Details