arrow_backPrevious
Nextarrow_forward
72nd Sapporo Snow Festival Weekender 2021-Tour #1-SOLD OUT!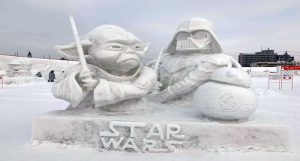 January 30th – February 5th , 2021 escorted from Honolulu
From: $2,495 per person double or triple occupancy; $2,695 single occupancy
Reserve by September 1st-SAVE $50 per person!
While all of Hokkaido is stunning in winter, with snowy landscapes, cozy hot springs and scrumptious food that never disappoints, every February Sapporo is turned into a winter dreamland of crystal-like ice and white snow.
The Sapporo Snow Festival, one of Japan's largest winter events attracts nearly two million visitors who come to see the many snow and ice sculptures along Odori Park and the main street in Susukino. They include an array of intricate ice carvings as well as massive snow sculptures that are bigger than some of the city buildings.
Snow sculptures are carved from snow brought down from the mountains surrounding the city. From these white blocks grow the pyramids of Egypt, high prehistoric animals, the famous sights of Japan such as Matsumoto Castle and Kyoto's Golden Pavilion. Just the beginning as we have also included the Susukino Ice Sculptures, the Sounkyo Ice Light Up Festival and the Hokkaido Ice Pavilion.
There is still much more to see and enjoy over these five nights, a sake brewery tasting, a visit to the historic harbor city of Otaru, Asahikawa Zoo to witness the Penguin Parade, 2 hands-on experiences, ice cream making and music box making. In Sapporo, sightseeing, Nijo Fish Market, Tanukikoji Shopping Street, and free time to enjoy on your own! 
This year's we added Furano to the itinerary. While best known for the TV show "Kita no Kuni Kara" and lavender farms, in winter, with temperatures close to -22°F, you can see "diamond dust," a natural phenomenon in extreme cold weather.
When the day is complete, our accommodations are second to none, in Sapporo at the Century Royal Hotel with direct access to the Sapporo JR Station and in Asahikawa, the JR Inn Asahikawa, at the JR Station and attached to the AEON Mall.
Come along and celebrate the 72nd Sapporo Snow Festival and enjoy Hokkaido's winter season!  
Your 72nd Sapporo Snow Festival Weekender 2021- Tour #1 includes:
Round trip airfare via Hawaiian Airlines from Honolulu.
Note: Airline baggage fees are additional and paid directly to the carrier.
5 nights in first class hotels
Daily sightseeing with local English-speaking guide throughout the tour
Admission fees included based on itinerary
Inflight meals, breakfast daily at your hotel, 1 lunch and 1 dinner
All transportation via private charter bus
1 pair of snow straps per person
All tour related taxes included in price
Panda Travel® escorts throughout your tour.
Reserve with $75 per person deposit, refundable up to 60 days prior to departure, December 1st, 2020
Final payment due by December 16, 2020. Package is non-refundable after this date.
Not included in the tour:
Gratuities for local English speaking guide
Additional baggage fee charges from the airlines.
Alcohol and soft drinks with meals
Please note:
A minimum of 16 participants required for tour to operate.
A valid passport is required of all U.S. citizens & must be valid at least 6 months from the return tour date. Non-U.S. passport holders need to check with the Japanese Consulate to see if a visa is required.
Land tour cost is based on current currency conversion rates. Should there be any major changes that would affect the cost, we will advise and you will have the option to cancel with full refund or pay the difference.
Air ticket fare is guaranteed; however taxes, fees and fuel surcharges are subject to change until tickets are issued. If there is any difference at ticketing date, approximately 45 days out, we will advise you.
We highly recommend the purchase of trip cancellation insurance.
Land Tour Operator is Nippon Travel Agency.
From $2,495 per person double or triple occupancy
From $2,695 per person single occupancy.
Space is Limited!
Flight Schedule
01/30/21 – Depart Honolulu on Hawaiian Airlines flight 441 at 12:15 pm and arrives in Chitose at 5:00 pm, 01/31
02/05/21 – Depart Chitose on Hawaiian Airlines flight 442 at 7:45 pm and arrive in Honolulu at 7:45 am (same day).
Group #12595
More Information...
Additional Tours
Enchanting Snow Monsters and Traditional Onsen Tour
January 24-February 1, 2021. Starting from: $3,195 per person double or triple occupancy
Details
72nd Sapporo Snow Festival Weekender 2021 – Tour #2
February 6-12, 2021. Starting from: $2,595 per person double or triple occupancy
Details
Hokkaido's Winter Festivals 2021-Tour #1
February 2-10, 2021. From: $3,295 per person double or triple occupancy
Details
Hokkaido's Winter Festival Tour 2021-#2
February 4-12, 2021. Starting from: $3,495 per person double or triple occupancy
Details
Lovin' Tokyo Omiyage Weekender Tour 2021 Tour
February 10-15, 2021. Starting from: $1,695 per person double or triple occupancy
Details