arrow_backPrevious
Nextarrow_forward
2019 UH Road Warriors-Pacific Northwest Adventure Tour-SOLD OUT!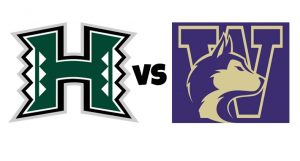 2019 UH Road Warriors- "Back in Black" road game opener
Pacific Northwest Adventure Tour
 September 9th-16th, 2019 
7nts from: $2195 quad/ $2295 triple/$2595 double/$3595 single
It's football Saturday at Husky Stadium nestled high above Union Bay on Lake Washington. Its trademark cantilever metal roof structure traps in sound, making the venue known for being one of the loudest stadiums in the nation. It is described as the "Greatest Setting in College Football".
Our Pacific Northwest Adventure Tour begins in Portland, Oregon's largest city. Whether you call it PDX, P-town, Stumptown, the City of Roses, Bridge City, or simply Portland, enjoy 2 nights and a complete free day in this vibrant city known for its eccentric locals, its dynamic downtown—resplendent with microbreweries, coffee shops, brunch spots, and book stores—and sweeping natural scenery that surrounds it, like the sparkling Willamette River and majestic Mount Hood.
Our tour complete with a local tour director begins with a visit to Mount St. Helens. 57 people perished when it erupted on May 18, 1980, in an explosion bigger than 1500 atomic bombs. The cataclysm began with an earthquake that sparked the biggest landslide in recorded history and buried 230 sq. miles of forest under millions of tons of volcanic rock and ash.
Our visit here today demonstrates how, over three decades on, nature has restored much life to the mountain, although the devastation wreaked by the explosion is still hauntingly evident.
From here, off to Olympia, Washington State's iconic state capital. Enjoy the evening exploring its downtown and beautiful setting on the Puget Sound.
Our 2nd day includes Snoqualmie Falls, one of Washington state's most popular scenic attractions, then onto Leavenworth, the "Bavarian Village" in the Cascade Mountains. We continue to Deception Falls where you'll have a chance to walk an easy trail in this gorgeous forest to enjoy breathtaking views of the fall. Along the drive enjoy the beauty of Stevens Pass, a mountain pass through the Cascade Mountains.
Once in Seattle, a quick photo stop at the Fremont Troll, a big, fearsome, car-crushing bruiser who took up residence under the north end of the Aurora bridge on Halloween 1990.
Our hale for this football weekender is at the Motif Seattle, the perfect spot for exploring downtown Seattle. Located on Fifth Avenue, you are just a short walk from Pikes Market and steps from great shopping and restaurants. 
It's a fun filled weekend you won't want to miss. If you love sports, we have it all beginning with a Mariners baseball game on Friday night as they take on the Chicago White Sox in our private venue, the Hit it Here Terrace, along right field with outdoor terrace seating, food and beverages. Plus, its fireworks night here at Safeco Field!
Football Saturday begins with a pre-game UH Tailgate Party on the stadium grounds and then sit back among the 70,000 plus fans as we rally on our beloved Rainbow Warriors to victory.
Sunday, a complete free day to get out and explore on your own or maybe, just maybe the Seahawks are in town and you can make it a "hat trick" weekend. 
Your 2019 UH Pacific Northwest Adventure Tour includes:
Round trip air via Hawaiian Airlines from Honolulu.
Round trip airport transfers
Seven nights hotel accommodations, hotel taxes and gratuities for hotel porters
Chartered bus for touring days
Local tour director for the 2 touring days
Gratuities for bus drivers and local tour director
Meals on tour per the day to day itinerary
Friday night Seattle Mariners baseball game in a private venue, Hit it Here Terrace. Includes game ticket, food and beverage. (menu is detailed on the day to day itinerary)
Saturday UH tailgate party including food and drinks (menu TBA)
Saturday UH vs Huskies football tickets-group seating
Round trip charter bus to both games
2019 "Black in Black" commemorative t-shirt
Reserve with a $200 per person nonrefundable deposit.
Final payment due by June 1st , 2019. Package is non-refundable after this date.
Not included in the tour:
Gratuities for the hotel chambermaids
Baggage fees are additional and payable directly to Hawaiian Airlines. Current fees are $30 for the 1st bag and $40 for 2nd bag. Additional bags are $100 each. Weigh limitation per bag is 50 lbs. Checked bag fees are a one-way fee.
Please note:
We highly recommend the purchase of trip cancellation insurance.
*Motif Seattle Hotel Amenity fee which has been waived for our group includes the following complimentary features.
Wireless internet in all common areas and guest rooms
Unlimited access to Press Reader-digital content for 5,000 plus publications
Unlimited local and long distance phone calls (Continental USA)
In-room coffee and tea service
Two bottles of water; replenished daily
Unlimited use of the fitness facilities
Unlimited use of the business center
 Click here for more information
Starting from $2,195 per person quad occupancy (4 persons sharing existing bedding).
Starting from $2,295 per person triple occupancy (3 persons sharing existing bedding).
Starting from $2,595 per person double occupancy
Starting from $3,595 single occupancy.
Space is Limited!
Flight Schedule
09/09/19 – Depart Honolulu on Hawaiian Airlines flight 26 at 1:10 pm and arrives in Portland at 9:45 pm
09/16/19 – Depart Seattle on Hawaiian Airlines flight 21 at 9:35 am and arrive Honolulu at 12:35 pm.
Group #11992
Additional Tours
2019 UH Road Warriors-Huskies Football Weekender 1 ROOMS LEFT!
September 11-16, 2019. Starting from $1,495 per person quadruple occupancy
Details
2019 UH Road Warriors Huskies Football Weekender- 4 Night LAND ONLY Package-HURRY! 1 ROOM LEFT!
September 12-16, 2019. Starting from: $995 per person, quadruple occupancy.
Details
2019 UH Road Warriors-Huskies Football Weekender and Las Vegas-SOLD OUT!
September 12-20, 2019. Starting from: $1,995 per person quadruple occupancy
Details
2019 UH Road Warrior-Pacific Northwest Adventure Tour #2-SOLD OUT!
September 9-16, 2019. Starting from: $2,195 per person quadruple occupancy.
Details
Treasure Valley Weekender at "The Blue"
October 9-13, 2019. Starting from $1,295 per person quad occupancy (4 persons sharing existing bedding).
Details