arrow_backPrevious
Nextarrow_forward
2019 UH Road Warriors-Huskies Football Weekender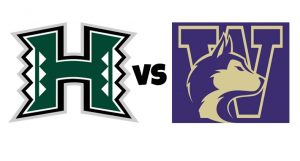 2019 UH Road Warriors- "Back in Black" road game opener
Huskies Football Weekender
Husky Stadium- known as the "Greatest Setting in College Football."
Alaska Airlines Field at Husky Stadium – Saturday, September 14, 2019
September 11-16, 2019 – Escorted from Honolulu
From: $1,495 per person quad occupancy; $1595 triple occupancy; $1,695 double occupancy; $2,295 single occupancy
Its football Saturday at Husky Stadium nestled high above Union Bay on Lake Washington. Its trademark cantilever metal roof structure traps in sound, making the venue known for being one of the loudest stadiums in the nation.
The views from Husky Stadium are unmatched – overlooking Lake Washington, sweeping skylines of Downtown Seattle, Mt. Rainier and the Cascade Mountains to the east and the Olympic Mountain Range to the west.
Our hale for this football weekender is at the Grand Hyatt Seattle, the perfect spot for exploring downtown Seattle. Just a short walk from great shopping and restaurants. 
It's a fun filled weekend you won't want to miss. If you love sports, we have it all beginning with a Mariners baseball game on Friday night as they take on the Chicago White Sox in our private venue, the Hit it Here Terrace, along right field with outdoor terrace seating, food and beverages. Plus, its fireworks night here at Safeco Field!
Football Saturday begins with a pre-game UH Tailgate Party on the stadium grounds and then sit back among the 70,000 plus fans as we rally on our beloved Rainbow Warriors to victory.
Sunday, a complete free day to get out and explore on your own or maybe, just maybe the Seahawks are in town and you can make it a "hat trick" weekend.         
Your 2019 Huskies Football Weekender Escorted Tour includes:
Round trip air via Alaska Airlines from Honolulu.
Round trip airport transfers
Four nights at the 4-star Grand Hyatt Seattle Hotel.
Standard WiFi complimentary
Gratuities for hotel porters and bus drivers
Daily hotel amenity fee-waived for our group*
Friday night Seattle Mariners baseball game in a private venue, Hit it Here Terrace. Includes game ticket, food and beverage. (menu is detailed on the day to day itinerary)
Saturday UH tailgate party including food and drinks (menu TBA)
Saturday UH vs Huskies football tickets-group seating
Round trip charter bus to both games
2019 "Black in Black" commemorative t-shirt
Reserve with a $200 per person nonrefundable deposit.
Final payment due by June 1st , 2019. Package is non-refundable after this date.
Not included in the tour:
Gratuities for the hotel chambermaids
Baggage fees are additional and payable directly to Alaska Airlines at check-in. Current fees are $30 for the 1st bag and $40 for 2nd bag. Additional bags are $100 each. Weigh limitation per bag is 50 lbs. Checked bag fees are a one-way fee.
Please note:
We highly recommend the purchase of trip cancellation insurance.
 Click here for more information
Starting from $1,495 per person quad occupancy (4 persons sharing existing bedding).
Starting from $1,595 per person triple occupancy (3 persons sharing existing bedding).
Starting from $1,695 per person double occupancy
Starting from $2,195 single occupancy.
Space is Limited!
Flight Schedule
09/11/19 – Depart Honolulu on Alaska Airlines flight 818 at 9:30 pm and arrives in Seattle at 6:29 am, 9/12.
09/16/19 – Depart Seattle on Alaska Airlines flight 853 at 6:00 pm and arrive Honolulu at 9:08 pm. (same day).
Group #11992
Additional Tours
"For the Love of the Game"-Baseball's East Coast Classic Road Trip
May 30-June 9, 2019. Starting from $3195 per person quad (4 persons sharing 1 room with 2 beds)
Details
"For the Love of the Game"-Baseball's West Coast Classic Road Trip
August 22-29, 2019
Details
2019 UH Road Warriors Huskies Football Weekender- 4 Night LAND ONLY Package
September 12-16, 2019. Starting from: $995 per person, quadruple occupancy.
Details
2019 UH Road Warriors-Huskies Football Weekender and Las Vegas-GUARANTEED!
September 12-20, 2019. Starting from: $1,995 per person quadruple occupancy
Details
2019 UH Road Warriors-Pacific Northwest Adventure Tour-SOLD OUT!
September 9-16, 2019. Starting from: $2,195 per person quadruple occupancy
Details