East Coast Cruises by Panda Travel®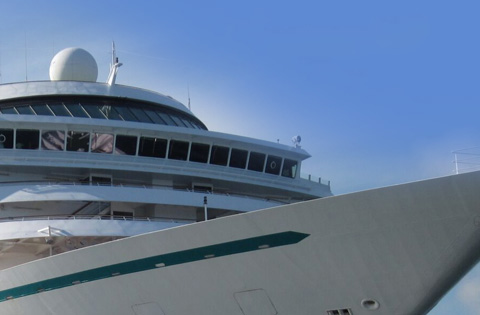 Panda Travel ® offers Hawaii travelers a number of options for east coast cruises. Fall is also an excellent time to visit New York city, New England and Canada. This is when the weather is often still warm and beautiful, great for walking around and exploring.
Some tours begin in the heart of New York City, Times Square. Autumn may very well be the best time of the year to visit. Summer crowds have left and the holiday crowds have not yet arrived. Whether you wander Central Park, shop along Fifth Avenue or enjoy world class theater, New York City has it all.
Princess Line East Coast Cruises
From here, some of our tour clients can board the Royal Princess ®. It's the newest member of the Princess fleet and she is sure to delight. Christened by The Duchess of Cambridge in 2013, the ship features exciting new innovations and signature features.
After a few days in New York, the Royal Princess often sails to the port of Newport, Rhode Island. It was here America's elites built elaborate summerhouses that they referred to as "cottages."
US East Coast
Other ports can include Boston, Massachusetts. It's a city every American should visit at least once. Follow the Freedom Trail along three of the most historic miles in the country. See the site of the Boston Tea Party. Trace the route of Paul Revere's famous ride. And stand on the bridge where Minutemen fired "the shot heard 'round the world."
From Boston, cruises can sail to Bar Harbor, Maine. The wealthy flocked to Bar Harbor at the turn of the century. Here they built Newport-style homes that turned the quaint New England town into a fashionable summer resort. You can't go to Bar Harbor and not indulge in the infamous Bar Harbor Bar. It's a chocolate-dipped ice cream sandwich made with soft chocolate chip cookies.
Canada
After that, cruises can head up to Canada and dock in St. John  New Brunswick. This is Canada's oldest settlement and is the gateway to the scenic wonders of New Brunswick. One of Canada's oldest provinces, New Brunswick remains remarkably unspoiled. Eighty-five percent of the province remains unsettled. Nature also blessed the area with one of her most astonishing phenomena, the reversing River Rapids. Strong tides of the Bay of Fundy rise with such force that they actually cause the St. John River to reverse direction.
Halifax, Nova Scotia is typically the last port. Halifax was once Great Britain's major military bastion in North America. Beautifully restored waterfront buildings of Halifax's Historic Properties reflect the city's maritime heritage. Stroll the waterfront and you may find Nova Scotia's floating ambassador, the schooner Bluenose II. You can see it tied up to Privateer's Wharf, just as old sailing ships have done for over 200 years. Halifax is also the gateway to Nova Scotia's stunning scenery. Here, you'll find Peggy's Cove. This is where surf-pounded granite cliffs and a solitary lighthouse create an unsurpassed scene of rugged natural beauty.
Whether you are a return visitor to the east coast of North America or experiencing its history for the first time, you will be sure to have a great time with us. For more information on east coast cruises by Panda Travel ®, contact us at packages@panda-group.com.
Awards & Affiliations