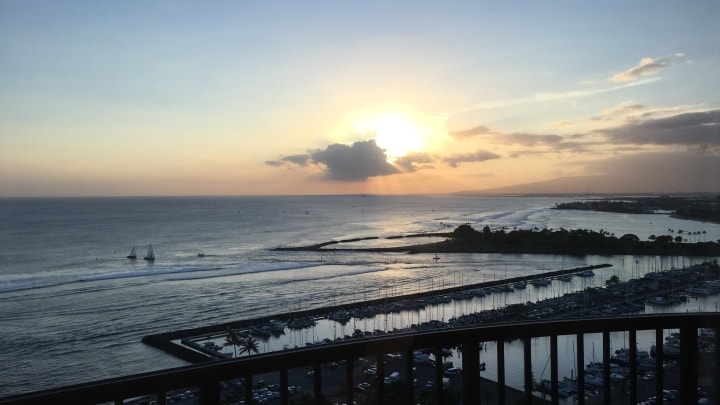 There is no better way to say goodbye to the past and aloha to the future than by celebrating the oncoming New Year in Hawaii. Visitors from all over the world congregate on the islands to kick off a new season with joy, hope and laughter. Whether you plan to watch late night fireworks or ring in the New Year with a spontaneous dive in the ocean, spending New Year's Day in Hawaii is sure to bring a variety of adventures and meaningful reflections for all. Look at the list below for some ideas on how you and your family can enjoy events on every island.
Oahu: The island known as The Gathering Place practically erupts with activity for the New Year's Eve celebrations. From downtown Honolulu to Waikiki, families and friends can join in a dynamic array of events from firework shows including dinner cruises, dances, lauas, elite parties and exciting community events for the whole group. The fireworks show on Waikiki Beach helps build anticipation, with one set of aerials launched every minute from 11:55 pm until midnight when an explosive crescendo of light dazzles the masses. Honolulu's Kaka'ako Waterfront Park has a longer fireworks show, beginning at 9 pm, continuing in hourly intervals and culminating in a monumental display at midnight. The Ko Olina Resort and the Moana Surfrider hotels are known to also offer impressive firework displays; so no matter where you are on the south shore of the island, fireworks are bound to be a part of experiencing New Year's Eve on Oahu.
For those who want to have an old fashioned night on the town on New Year's Eve, party tickets can be bought for events such as: the Tiki's Grill and Bar at the Aston Waikiki Beach Hotel, the Trump Hotel Waikiki (a high-end formal event costing $350 per ticket) or the famous Pink Party at the Royal Hawaiian. The Star of Honolulu Dinner Cruise might be the best way to view the sparkling fireworks for those who prefer to pass through the New Year out on the ocean. For families who are looking to feast together, most restaurants and hotels offer fix-priced meals and multi-course dinners for their guests. For more information on what events are happening near you, speak to your hotel concierge for updates on the latest New Year's activities, concerts and events you can enjoy.
Kauai: Poipu Beach is regarded as one of the most beautiful beaches in Hawaii, and on New Year's Eve, there is a particular brilliance on its 0famous shores. The fireworks on Poipu Beach begin at 10 pm in thunderous glory for all to see. Visitors can gather before the fireworks on Poipu Beach to enjoy live music beginning at 5 pm. Party-lovers can also celebrate in either Poipu or Princeville at a variety of New Year's Eve parties and local hotels' dinners. However for those who want a more meditative approach to the New Year, the Inspirational Moonlight Labyrinth walk starts at Kealia Beach from 6 to 8 pm. Here, attendees can consciously consider what they want to cast off from the last year and look forward to in the future in one of Hawaii's most peaceful settings.
Maui: Among the more stunning aspects of Maui are its coastal views from the water. Guests can spend New Year's Eve gliding over the waves of Lahaina on one of the Maui dinner cruises. These usually last between 3 to 4 hours and are filled with multi-course meals, live entertainment and a champagne toast when midnight strikes. For those who want party Hawaiian-style, the Hyatt Regency Maui throws a luau with an open bar, dinner, party favors and hula dancing entertainment. Visitors can also attend a dinner and magic show at the Ka'anapali Beach Hotel, featuring key historical events of Hawaii, dancing and a midnight toast. Maui is also known for the fireworks shows at the Grand Wailea Resort and The Four Seasons Hotel for those who want to ring in the year with a glorious display of light.
Big Island: Many of the larger hotels on the Big Island celebrate the New Year by offering 3-course dinners and parties. The Hilton Waikoloa Village and the Rays on the Bay restaurant at the Sheraton Kona at Keauhou Bay bring in award-winning chefs to create a unique New Year's menu along with local DJs to keep the crowds dancing until the wee hours of the morning. In true Hawaiian spirit, there is a dynamic firework display in Kailua-Kona. Another unique way to spend the holiday on the Big Island is to partake in the New Year mochi (rice cake) pounding celebration at the Akiko's Buddhist Bed and Breakfast. Here guests can gather and listen to the Buddhist elders give advice and tell stories while they steam and pound rice into cakes of mochi or they can enjoy traditional craft making, calligraphy and flower arranging. Whether you prefer to party with your friends, play outdoors or learn new cultural skills, the Big Island offers something for every personality with festive New Year's celebrations.
Vacationing families should also look into activities which might be offering affordable holiday packages for groups of 4 or more on events like zip lining, parasailing and ocean sports rentals. There is nothing like starting off the New Year by splashing in the sunshine while everywhere else back home is wading through the snow! Start the exploration on Pandaonline for ideas about your New Year's travel package to Hawaii.