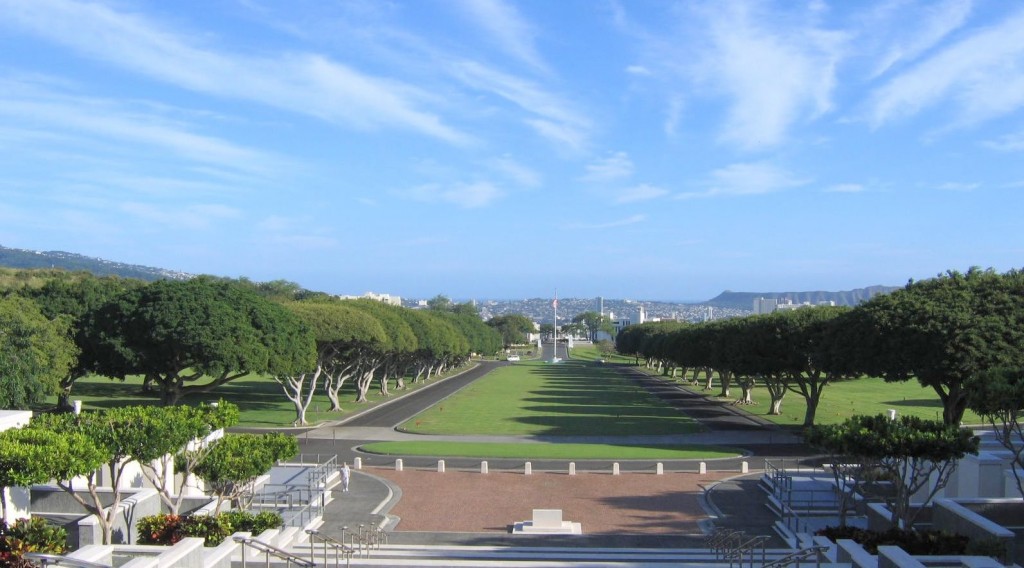 The National Memorial Cemetery of the Pacific, located on the island of Oahu and popularly referred to as "Punchbowl," is a volcanic cinder cone that was formed about 75,000 years ago.  Ancient Hawaiians called this geologic formation, "Puowaina," or "Hill of Sacrifice" where human sacrifices were made to pagan gods.
After World War II, Congress and veteran organizations sought a permanent burial site in Hawaii for the remains of thousands of World War II servicemen who fought in the Pacific Basin theater and Punchbowl was selected as the most preferable location. Some of the notable servicemen that are buried here include:  World War II Medal of Honor recipients Barney F. Hajiro, Martin May and Allan Ohata; US Senators and World War II veterans Spark  Matsunaga and Daniel Inouye; Ernie Pyle, World War I veteran and Pulitzer Prize-winning World War II correspondent; Korean War Medal of Honor recipient Herbert Pililaau and Ellison Onizuka, first astronaut from Hawaii who was killed in the Space Shuttle Challenger disaster.
Today, the National Memorial Cemetery of the Pacific, administered by the Veterans Administration,  has become one of the Aloha State's most popular tourist destinations with more than 5 million visitors coming here each year to pay their respects to the nation's fallen heroes as well as to enjoy the views of the city of Honolulu  from the summit. In fact, Punchbowl offers one of the most scenic panoramas of downtown Honolulu as well as the surrounding areas of the city. In addition to downtown Honolulu, you can get a commanding view of the Waikiki area, Diamond Head and west Honolulu, including Honolulu International Airport in the distance.
And Panda Travel ® can not only bring you to the Aloha State to view such historic locations, such as the National Memorial Cemetery of  the Pacific, through a wide range of all inclusive Hawaii vacation packages tailored to meet your budget, but also can arrange local tours and side trips to such areas.  Check out our vacation packages, activities and tours online at Panda ® Online.