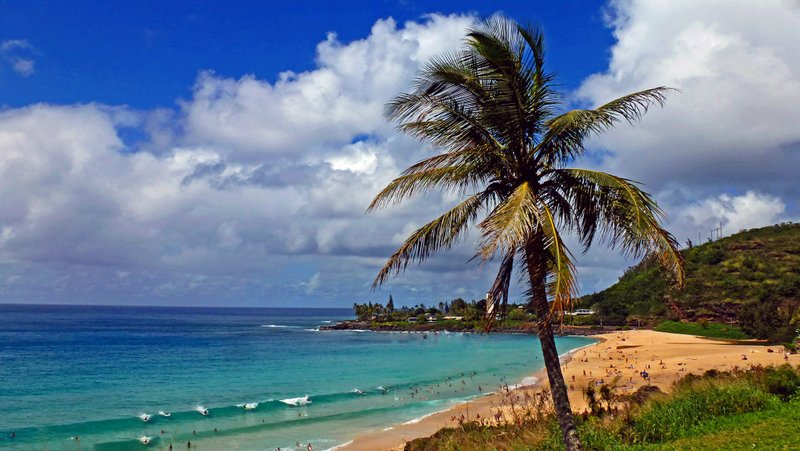 Where are the best surf spots in Hawaii?  That is a question we hear routinely from people planning their Hawaiian vacation.  For amateurs and experienced surfers, the Aloha State is the perfect place to learn the sport, or challenge well-honed skills.   From gentle waves on beaches like Canoes in Waikiki to the Banzai Pipeline where you can find the most fearsome waves on Oahu's North Shore; each island provides unique opportunities to surf and commune with the favorite aspect of Hawaiian nature, the waves. No trip to Hawaii would be complete without experiencing this ancient sport in the waters where it was originated.
All the islands have beginner-suitable beaches with calmer waves and warm waters. If you are planning a vacation to Maui, the beaches on southern and western shores are great for beginners. Launiupoko State Wayside Park, and Kalama Park both suit beginning surfers because the waves are mild and calm.  At Ukumehame Beach Park, you can attend quality surfing schools where private and group lessons are available. This is a great way to dive in with all the right equipment and learn the sport of surfing at a comfortable pace.  On Oahu, White Plains Beach and Waikiki Beach are also picturesque learning beaches as well, if not a bit more crowded. For vacationers on the Big Island, Pine Trees is a solid starting place for rookie surfers; while the best beginner's beach on Kauai is near the Hanalei Pier, where multiple classes are held by old-time surfing pros.
For those who are eager to paddle out on more challenging waters, Waimea Bay and Sandy Beach on Oahu have been some of Hawaii's prime surf locations for decades. Banzai Pipeline is known for the Billabong Pipeline Masters competition held annually in the winter season, where the best surfers in the world congregate to tame the toughest waves. Pipeline has a reputedly heavy set crashing on a shallow reef, making it one of the most dangerous places to surf. This high-risk competition draws hundreds locals and vacationers to Hawaii, from all over the world. Sunset Beach and Haleiwa Beach Park are favorite locations, and Backdoor is also a well-reputed surf locale just on the other side of Pipeline. For beginners and experienced surfers alike, Oahu has it all.
Maui, being the windiest island, is the ideal location for windsurfing, kite-surfing and other Hawaiian water sports for those daring enough to test their strength on the swells.  Kanaha Beach Park sports the Maui Race Series each year, which is the longest running windsurfing race globally, and is a necessary visit for windsurfing aficionados.  Maui is also home to Peahi Jaws is known for being one of the deadliest waves in the world, with unpredictable sets that can reach up to 60 feet in December. First-time surfers to Hawaii beware!
Kauai has been the training ground for some of the most skilled surfers in the world and is an ideal place to learn and train. Hanalei Bay has the most pleasant conditions of the island, with consistent waves perfect for surfers of every skill level.  Other Kauai hotspots are Kalapaki Beach,  Kealia Beach and Shipwreck Beach. 
Favorite Surfing Beaches
Oahu : Sandy Beach, White Plains Beach, Banzai Pipeline, Backdoor, Waimea Bay, Haleiwa Beach Park, Sunset Beach, Backyards, Waikiki Beach and Canoes.
Big Island: Pine Trees and Kohala Lighthouse.
Kauai: Hanalei Bay, Kalapaki Beach, Kealia Beach, and Shipwreck Beach.
Maui: Hookipa Beach Park, Launiupoko State Wayside Park, Kalama Park, Honolua Bay, and Peahi Jaws.
For those who not only love surfing, but enjoy watching the pros tackle challenging waves,  surfing competitions happen multiple times annually and would be worth incorporating into your Hawaiian vacation. They say the only way to learn is to study the masters and there is no place better to do that than Hawaii.
On Panda ® Online you can search a variety of Hawaii holiday packages that include surf lessons. We offer morning and afternoon surfing lessons, which can be accompanies by picnic style deli lunches, snacks and drinks.  Our website allows the inclusion of multiple water sports and activities such as snorkeling, kayaking and horseback riding.  To create the perfect vacation for you and your budget, Panda Travel ® can help the ideal vacation packages for the whole family. From all-inclusive packages to individual activities, let us help you arrange the holiday of a lifetime in the glorious of the Hawaiian Islands. Check out our travel tips page for more details about how to be prepared for vacation in paradise. Please call us toll-free at (800) 303-6702 for any questions that can't be answered on our website.