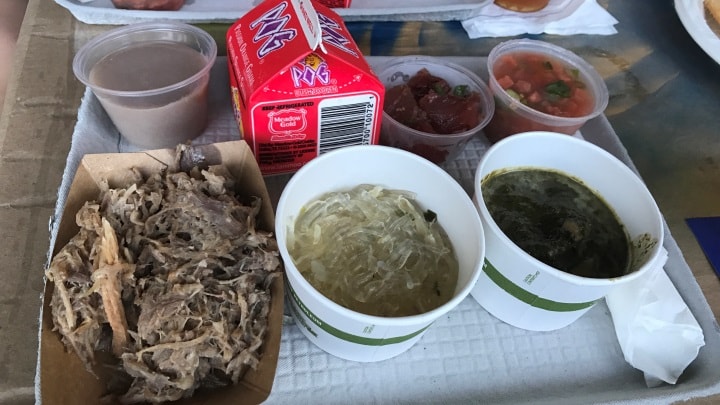 Since ancient times, luaus have served as means to celebrate special occasions in Hawaii's culture.  People all over the world choose to celebrate bridal showers, rehearsal dinners, graduations, etc., but in Hawaii, it common to celebrate special and memorable events with luaus where a number of foods unique to Hawaii is served.  Originally the word "luau" did not refer to a party, gathering or feast, but rather to the young edible leaves of the taro plant.  But later, the word luau became associated with an entire festive occasion where foods and entertainment once solely associated with ancient Hawaiian culture have been, over time, integrated with foods that have been introduced by immigrant groups and other cultures that have assimilated into Hawaii's beautifully unique lifestyle.
Experiencing a Luau for the First Time
For most visitors to Hawaii, their first experience at a luau will be at some of the numerous establishments that specialize in them.  Upon arrival, many luaus will present their visitors with a lei to signify that they are welcomed to join in the spirit of aloha.  The fragrant flowers permeate the whole luau adding to the sensory delights of an Hawaiian experience.  Guests will dine on the finest array of Hawaiian foods, and will watch hula dancers, and numerous performers recount histories and folklore through symbolic, graceful dance moves, music and chants.  There are often Hawaiian hula, Samoan fire and Tahitian dancers with a plucky guest often asked onto stage to join in!  As the light fades and the fire flickers, the scent of the flowers mixes with the smoky and succulent odor of kalua pig, you can begin to understand how this tradition has transcended time.
What Is Typically Served at Luaus
The featured dish at a luau is the kalua pig which is traditionally roasted in an underground pit or an "imu."  Other main dishes traditionally include poi, a fermented paste made from the taro plant, as well as laulau, a dish of pork and salted fish that has been steamed in a wrap of taro leaves.  Today, luaus have evolved to also include foods not originally sourced in Hawaii.  These include:  lomi salmon (salted salmon, marinated with tomatoes and onions), pipi kaula, (sliced dried and spiced beef), chicken long rice (sliced chicken pieces and clear noodles in chicken broth) and pieces of raw sweet Maui onions with Hawaiian rock salt on the side.  Dessert is typically consists of haupia (coconut custard) and kulolo (poi pudding).  Though alcoholic drinks were not served at luaus in old Hawaii, it is now common to enjoy mai tais at luaus.
Where to Go for Hawaiian Luaus
Everyone from Hawaii knows what makes a great luau, and we have found some festive ones that you will not want to miss.  No matter which island you find yourself enjoying, there is bound to be a luau near you.  Our recommendations are: The Old Lahaina Luau (Maui), The Luau at Kona Village (Big Island), Ali'i Luau at the Polynesian Cultural Centre (Oahu) and one of the most romantic luau that we like is the Kalamaku Luau (Kauai).
Throw Your Own Luau
Are you feeling in the mood for Hawaiian food or do you plan to throw a Hawaiian luau before your trip to the islands?  Here are some ideas on how to make your luau more authentic:
Attire – Appropriate luau attire would consist of aloha shirts  (often erroneously referred to as "Hawaiian shirts") for males and possibly floral themed attire for women and maybe for the more traditionally minded females, a mu'umu'u.
Music – Start with some of the contemporary Hawaiian songs for mood music (like those by the Cazimero Brothers or Kalapana), slack-key guitar music (played by artists such as Gabby Pahinui, Makana or Mike Ka'awa) or some ukulele songs (by artists like Jake Shimabukuro or Bryan Tolentino).  This is a great way to set the tone for the evening's festivities.
Kalua pig recipe – If you're like most people and can't cook kalua pig in traditional way in an imu, here is a good alternative:
One 4 to 6 pound pork shoulder or pork butt roast.

1 tablespoon liquid smoke, hickory or mesquite flavor.

2 to 3 teaspoon red Hawaiian sea salt (or alternatively regular sea salt) for a smaller roast, 2 to 3 tablespoon for a larger one.

Banana leaves are optional .
Wash and pat dry the pork and place in the slow cooker. Pierce the pork all over with a fork, pour the liquid smoke evenly over the roast and sprinkle liberally with the sea salt.  Place the lid of the slow cooker on and set the time for 8 to 12 hours on low.  Check at about 8 hours to see if it is done.  If not, let it go the full 12 hours, checking every hour. Either remove the pork from the pot and shred with a fork and return to pot or shred in the pot when it's done. You can remove some of the liquid before shredding the pork, then add some back in to keep the pork from drying out.
Coconut pudding – Here's a relatively easy recipe to make that tasty Hawaii dessert known as haupia:
2 cups coconut milk.

1 cup whole milk.

6 tablespoons sugar.

5 tablespoons cornstarch.

1/4 teaspoon vanilla (if desired)
Pour one cup of coconut milk into a saucepan.  Combine sugar and cornstarch stirring into coconut milk. Add vanilla as desired. Heat ingredients over low setting, stirring consistently until thickened.  Add remainder of coconut milk and whole milk and continue to heat until thickened. Pour into 8 inch square pan and chill until firm. The recipe can be easily modified for personal taste using more or less sugar and cornstarch.