Oahu Vacations and Travel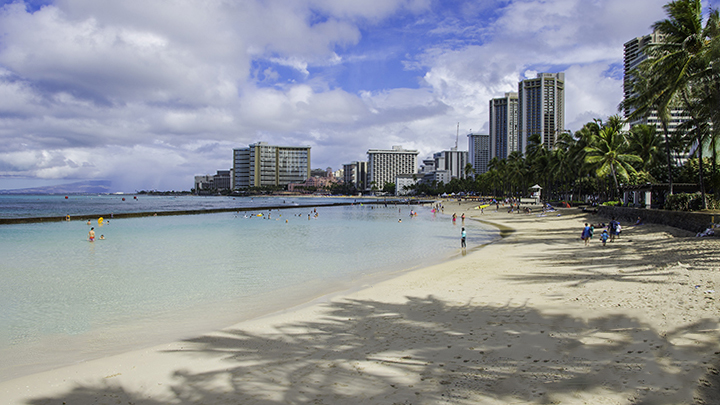 Oahu, the Gathering Isle
The name Oahu comes from the Hawaiian word meaning "the gathering." This is a fitting name for the busiest island in the Aloha State. Having a diverse mix of residents and visitors, Oahu can boast the State's largest population of nearly 1 million people. Here's a sample of things that you can see and do on Oahu vacations.
Oahu Fun Facts
Oahu's Paradise Cove Luau cooks nearly 128 tons of kalua pig each year for the famous nightly luaus. Hawaiian luaus are a must for all first-time visitors.
The Dole Plantation is Hawaii's only remaining pineapple plantation. You can find this popular visitor attraction in central Oahu. Once here, you can take daily tours for a closer look of the plantation.
Waikiki Beach is one of the most famous areas in Hawaii and attracts over 72,000 tourists per day. This represents over 4o% of all visitors in the Hawaiian Islands. Waikiki is also a favorite honeymoon destination for newlyweds.
Oahu has been the location for numerous films and TV series over the years. Several of these projects included: Pirates of the Caribbean: On Stranger Tides, Battleship, The Descendants, 50 First Dates, Jurassic Park, Blue Crush, Mighty Joe Young and the TV series Lost.
Golf fans will be happy to note that Oahu has 36 golf courses, more than any other island in the State of Hawaii.
Although there is no shortage of beautiful beaches in the State, Oahu can uniquely boast of being surrounded by nearly 100 beaches. This makes it one of the most beach-rich places in the world. Additionally, the average ocean temperature here is 74 degrees Fahrenheit, making it an ideal place for beach activities.
Oahu boasts numerous outdoor activities and experiences you can add to your travel package. Some of these include: boating, snorkeling, fishing, surfing, visits to historical sites and many more.
Oahu Geography
Honolulu is the largest city in the world, in terms of total area. This is because the Hawaii State Constitution says that any island not belonging to a county belongs to Honolulu. As a result, this total combines Oahu and all the small uninhabited islands and islets west of Kauai as part of Honolulu. If calculated together, its total distance would stretch over 1,500 miles long.
The island of Oahu is 44 miles long, and 30 miles wide and 112 miles around. The island also has over 50 miles of sandy beaches.
Oahu has two mountain ranges, the Waianae Range on the western side and the Ko'olau Range on the eastern side.
Oahu has decidedly varied landscapes, whether it be ancient volcanic formations, famous surf spots or steep mountain ranges. Diamond Head or Le'ahi Crater, is an extinct cinder cone and is a prominent Waikiki landmark.
Waimea Bay and Sunset Beach offer some of the more popular surfing on the North Shore.
While the beautiful Nu'uanu Pali on the Ko'olau Range offers a breathtaking vista of Oahu's windward side. The scenery here will give lasting memories of travelers' Oahu vacations.
Oahu History
In 1885 King Kamehameha V offered to sell Waikiki Beach to a rancher from New Zealand. He priced it at the then shocking amount of $10,000. The rancher refused on the basis that the land wouldn't be suitable to raise cattle. Today, Waikiki has some of the most priciest real estate in Hawaii. Plus, it's one of the most famous and popular travel destinations in the world. For more information on activities in Waikiki, refer to our Waikiki page for travel tips and must-sees.
Oahu has a diverse population of 25% Caucasian, almost 40% Asian, 10% Native Hawaiian or Pacific Islander and 24% from two or more races combined.
Must-see Things on Oahu Vacations
Attractions
Foster Botanical Garden is the oldest botanical garden in Hawaii, established in 1855. Garden enthusiasts know it for its prehistoric glen containing some of the oldest plant forms on earth. These are displayed chronologically at the garden.
Iolani Palace in Honolulu is the only royal palace in the United States. It was the home Hawaiian royalty in the 19th century.
Pearl Harbor is the naval base that Japanese naval planes attacked in 1941 and remains a somber but compelling must-see memorial. Exhibits at Pearl Harbor include: the USS Arizona Memorial, Battleship Missouri Memorial, USS Bowfin Submarine and the Pacific Aviation Museum.
Chief's Luau at the Sea Life Park is a highly rated event. It seems to satisfy every demographic with a dynamic and authentic Hawaiian luau. The event includes traditional Hawaiian foods, stories, folklore as well as dances from Hawaiian, Samoan, Tahitian and other Polynesian cultures.
Makapu'u Lighthouse Trail is an intermediate-level trail on the south eastern point of Oahu. Here, from December to May, you can sometimes see whales spouting off the coast. Nearby, you can see the Oahu Rock Bridge from the hilly, rugged and spectacular Sea Cliffs hiking trail. But you should exercise extreme caution and care while on this potentially dangerous trail.
Diamond Head State Monument is a moderately strenuous hike with breathtaking views of the beaches and coastline of Waikiki Beach.
Stunning waterfall hiking trails may be found at Maunawili Falls Trail, Manoa Falls Trail and Waimea Falls Park.
For visitors staying in the state capital, our Honolulu page also has numerous suggestions for outings and activities for the whole family.
Beaches
Mokili'i, more often known as Chinaman's Hat, is a tiny islet off the Kualoa Regional Beach Park. It's a popular place for adventuring and picture taking. With proper supervision and careful planning, you can even walk to Mokili'i when the tide is low. Then, you can hike around its coast or undertake the strenuous climb to its summit for a beautiful view of the windward coastline.
Hanauma Bay's clear water makes it Oahu's most beautiful snorkeling location. The nearby educational center displays the geological progression of Hanauma Bay as it changed from a volcano to a marine life preserve.
Waimea Bay Beach Park is one of places that the Beach Boys' have popularized in their classic hit, Surfin' USA. This bay is a must-see for people of all ages. This is because it provides gentle swimming areas for young children during the summer. But during the winter, is a favorite surf location for anyone wanting to to challenge big waves.
Waikiki Beach is famous for its 1.5 miles of white beaches on Oahu's southern coast.
Lanikai Beach possesses fine, clean sand and is in a secluded location on the windward side of Oahu.
Malaekahana Beach is in a beautiful woodsy and uncrowded area in windward Oahu. It ranks high in a number of lists of Oahu's top ten beaches.
Sunset Beach, Waimea Bay and the Banzai Pipeline are the legendary aforementioned surfing favorites on the North Shore.
Pokai Bay on the Waianae coast is famous its soft sands, colorful shallows that are excellent for snorkeling and swimming.
Getting Help on Oahu Vacations

From all-inclusive packages to individual activities, Panda Travel ® can build a personal an itinerary tailor-made for your Oahu vacations. Start with our Hawaii Travel Tips page to make sure you are prepared for your trip to paradise. We want your vacation to be as memorable and stress-free as possible. For any information that you somehow can't find on our website, contact us toll-free at (800) 303-6702.
Awards & Affiliations