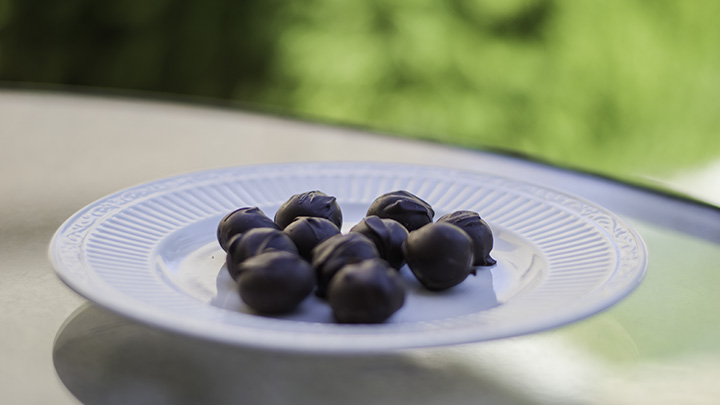 Vacationing on the Hawaiian Islands means witnessing the most glorious landscapes, seascapes and state parks right outside your door, as well as enjoying the most fragrant flowers, traditions and endless lists of activities for the entire family. Guests can dine in eclectic restaurants on every island, featuring delicious cuisine from all over the world, or go on sophisticated culinary tours while sampling the most scrumptious wines and spirits. Even with all of these exciting and exotic options to choose from, few may know that Hawaii is also the only state in the USA where cacao, the key ingredient in chocolate, is grown. The island of Oahu boasts a number of renowned chocolatiers that showcase Hawaiian grown cacao as well as premium chocolates from other parts of the world. Hawaiian chocolate is unique and distinct in flavor and below are some of the places on Oahu where you can sample and buy them.
Honolulu Chocolate Company: Located in the epicenter of the bustling state capital, the Honolulu Chocolate Company factory begins mixing chocolate at 6 am daily. Selling more than 100 products, they are best known for their chocolate-covered fruits, the most popular of which are the: double dipped chocolate cherries, ginger, apricots, pears, pineapple, mango and oranges. They also offer coconut haystacks, macadamia nut clusters, Oreo cookies, fortune cookies, popcorn, turtles and more. There is also a shop at the Sheraton Waikiki Hotel & Resort for any guests staying in the Waikiki area.
Maile Kai Chocolates: The milk chocolate from this company, located on Oahu's North Shore, is sourced exclusively from cacao grown in Hawaii. They sell gift boxes of dark milk chocolate, white chocolate, Kona coffee chocolate, dark chocolate and bars with crunchy cacao nibs for texture. The environmentally-conscious will appreciate Maile Kai Chocolates as they use no pesticides on the trees while recycling harvested cacao pods as compost in the orchards. Additionally, if you are staying in Honolulu and don't have time to travel to the North Shore, the company also has an outlet at Royal Hawaiian Center in Waikiki.
Ma'noa Chocolate Hawaii: Located in Kailua on the windward side of Oahu, the Ma'noa Chocolate Hawaii company sources cacao from around the globe. They provide a detailed "bean-to-bar" tour where guests can watch the magic unfold of how cacao beans are harvested, fermented, roasted, ground, mixed as well as how the final products are labeled. Visitors can then view and shop their wide range of products, including: dark chocolate bars, Hawaiian sea salt chocolate, assorted truffles, raw cacao nibs, roasted beans, cocoa butter, goat milk chocolate bars, chocolate tea and even chocolate beer brew.
Choco Le'a: This family-owned Honolulu chocolate company creates dark artisan chocolates, truffles, and treats. They sell a unique assortment of non-alcoholic truffles with flavors such as poha berry, lemon curd, toffee, lavender, goat cheese, bacon, lychee and Kona coffee.   A sampling of their liqueur truffles includes: amaretto, mai tai, limoncello, rum raison, sake and French 75. Not only does Choco Le'a create high-quality chocolates, but they even donate a portion of all their profits to several charitable organizations.
Madre Chocolate:   The products from Madre Chocolate have a subtle savory flavor, with flavors like horchata, chipotle, allspice and spiced pecan. They also offer Hawaiian-themed flavors and products such as lili'koi, coconut, and hibiscus bars as well. The distinct block-molds of the bars give Madre Chocolate a special flair and the Mesoamerican and Dominican origin of certain products provide a wide range of options. This company also provides a 5-day long cacao harvesting boot camp for chocolate devotees as well as a small package bean-to-bar chocolate making kit.

Waialua Estate: Waialua located on Oahu's North Shore, has been described as the best place to grow cacao beans in Hawaii due to the area's rich volcanic soil and right amount of annual rainfall. Working in collaboration with the Guittard Chocolate of San Francisco, Waialua Estate creates dark and milk chocolates of superior quality and brings the best of French-influences recipes to native Hawaiian cacao beans.
Padovani's Chocolates: Located in the Dole Cannery, famed chefs Phillip Padovani and his brother Pierre Padovani treat chocolate-crafting as an art. With over 40 flavors of truffles such as matcha green tea, marzipan, sweet chili and sake, passionfruit, raspberry ganache, tequila and caramel, the Padovani brothers know how to make sophisticated melt-in-your-mouth chocolates.

Lonohana Hawaiian Estate Chocolate: This family-owned company first planted cacao beans in 2009 and began crafting select batches of quality chocolate. With a process that includes unorthodox methods of aging the chocolate, the product increases in flavor and is then imprinted in a mold depicting the Hawaiian Islands. Focusing on quality rather than quantity, the Lonohana Hawaiian Estate Chocolate company releases their premium products only 6 times per year, but their chocolates are worth the wait.