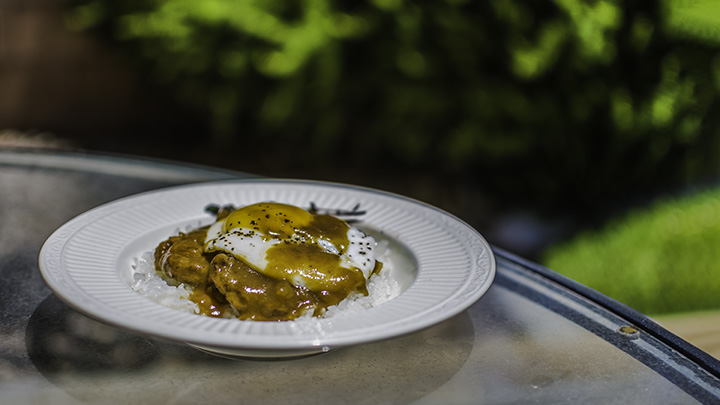 One of the greatest joys of planning Hawaii vacations is the anticipation and arrival into the Aloha State. We hope the next time you travel to the 50th State, you will keep the Big Island in mind in your plans. And one of the great thing about being on the Big Island of Hawaii is the fabulous brunch opportunities that you can find and enjoy. Here is small sampling.
Garden Brunching
The Orchid Court at the Big Island's Fairmont Orchid hotel is the most idyllic setting for a leisurely mid-morning meal. Enjoy an unrushed cup of Kona coffee or tropical fruit juices on the garden terrace of this luxurious hotel. With menu items from the crab spinach wrap to the Hawaiian-veggie omelet, sweet breads, guava cream cheese along with an extensive buffet, this brunch option is worth jump-starting the day for. Since it is a bit on the early side, guests will have to arrive before 10:30 am to get a table before the buffet closes.
Affordable Hawaiian Food
The Bamboo Restaurant was once voted "Best Restaurant" on the island by Zagat and Fodor's. Open for almost twenty years (though the building Bamboo is housed in dates back to 1911), this restaurant is committed to supporting local famers and uses only the freshest of ingredients. They serve fresh fish daily while using the farm-to-table mentality of only cooking with organic produce and free-range chicken supplied by local farmers. After brunch, guests can wander through the surrounding gallery of Hawaiian art, while enjoying the luau-like décor and large collection of unique aloha shirts on display. Dining here is a special occasion since their brunch menu is only served on Sundays from 11 am to 2 pm.
Brunching with the Works
Splasher's Grill in Kona has a morning menu that reads more like a mix of favorite breakfast platters like coconut waffles, blueberry pancakes, along with endless meat and seafood options. From Portuguese sausage, to blackened fresh fish, biscuits, gravy, fried rice, sausage and bacon, there is an endless list of sides on this brunch menu. Some of the most popular plates are the Crab Cakes Eggs Benedict, Steak Colorado (the chef's favorite), Fish & Eggs Breakfast, Seafood Omelet and the sweet-bread cream stuffed French toast. Splasher's offers brunch dishes for the saltiest of sailors to the most refined of foodies. The best part? Everyone who dines in for brunch can enjoy free Kona coffee on the house.
24-hour Brunch Menu
Ken's House of Pancakes doesn't allow the clock to dictate when the best foods should be served. That means if you want a pancake breakfast at 3 pm (or 3 am for that matter), then you can have it at Ken's. Vacation allows convention and caution to be thrown to the wind; so order your banana and macadamia waffle after an evening surf session. This Hilo favorite makes the best of brunch available all day; whether it is a breakfast burrito, an omelet, pancakes with passion fruit or guava syrup. Ken's House of Pancakes understands that brunch means savoring the best comfort foods whenever you like. So pack up your family and hit those hiking trails; there is always going to breakfast ready and waiting your return.
Natural and Efficient
The Island Naturals Hilo Market & Deli is a great place for those who want to order their meal quickly and head back to their hotel or bungalow to enjoy brunching peacefully on the porch. The deli is filled with a variety of organic and healthy foods fit for the beginning of the day. If someone in your group is less enthused about breakfast items but is more in the mood for the lunch options, there is also a salad bar and hot food bar where everyone can arrange their ideal brunch. This market has storefronts in Pahoa, Hilo and two locations in Kona.
Historic Classic
Café 100 has been in business for over a century, and like its long-standing service would suggest, offers some of the most popular Hawaiian classics. Among their brunch dishes are hearty comfort-foods like the loco moco (a a hamburger patty topped with over easy eggs in a bowl of rice covered with brown gravy) to give the day a protein punch. When guests dine on spam or shredded kalua pork bowls, they will be ready to take on the fiercest of waves or a strenuous hike in the Hawaii Volcanoes National Park. Enjoy an authentic taste of Hawaii by filling up on savory meat dishes in lieu of the typical pancake-and-fruit options that most menus boast.
Classic Local Style Food
If you're looking for truly local style food, look no further than the Manago Hotel in Captain Cook. While it's really doesn't offer brunch, you will be able to savor some of the most genuine local Hawaii style breakfast you'll ever get. The food is unpretentious, filling, tasty as well as reasonably priced and back by friendly, family style service. Try their Portuguese sausage and fresh papaya for breakfast, and even though it's really not typical for a morning meal, take advantage of the situation by sampling their famous pork chops if you're eating after the normal breakfast serving hours.
Other Options
Some other Big Island restaurants with appealing brunch menus include Merriman's Hawaiian Restaurant in Waimea, which presents a varied menu of flavorful fresh options, like pumpkin and kale salad, fish tacos, lobster salad, fruit parfaits or eggs benedict. The Bay Terrace on the Kohala Coast has hit menu items include the tropical twist of banana-stuff French toast coupled with eggs Florentine. Located on the Kona Coast, the Bay Terrace is conveniently close to many popular attractions and a great place to start the day. For some of the island's best coffee and beautiful vistas, visit the Coffee Shack, and for other brunch favorites, stop by the Big Island Grill in Kailua-Kona, the Hawaiian Style Café in Kamuela and the Kohala Coffee Mill, which not only offers brunch, but locally made ice cream as well. The Holuakoa Café and Gardens Holualoa also have unique menus for their breakfast and brunch options for those visiting the Big Island of Hawaii.