Ha'ena State Park
Park location:  Ha'ena State Park is nestled on the northern shore of Kauai, and begins where the Kuhio Highway ends.  From beach access to hiking trails, ancient sea caves and historical Hawaiian sites, this state park holds many of Kauai's best kept secrets.  The park spans across 230 acres and is open free of charge on a daily basis during sunlight hours.
Park terrain:  Perhaps the most notable features are the wet sea caves, which are understood to be nearly 4,000 years old.  One the eastern side of the park stands Ha'ena Beach is set near Makana Mountain.  On the western side, a reef protects the idyllic cove at Ke'e Beach, which is surrounded by thick rainforests filled with guava, coconut and ironwood trees,  with a nearby heiau or temple.  The park also provides stellar views of the famous Na Pali Coast as well as the Kalalau Valley, where there are steep hiking trails and waterfalls that await eager travelers.
Activities:  Ha'ena State Park has ample swimming, hiking, exploring and camping to suit the adventurous traveler.  At Ke'e Beach, families can dive into the aqua lagoon for a dynamic snorkeling experience or they can fish and swim near the vibrant reef in the summertime months.  The winter season brings intense swells and strong currents and makes this place an extremely hazardous place to swim.  The state park should not be confused with nearby county-operated Ha'ena Beach Park, which is a great place for water sports when the waves are calm and is surrounding by picturesque tropical forests and mountains.
Just a few minutes from Ke'e Beach is the historical Kaulu Paoa Heiau where ancient Hawaiians would worship and offer sacrifices.  The park's famous Waikanaloa and Waikapalae wet caves' water levels vary, depending on the tide.  These ancient caves are most glorious when explored while the sun is north of Ha'ena, reflecting into the glowing blue water.  The Maniniholo dry cave, close to Ha'ena Beach Park, is an easily accessible area for families, as its wide mouth makes provides a prime place for expeditions.
Hikers will enjoy the lengthy 11-mile Kalalau Trail, which starts on a rocky and steep path.  The challenging trail wanders through numerous valleys on the Na Pali Coast, featuring the 300-foot Hanakapi'ai Falls.  Guests wishing to camp along the journey must acquire camping permits for Hanakoa Valley and Kalalau Valley or if they intend to hike past Hanahkapi'ai Beach.  The Kalalau Hiking Trail finally ends at stunning Kalalau Beach.  The Ha'ena State Park provides lifeguard towers on the beaches, restrooms, outside showers, drinking water, payphones and trash cans.
Koke'e State Park
Park location: The Garden Isle's Koke'e State Park is an expansive region reaching over 4,345 acres of mountains and forests. The park is located roughly 15 miles north of Kauai's Kekaha on the Koke'e Road. The state park covers part of Waimea Canyon and shares a border with Waimea Canyon State Park. The park has free entry and is open during daylight hours every day of the year.
Park terrain: Koke'e State Park is known for lush native Hawaiian plants, countless hiking trails through deep rainforests and steep mountain ridges that offer breathtaking panoramic views of the ocean. The park provides almost twenty individual hiking trails that allow one to venture through a wide range of tropical landscapes. The damp rain forests trails are full of native plants like hibiscus, redwoods and koa trees as well as with native Hawaiian birds and the occasional wild goat. The state park has altitudes that soar up between 3,200 to 4,200 feet above sea level, with trails over treacherous mountain ridges and stark cliff edges.
Activities: Due to the massive expanse of Koke'e State Park, there are countless opportunities for families to embark on epic hiking and camping expeditions together. The hidden trails, murky woods, the native flora and fauna and bright ocean views make this one of Kauai's most glorious state parks. For those who want to strategize their trip and learn more about the wild life in the park, the Koke'e Natural History Museum provides detailed maps, filled with hiking trails and information about the park and nearby Waimea Canyon.
Travelers to Kauai can find a total of over 45 miles of hiking trails in Koke'e State Park, with 12 rental cabins at the Lodge at Koke'e which weary travelers can rent during their camping trip. Another camp site (permits required) is the Kanaloahuluhulu Meadow in the state park, where guests can grill their food and use the showers (note that they are unheated). Bear in mind when visiting Koke'e State Park that the elevation makes for chilly days, even in the summer. With almost 70 inches of rain each year and temperatures ranging from 45 degrees (in winter) to 68 degrees (in summer), a rain slicker or light jacket will be a necessity.
Families may also enjoy guided hikes where visitors can witness panoramic views of the valley and coast at the Pu'u Hinahina and the Kalalau lookouts. Guests can try their hand at wild boar hunting or trout fishing, while hikers may find plum picking available when in season. There are picnicking areas, showers, camping areas, drinking water, payphones and a restaurant within the park.
Na Pali Coast State Park
Park location: One of Kauai's largest parks, the Na Pali Coast State Park stretches over 6,175 acres of land, beginning at Ke'e Beach and continuing through to Polihale State Park. The park is not accessible by vehicles and can only be entered on foot by hiking, by boat from the ocean, or from the air by helicopter. The park is open daily during sunlight hours and there is no entrance fee.
Park terrain: Na Pali means "high cliffs" and is known for a rising shoreline of jagged green sea cliff that soar up to 4,000 feet above the water, making a natural wall of protection around the Kalalau Valley. There are deep forests, waterfalls, streams and rocky sites on the valley floors where ancient Hawaiians would live and farm. Because of the close proximity to the mountain edges, visitors ought to be wary of falling rocks, cliff edges and flash floods in the rainy season.
Activities: The Na Pali Coast is one of the most striking landscapes in Hawaii; therefore it is no surprise that camping, hiking and enjoying water sports are some of the most beloved activities that guests enjoy on their visit. Venturing out on the Na Pali Coast State Park's hiking trails is a favorite activity, as most of the park can only be viewed on foot. The well-traversed Kalalau Trail starts in Ke'e Beach and continues for 11 miles through five valleys and several beaches. Note that any day-hiker must also possess a permit if proceeding beyond Hanakoa Valley.
For those who want to explore the coastlines from the ocean, there are boat and kayaking tours available. Kayakers should be aware that there are only two legal kayaking landing areas in the state park, one of which is Kalalau Valley if the visitor has a permit. The other safe kayak landing is Miloli'i Valley. Some kayaking tours offer coastal journeys along the entirety of the state park and include a lunch break at the picnic tables on Miloli'i Beach. During the summer months a permit is not necessary to enjoy landing at Miloli'i and exploring for a day trip; however camping overnight does require a permit, year round. For information on boat tours or guided kayak tours and rentals, refer to the Na Pali Coast State Park Boating page.
There are several camping options at Hawaii's Na Pali Coast State Park. Visitors may camp at Hanakoa or Kalalau; however those wishing to camp in the state park, should note that the permits cost $20 per person for each night for non-Hawaii residents. Be sure to purchase your permits long before your trip as they tend to book quickly in the summer months. For further information on the Na Pali Coast Park rules, warnings and updates, please refer to the Hawaii Na Pali Coast State Park official page.
Polihale State Park
Park location: Polihale State Park is located on the western shore of Kauai, just below the Na Pali Coast State Park. The park begins at the end of a 5 mile unpaved road near Mana Village and Kaumuali'i Highway. The park covers 140 acres of land, most of which is sandy and coastal. The park is open to the public (with some restricted areas) every day during day light hours, without an entrance charge.
Park terrain: In times of frequent rain showers, the dirt road entrance to the Polihale State Park may become muddy and dangerous to drive on. There are also sand dunes and heavily sanded areas which might require 4-wheel drive from tourists visiting in a car. The park situated at the end of the Mana Plains, which has desert cacti and sometimes 100-foot tall sand dunes. Following the lengthy and barren road, travelers are presented with expansive and uninhibited views of the coastline. Polihale State Park is home to Hawaii's largest beach, which stretches for 15 miles and is usually 300 feet wide during the summer months.
Activities: Water-sports enthusiasts should be aware that the beach at Polihale State Park has treacherous shores with extremely dangerous rip currents. While one should definitely not swim at Polihale Beach, it is certainly an ideal place to walk and admire the views and natural shells and to enjoy vibrant sunsets. Because the beach faces the open ocean without any barrier or reef to temper the waves, the only safe swimming, assuming big waves are not breaking over it, is a shallow sand-bottom pool called Queen's Pond located near the southern side of the park. Below Queen's Pond, tourists will find the partially restricted Barking Sands Beach. The beach is so named because the sand at this beach makes a barking noise when a person walks over or slaps it.
Because of the limitations on swimming, many people visit Polihale State Park to just picnic on the luxurious shores and soak in the views of the forbidden Niihau Island. Camping on Polihale Beach is allowed and the park provides basic facilities for those who have obtained a permit to bivouac on the beach. Polihale State Park provides guests with picnic tables and shelters, semi-private showers, trash cans, drinking water and restrooms.
Wailua River State Park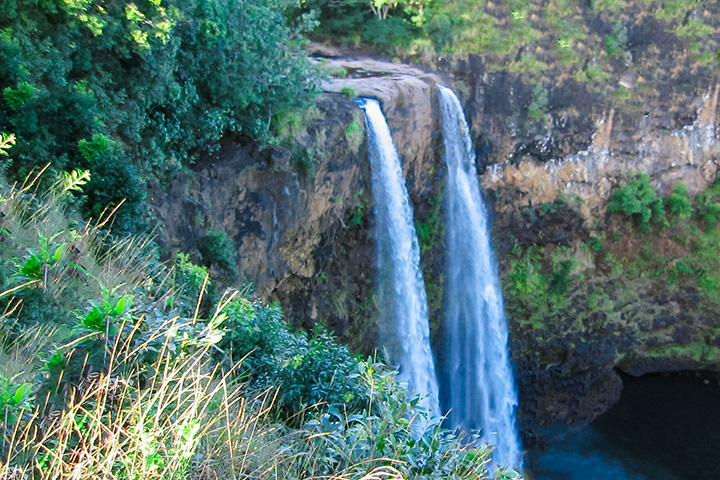 Park location: This state park is located on the eastern coast of Kauai, off the Kuhio Highway and near the town of Wailua. The Wailua River State Park is described as Hawaii's most visited state park, drawing nearly 1 million tourists to Kauai annually. The park covers 109 acres of the Wailua River Valley and is free to the public every day during sunlight hours.
Park terrain: The Park is situated near Mount Waialeale, called "the wettest place on earth," in the green valley of Hawaii's only navigable river. The terrain hosts iconic tropical forests, rivers and waterfalls, including the idyllic plant-covered cave called the Fern Grotto, lush gardens and many ancient Hawaiian places of worship and refuge respectively referred to as heiau or pu'uhonua.
Activities: Kauai has the most rivers of any Hawaiian island, which attracts many water-sports enthusiast to the flourishing shores. Kayaking is a popular activity for those who want to glide over the river and experience Hawaiian views that ancient natives saw from their canoes. This gentle way to connect with nature is one of the best ways to appreciate the Hawaiian landscapes.
Another favorite water sport on the river is water skiing, which many choose to do. However, for those who want a more relaxed spectator experience, motorboat river tours are offered, which allow visitors to kick back and take in the sights. Many riverboat tours are accompanied by Hawaiian music and storytelling that enhance visitors' experience as they venture down the river and pass historical sites and locations where a number of Hollywood films were shot.
Hawaii travelers can also enjoy walking through trails to the surreal beauty of the Fern Grotto. Many couples choose to marry or renew their vows here in this incomparable location. Other walks include hiking through the Wailua River Valley on rainforest forest trails or to the majestic 113-foot waterfall Wailua Falls and stunning 'Opaeka'a Falls.
Waimea Canyon State Park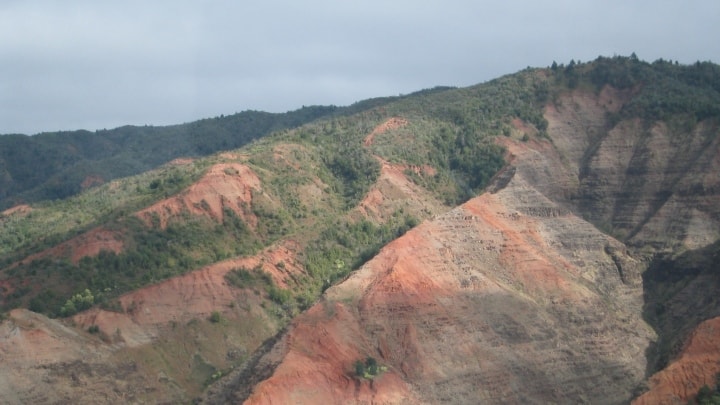 Park Location: Waimea Canyon is located on the southwestern side of Kauai. The state park extends over 1,866 acres, ending where Koke'e State Park begins.
Park Terrain: The terrain of Waimea State park varies; but it is most known for the vibrant red colored hills in the canyon. Waimea Canyon was described by writer Mark Twain as the "Grand Canyon of the Pacific" as it stretches on for 14 miles, is one mile wide and over 3,600 feet deep. The canyon was created by the Waimea River, which cuts through the canyon, and is fed from heavy rainfall from Mount Wai'ale'ale, one of the wettest places on earth.
Activities: At Waimea Canyon State Park, the hiking trails have some of the most breathtaking views of Hawaii. The Iliau Nature Loop is less than a mile long, and features stunning views of Waimea Canyon as well as numerous native Hawaiian plants. The Kukui Trail is a longer stretch of nearly 3 miles, with a much more challenging track and travels down 2,000 feet from the western side of Waimea Canyon to the Wiliwili camp site at the canyon floor. Locals have been known to take tubing gear and ride the Waimea River down to the town of Waimea in lieu of hiking back up the canyon.
Vacationers in Hawaii can purchase a camping permit and stay at one of the campsites nearby the park at Waimea. There are also permits for boar and seasonal goat hunting as well. There is no entrance fee and the park stays open daily during daily light hours.