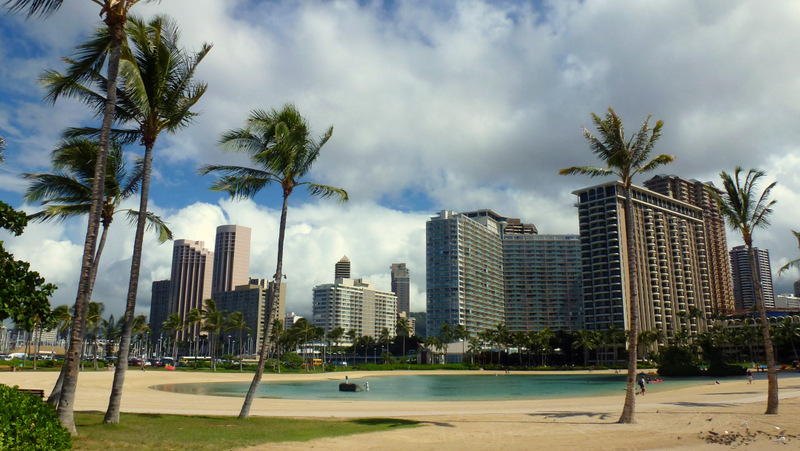 Home to Hawaii's largest city and state capital, Honolulu, Oahu offers a wider variety of hotels than any other island. Here, you will find world-class resorts, budget properties, local hotel properties. Because of the wide range of Oahu hotels, you are sure to find a property well suited to your preferences.
Oahu hotels can be found in three areas on the island. Virtually everyone knows about Waikiki. It is famous for its high-end hotels and all-inclusive resorts. Because of this, the area has been a world-class vacation destination for many years. On the other hand, the Ewa side of the island now has several notable properties. This includes the new Disney Aulani resort complex. While the iconic North Shore area has the Turtle Bay resort and condominiums.
Your dream vacation on Oahu can include a nearly limitless range of activities. For example, you can lounge on Waikiki Beach. View the enormous 30-foot winter waves on the North Shore. Visit historically significant sights like the Arizona Memorial. Or even enjoy film location tours throughout the island. Whatever you choose, Oahu promises to be an adventure-packed island for all. It is easy to see why Oahu is the most beloved of vacation getaway spots in Hawaii.
This is where we can help. On our website, you can find cheap flights, affordable Oahu hotels and competitively priced travel packages. If you are still undecided on where to stay on Oahu, review our Secrets of Oahu: Hawaiian Vacation Map. .
Panda ® Online offers one of largest selection of hotels on Oahu. We are the largest travel wholesaler in the State of Hawaii. As a result, we are able to pass on great savings to our customers. Whenever you are in need of hotels, family travel packages and other vacation options, check out the savings you can get on Panda ® Online.
Here is our listing of Oahu hotels:
Airport Honolulu Hotel
Ala Moana Hotel
Ambassador Hotel Waikiki
Aqua Aloha Surf Waikiki
Aqua Bamboo Waikiki
Aqua Oasis, a Joy hotel
Aqua Pacific Monarch
Aqua Palms Waikiki
Aqua Skyline at Island Colony
Aqua Waikiki Wave
Aston at the Waikiki Banyan
Aston Waikiki Beach Tower
Aston Waikiki Circle
Aston Waikiki Sunset
Best Western The Plaza Hotel

Courtyard by Marriott Waikiki Beach
Embassy Suites – Waikiki Beach Walk
Ewa Hotel Waikiki, a LITE hotel
Hawaii Prince Hotel Waikiki
Hilton Hawaiian Village Waikiki Beach Resort
Hilton Waikiki Beach
Holiday Inn Resort Waikiki Beachcomber
Hyatt Regency Waikiki Beach Resort & Spa
Ilikai Hotel & Luxury Suites
Lotus Honolulu at Diamond Head
Luana Waikiki Hotel & Suites
Maile Sky Court, a LITE hotel
Moana Surfrider, A Westin Resort and Spa
OHANA Waikiki East by Outrigger
OHANA Waikiki Malia by Outrigger

Outrigger Reef Waikiki Beach Resort
Outrigger Waikiki Beach Resort
Pagoda Hotel, a LITE hotel
Pacific Beach Hotel
Park Shore Waikiki, an Aqua boutique hotel
Queen Kapiolani Hotel
Regency on Beachwalk Waikiki by Outrigger
Sheraton Princess Kaiulani
Sheraton Waikiki
The Kahala Hotel & Resort
The New Otani Kaimana Beach Hotel
The Royal Hawaiian, A Luxury Collection Resort
Trump International Hotel Waikiki Beach Walk
Turtle Bay Resort
Waikiki Beach Marriott Resort & Spa
White Sands Hotel, a LITE hotel