Vacation Packages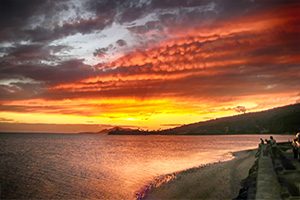 Luxury Hawaii Vacations
Our Hawaii luxury vacation packages range from $943 to $1,537 per person, double occupancy*. Hawaii is one of the most ideal vacation destinations in the world. As a result, there is certainly no shortage of luxury and opulence if that is the type of vacationing you prefer. Check out our Panda ® Online website to plan your dream vacation.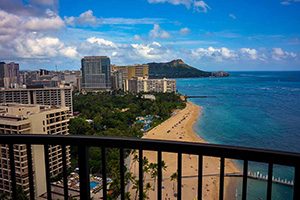 Hawaii Resort Vacations
Hawaii resort vacation packages, combining air and hotel, start at $943 per person, double occupancy.* There are no shortage of resorts in Hawaii. But finding the right one for your specific needs can be challenging and that's where Panda ® comes in. With decades of experience, Panda ® can help you select the right resort for your vacation.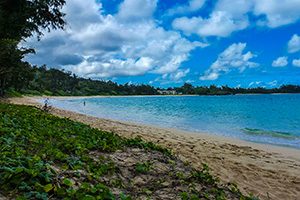 Hawaii Family Vacations
Our Hawaii family vacations start at $543 per person, double occupancy.* They're a great way to spend quality and uninterrupted time with family. It doesn't matter whether your family is comprised of two people or you plan an excursion with your extended family. Panda Travel ® can help make the most of your budget for your upcoming trip to Hawaii no matter how big or small.
Hawaii Honeymoon Packages
---
What Makes a Hawaii Honeymoon So Special?
Tropical flowers, sparkling beaches and beautiful tropical skies make Hawaii honeymoons very popular among newlyweds. At Panda Travel ®, we have more than 35 years of experience helping couples plan their perfect Hawaiian honeymoon. Want to hike, swim, surf or explore an island all day? Or do you simply want to relax at a luxurious resort and lounge at the beach? Whatever the case, we can help you create the perfect Hawaii honeymoon of your dreams. You can start off by checking our some of our special Hawaii honeymoon packages below:
* All offers, with or without designation by asterisk, are subject to availability, restrictions and change without notice. Click on links for more details.
One of the first thing to do on your Hawaii honeymoon is to choose the hotel. A honeymoon is not just your average vacation. So do your research and choose wisely. Our directory of Hawaii hotels offers both luxury resorts and affordable accommodations. They come complete with pictures, room options and amenity descriptions to help you make your choice. For more personalized advice, one of our helpful staff at Panda Travel ® can guide you find the perfect fit for your honeymoon.
Hawaiian Luaus
The next thing you may want to book is an authentic Hawaiian luau. A honeymoon in Hawaii would be incomplete without experiencing this Hawaiian tradition. Here, you'll savor the delicious scent of a kalua pig cooking in a pit. See fiery torches lighting the outdoors. And enjoy hula dancers punctuating the night with drums and music. No matter what island you are on, one can always find a festive luau to attend. Our recommendations are:  The Old Lahaina Luau on Maui, The Luau at Kona Village on the Big Island, Ali'i Luau at the Polynesian Cultural Center on Oahu and the Kalamaku Luau on Kauai.
But don't stop there. Taste the many and varied cuisines of Hawaii. Dance to multi-ethnic music of the Aloha State. Immerse yourselves in the  traditional Pacific-basin and Asian culture. Then after that, you may be ready to venture off and explore an island or two. Here are our favorite things to do on each island while on your Hawaii honeymoon.
Oahu

Oahu is the island that has the greatest number of things to do in Hawaii. You and your spouse could take surf lessons on the famous North Shore. Stay at a world class resort on Waikiki Beach. Or visit Chinatown and Downtown Honolulu for a classic newlyweds' night out. Or, if you love history, this island has a palace and war memorials you can visit. Also, there are relaxing tropical gardens as well as interesting walking tours to enjoy. But if your Hawaii honeymoon dream is to soak it all in, then we have other exhilarating suggestions for you.
Oahu Culinary Tours
The wedding is over and now you are on vacation. As a result, this means diets are out the window. Discover the best kept secrets of island cuisine on the popular Hawaiian Culinary Tours. Oahu's Hole-in-the-Wall Tour takes you to nearly a dozen stops. Here, you can be filled to the brim with some of the most delicious foods in the Aloha State. Don't spend your honeymoon searching for delectable bites. Instead, start your trip with the freshest poke, tastiest laulau or most flavorful shave ice in town.
Waikiki Beach
There are reasons why Waikiki is one of the world's premier Hawaii honeymoon destinations. Waikiki Beach has countless hotels, famous restaurants and every possible Hawaiian attraction at your fingertips. Seeking peace and quiet after some hectic and eventful days? If so, you can find Kapiolani Park, a restful park of 200 acres just on the east side of Waikiki.
Nighttime Cruises on Oahu

Honeymooners can enjoy the luxurious Star of Honolulu Sunset Dinner Cruise. Time may be fleeting on your honeymoon. But you can extend the hours of your Hawaii vacation by taking a dreamy evening cruise. Sip a cool drink while gazing at the setting sun gently fading into the horizon. Nothing would be more blissful than to spend the last night of your honeymoon drifting in slow motion. And while doing so, you can recount the fond memories of your holiday.
Big Island

Plan to stay on the Big Island? If so, honeymooners have found many opportunities to enjoy its unique and varied features. And there is much to enjoy here, from the depths of the ocean to the heights of its majestic mountains.
Big Island Ocean Adventures
Take an underwater tour of marine life on the Atlantis Submarine Tour. Or you and your spouse can dive with gentle manta rays off the Kona Coast. The rays can have large fins spanning over 12 feet and appear bird-like as they glide by you. Diving with manta rays has long been one of the most highly rated attractions you can experience.
Honaunau Bay is an ideal place to see Hawaii's best marine life on the Big Island. The bay is lined with dark lava rock, just above sea level. This creates the perfect backdrop to view exotic fish underwater. As a result, it has become a favorite place to snorkel and dive. Near the shore, the average depth is only about 10 feet. This allows for great visibility and warmer temperatures. The water toward the middle of the bay sinks to nearly 100 feet. It makes it a perfect place to scuba dive. Here, you can see moray eels, surgeon fish, green sea turtles and the occasional dolphin. These waters are a must see for anyone honeymooning on the Big Island.
Big Island Mountain Adventures

Adventurous couples can explore active volcanoes by touring Hawaii Volcanoes National Park. Then they can end their night enjoying the constellations at Mauna Kea. Here, you can star-gaze from the highest heights. This volcano stands at over 13,000 feet. It has clear skies nearly every night. And it is renowned as one of the most vivid viewing locations for astronomers.
Kauai
Kauai is the perfect for those who love exploring and connecting with nature. Nothing beats horseback riding on the beach. And Kauai has several scenic trails that would add adventure to your honeymoon in Hawaii. If horse riding isn't for you, there are numerous ways to enjoy this lush island. Go for a couples kayaking trip down the Wailua River. Kauai is the only island in Hawaii with a navigable river. So you should definitely take advantage of this. Or you can take a helicopter tour over the Na Pali Coast. Try zip-lining through the hills or take a biking tour that ends with a splash at the beach.  Then you'll feel like you've earned that massage or 3-course meal back at the resort.
Hanalei Bay is the idyllic beach we all imagine when picturing a tropical paradise. It has over 2 miles of soft sand, vibrant green mountains in the background and crystal clear waters. Another great beach on Kauai that is well worth visiting is Poipu Beach. It has also been rated as one of America's Best Beach by The Travel Channel. And it can certainly give the beauty of Hanalei Bay a run for its money.
Maui
Maui is an island made for romance. So honeymooners will have endless opportunities to fall more in love amid its beautiful scenery and landscapes.
Maui's Haleakala
Start your day by driving to the foothills of Haleakala in the brisk darkness. Then head up the 10,000 feet mountain just before sunrise. At its summit, you will witness one of the most spectacular sunrises in the world at the "House of the Sun."
The Hana Highway on Maui

Take a leisurely cruise down the heavenly Hana Highway. But get ready for a long winding drive with nearly 60 bridges. You might decide to stop off for a romantic swim under one of the numerous waterfalls. Or hike to the enchanting Seven Sacred Pools. In Hana, avid hikers can take the trail to Kaihalulu, the red sand beach. While here, you can capture a timeless photo to remember your adventure.
Maui Ocean Activities
If you prefer to be on the water, couples can para-sail together at a staggering 1,200 feet high. Or you can be on the ocean in search of humpback whales. And of course, you can also lounge on one of Maui's beautiful white sand beaches. The honeymoon activities on the water are endless on this island.
Maui Land Activities
At Ka'anapali Beach visitors can rent a cabana and be served drinks while lounging in the shade. Nearby at the Ka'anapali Beach Hotel, guests can participate in the Po'okela Program. This is a program to learn hula, play the ukulele and make grass skirts and lei. The historic whaling town of Lahaina is also nearby. The town offers a combination of festivities, historical highlights, popular luaus and lei ceremonies. They will give you a sense of Hawaii's past as well as its contemporary lifestyle.
Need Help with Your Hawaii Honeymoon?
Want to be pampered? If so, we recommend our itineraries designed to make your honeymoon as stress-free as possible. After the intense months of planning a wedding, you deserve to relax and let someone else do the work. Panda Travel ® is proud to offer all-inclusive travel packages, where we package airfare, car rentals, hotel deals as well as activities for you under a single price. Such prices are typically lower than purchasing all of these travel components separately.
We can also add numerous activities to your package. Examples include private dining, spa visits, massages, golfing and snorkeling trips. Many of our specials also include bonus options like multiple nights as well as perks like complimentary chocolates and champagne. This is your time to enjoy the finer things in life. So let us prepare all the particulars for you in advance.
Don't forget to refer to our Hawaii Travel Tips page for everything you need from useful Hawaiian phrases, to marriage license information, to island descriptions and packing reminders. Additionally, our agents at Panda Travel ® can give you first-hand testimonies of destinations and activities you are considering. They will help you determine which island or package options would be the best suited for you. We want your trip to be as seamless as possible. So contact our toll-free number (800) 303-6702 for assistance on planning a Hawaiian honeymoon of a lifetime
Awards & Affiliations