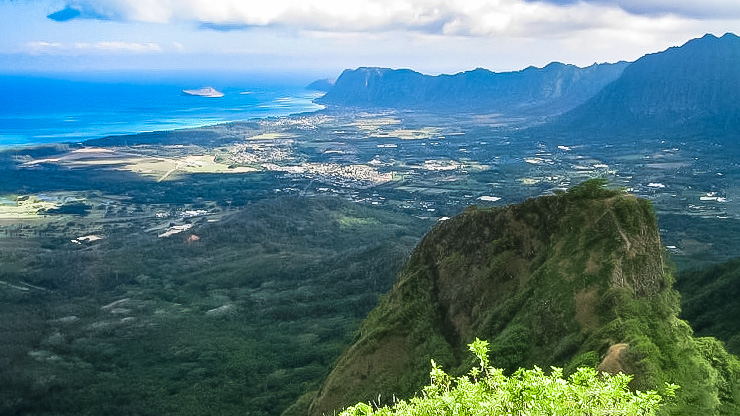 Hawaii offers some of the most beautiful hiking trails anywhere in the world; but the beauty of the Hawaiian landscape is accompanied by realities of nature which require preparedness so that the nature hike can be enjoyable and safe.  The natural beauty of the islands can become a distraction when you are off on a hike and experience majestic scenery and awe inspiring solitude. To be prepared, here are some Hawaii hiking tips that you should follow.
Trail Options and Weather Conditions
The Hawaiian Islands have a variety of great and picturesque trails ranging from easy to extremely difficult and that go over a wide range of terrain.  You can find out which ones you'd like to take by checking out the State of Hawaii Department of Land and Natural Resources (DLNR) website to get information on most trails. This is a great place to start when preparing for your hike.
Avoid bad weather conditions by keeping a close eye on weather forecasts before (and during) your hike. Don't hike when the weather is heavily foggy or raining—trails become muddy and slippery and visibility is greatly reduced.  Typically, the prospect of rain would be your foremost weather concern. If you hike at higher altitudes, like on Haleakala or other higher volcanic peaks, you might have to dress for significantly colder and sometimes freezing weather.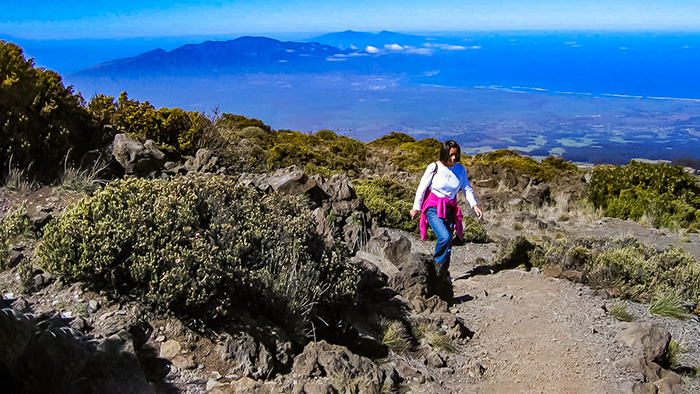 Don't Hike Alone and Diligently Prepare for Hikes
It is enticing to take a solo hike and enjoy the incredible solitude that Hawaii can provide, but hiking alone can pose some problems. Even if you are an experienced hiker, going on a hike by yourself in an unfamiliar environment can challenging and more likely to results in accidents.
Having a companion for your hike can provide the security of having someone to help you in case you get in some type of trouble. If you are traveling by yourself, there are hiking groups and clubs that will allow you to tag along while you are in Hawaii.
Often times, there are trails that can be found at many popular attractions and tourists, who are not prepared, not wearing the proper foot attire, lacking water, sun screen and hiking supplies, can be lured to take to the trails on an impromptu basis.  As they continue on the trail, they find themselves going further and further, not realizing how far they've gone.  Sometimes, this creates minor issues such as sunburns and minor foot injuries; but at other times it can lead to major ones, such as heat exhaustion, dehydration and even getting lost. So avoid getting deep into the trails without being fully prepared.
Let Someone Know of Your Hiking Destination
Let someone know where you will be hiking and when you expect to be back. If you have travel companions then it is simple, but if you are traveling alone don't hesitate to let the front desk staff or concierge desk of the hotel in which you are staying about your plans.
If possible, and when safe, update your social media stream with your progress, when your hike hits a snag and when it is complete. This will make your hiking party easier to find if something does go wrong.
Stay on Designated Trails
Some of the most breathtaking hikes are on unsanctioned trails, so desire to embark on these hike can have a great pull for the adventurous; however, it is important to take this advice to heart if you are looking to avoid any potential problems. You can find list of state sanctioned hiking trails listed on the Na Ala Hele Trail & Access Program website.
Use Common Sense and Don't Try to Impress
You can avoid a lot of problems by using common sense to side-step potential pitfalls or risky jaunts. You can avoid accidents by making sure you don't take any unnecessary risks, and pay attention to where you are going.  Another thing that gets some people in trouble is one-upmanship or showboat to try and impress a hiking companion.
Avoid getting close to the edges on steep mountain trails or those that pass along high rocky sea cliffs.  Many visiting hikers have been injured or have died this way in Hawaii. Also, stay far away from crashing waves on rocky sea coast trails and keep your distance from blow holes, which are water spouts caused by strong waves being forced through cracks or lava tubes along jagged rocky sea coasts. Many are not aware of how strong Hawaii's waves can be.  A disturbingly high number of tourists have been washed out to sea this way with no way of safely returning to shore. Many accidents can be avoided by just realizing your limits and by simply exercising common sense; so keep that in mind while you enjoy the scenic hiking trails of Hawaii.