Interested in taking a Hawaii family vacation? If so, Panda Travel ® specializes in offering them. This includes vacation options that are affordable, and more importantly, enjoyable. Our all-inclusive Hawaii family vacation packages can be dynamically generated. We can can combine them with air, hotel, car and a wide range of activities and tours. And we also make them simple to understand and easy to afford.
* All offers, with or without designation by asterisk, are subject to availability, restrictions and change without notice. Click on links for more details.

We offer flights on all the major airlines. But we also offer one of the largest selections of Hawaii hotels. This can include Hilton, Marriott, Hyatt, Starwood and local chains such as Aqua, Ohana, Aston and Outrigger. Panda ® also provides the flexibility and convenience of adding activities and tours to our Hawaii family vacation packages. We can add the Polynesian Cultural Center, the Arizona Memorial, the Atlantis submarine ride and more. Also, we combined them with car rental options from companies such as Hertz, Alamo and Dollar. In short, Panda Travel ® can offer some of the most competitive options for your Hawaii family vacation. This can include itineraries from the budget minded family traveler to those seeking the utmost in luxury.

Activities on Hawaii Family Vacation Packages

Hiking
Hawaii is known for its beaches and blue waters. However, for the adventurous, it also offers some of the most magnificent hiking opportunities anywhere in the world. Hiking opportunities range from short scenic hikes, historic sites to challenging treks through mountains and lava fields.
A popular starting point for hikes is the Hawaii Volcanoes National Park. It offers a vast network of trails spanning thousands of miles. They can take hikers through lava tubes, volcanic fields, coastal trails and fishponds. Also, it can take you to other destinations outside the park. This includes places like the Pololu Valley Lookout in North Kohala and the lush Waipio Valley along the Hamakua Coast.
There is a variety of guided hiking tours available here. But visitors can also plan their own hikes. Whether self-guided or part of a tour, hikes can be a great way to spend quality time with the family.
Dole Plantation Maze
When people think about a maze, Hawaii isn't the first place that often comes to mind. However, you'll be surprised to know Oahu has world's largest maze. The Dole Plantation's Pineapple Garden Maze covers 137,194 square feet or more than two acres. The maze features Hawaiian plants such as hibiscus, heliconia, croton, panax and, of course, pineapple.
While on Oahu, make sure to include the Dole Cannery Maze on your Hawaii family vacation. Here, you can try to beat the record of getting through the world's largest maze.
Snorkeling
There is no arguing that Hawaii has some of the most breathtaking scenery in the world. But that is only part of Hawaii's beauty. To see its full breadth of awe-inspiring sights, you should look below the water. You can stand on the beautiful sandy beaches of Hawaii, then gaze past the surface of the ocean waves. But why not take the plunge and go snorkeling?
Snorkeling is one of the most sought-after activities for visitors to do on Hawaii family vacations. The islands offers a wide range of options for those who want to explore below the surface. One of the most popular snorkeling destinations in Hawaii is the Hanauma Bay Nature Preserve. Sheltered from strong currents and waves, Hanauma Bay, on Oahu's southeast coast, offers the ideal snorkeling spot. The bay attracts about 3,000 visitors on a daily basis. So if you are looking for a secluded experience, this may not be the best option. For those who want to avoid the crowds, Makena Beach on Maui could be a better option. It offers a more secluded experience. And it has an amazing underwater ecosystem with an unusual mixture of coral and lava.
Submarine Tours and Back Country Adventures
So you are not a big fan of strapping on snorkeling gear and getting wet. But you still would like to experience Hawaii's wonders below the ocean surface. Well, you are in luck. Atlantis Adventures offers submarine tours at three separate locations in Waikiki, Maui and Kona. One of their submarines can take you and your family on an underwater adventure. Here, you'll experience the beauty of the reefs. Then, you can marvel at the large variety of sea life that calls them home.
Hawaii visitors can also take in the majestic beauty of Hawaii through an exciting way. Kauai Backcountry Adventures allows you to experience Hawaii by zip line or by river tubing. Here, there are many options for gliding through the tree canopies. Or you can experience the rush of tubing through Kauai's rivers and streams.
Luaus
Experiencing local food is on many adventurous traveler's to-do list. Attending a luau is a must for those who are visiting Hawaii for the first time. Luaus generally come with entertainment and expose you to Hawaiian and Polynesian cultures.
Here are some of the Hawaiian foods you can enjoy at a luau. For sure you'll find kalua pig. The time honored way of preparing kalua is to roast it in an underground pit. Often you'll also eat laulau, which is pork or chicken steamed in taro leaves. And last but not least, you will get to try poi. Poi is basically a fermented mash of taro. A luau will usually include hula dancers and fire dancers.
Zoos and Aquariums
Hawaii has a variety of options when it comes to enjoying wildlife. You can find them in their natural habitats as well as in zoos and aquariums. You'll be able to enjoy the flora and fauna in their natural setting on hikes and tours. But if you would like more convenient settings, then a zoo or aquarium could be the perfect choice.
The Honolulu Zoo is a 42-acre facility located next to Kapiolani Park. The zoo features over 1,200 animals housed in specially designed and created habitats. The zoo is a very popular destination, receiving over 600,000 visitors annually. Additionally, the zoo offers a variety of gardens and educational programs which are great for children.
Many love the Pana'ewa Rainforest Zoo in Hilo for its intimate atmosphere. The 12-acre zoo is the only zoo in the United States located in a rainforest. The admission is free. So it can be a bit easier on the pocketbook, especially for those seeking less expensive options on Hawaii family vacations. Plus, it is a fantastic choice for younger children who enjoy petting zoos.
Maui Ocean Center, the Waikiki Aquarium and Sea Life Park are excellent options for experiencing marine life. They bring Hawaiian sea life close-up to locals and visitors alike. The Maui Ocean Center first opened in 1998. It is a very popular family attraction on Maui. The Waikiki Aquarium has thrived for over 100 years. It is the third oldest aquarium in the United States. Last but not least, Sea Life Park offers animal shows and encounters with marine life. And it is another great option for families with young children.
Beaches
Hawaii's beaches are so beautiful we couldn't resist including them in this list. Hawaii offers some of the world's most desirable beaches. This includes ones that are full of crowds as well as ones that aren't. Some of the most famous Hawaiian beaches. There's Hanalei Bay in Kauai. You can try Lanikai and Kailua beaches in Oahu. Or you can sunbathe on Ka'anapli Beach on Maui. And then there's Hapuna Beach on the Big Island.
There are few better ways to relax and enjoy Hawaii's magnificent shorelines. The beaches are, of course, fantastic destinations for children. Here, they can enjoy the sun and take a fun-filled dip in the middle of the Pacific Ocean.
Botanical Gardens
Hawaii has great botanical gardens. There's the Hawaii Tropical Botanical Garden on the Big Island. And then there is the Na 'Aina Kai Botanical Gardens on Kauai. Both are two beautiful destinations. They offer a wide variety of local flora and fauna for visitors to enjoy and learn about. These botanical gardens are a great choice for families. This especially goes for those who want to spend time enjoying nature in a controlled environment. But it also applies for those who want to fully experience Hawaii's greenery.
Hawaii Volcanoes National Park
The Hawaii Volcanoes National Park is unlike any national park in the United States. It offer visitors a chance to walk on what was once flowing lava as well as to examine active flows up-close. The park is located on the southeastern edge of Hawaii's largest island. It stretches from sea level to the top of Mauna Loa at 13,677 feet high.
Whether you take a walking tour or enjoy scenery from a helicopter, these will certainly be breathtaking views. It is a great adventure for children and adults alike. This attraction is bound to be one of the best things to see on Hawaii family vacations.
Star Gazing at Mauna Kea
Hawaii is world-famous for some of the world's most powerful and important observatories. Hawaii's distance away from major ambient light sources and its high mountain peaks provide the perfect location. The Imiloa Astronomy Center of Hawaii has been operating since 2006. Its exhibit and planetarium complex occupy nine acres of the University of Hawaii's Science and Technology Park. The planetarium is one of the most popular attractions at the center. Plus, it offers an immersive 3-D experience of the cosmos for visitors.
The Mauna Kea star gazing program is a free nightly public event and takes place at 9,300 feet. Often visitors can gaze at the sky from above the clouds. Here, they can enjoy the pristine view that the high altitude, clean air and lack of competing light provide. But that's not all. There are several telescopes that allow visitors to get a closer look at the stars, planets and beyond. So if you find yourself on the Big Island, be sure to plan a trip to Mauna Kea.
Vacation Packages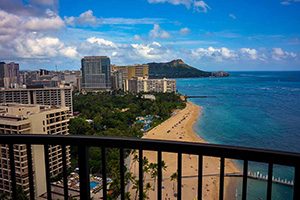 Hawaii Resort Vacations
Hawaii resort vacation packages, combining air and hotel, start at $943 per person, double occupancy.* There are no shortage of resorts in Hawaii. But finding the right one for your specific needs can be challenging and that's where Panda ® comes in. With decades of experience, Panda ® can help you select the right resort for your vacation.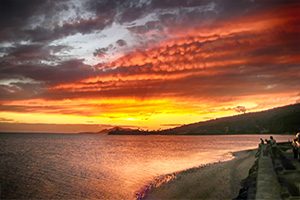 Luxury Hawaii Vacations
Our Hawaii luxury vacation packages range from $943 to $1,537 per person, double occupancy*. Hawaii is one of the most ideal vacation destinations in the world. As a result, there is certainly no shortage of luxury and opulence if that is the type of vacationing you prefer. Check out our Panda ® Online website to plan your dream vacation.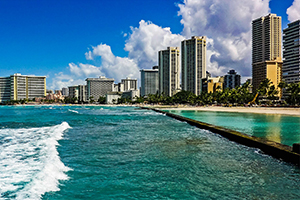 Hawaii Travel
Hawaii travel packages are some of the most convenient and affordable ways to travel to Hawaii. Typically, these packages include all of the most important components of a vacation. Such things include airfare, hotel accommodations and a car rental. In many cases, these Hawaii travel packages also include a variety of extras. A free night's stay, complimentary breakfast and a room upgrade are examples.
Awards & Affiliations