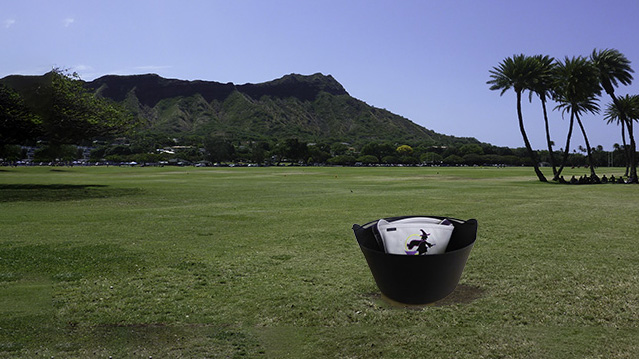 Halloween in Hawaii by Island
With as much fun as you can find here, it's no surprise you can enjoy Halloween in Hawaii. For families traveling to Hawaii during October, here are sample Halloween activities on each island.
Honolulu is the busiest city in Hawaii. So visitors can expect a plethora of spooky things to do with their family and friends. The Haunted Hayride features a mock Zombie War with paintball and costumes every Friday and Saturday in October. The Mission House Museum "Spookilau" is a unique experience. It investigates ghost appearances and paranormal activities in Hawaii. Music lovers can also enjoy Halloween at the Hallowballoo Music and Arts Festival. Taking place in the Honolulu Arts District, the cost varies by entrance areas or events attended. Another memorable event is the Haunted Night Walk at the University of Hawaii at Manoa.
There are many Halloween events outside Honolulu too. The Dole Pineapple plantation offers a haunted train ride at their Nightmares Live Haunted Attraction. Hawaii's Plantation Village becomes a haunted village and is open at night with a charge of $15 per person. Or you can visit haunted lagoon at the Polynesian Cultural Center with canoe adventure rides ranging from $15 to $25 per person. Finding pumpkins patches can be tricky in Hawaii, but the Aloun Farm in Kapolei is the perfect place to select one.
The historic whaling town of Lahaina is the place to be on Halloween. Over 25,000 are in attendance every year. There's a children's costume parade, costume competitions and plenty of candy. The Lahaina Halloween Celebration is one of the most popular events. So much so, some have even compared it to Mardi Gras in New Orleans. With Front Street blocked off, people can roam freely, stop off at bars and restaurants and mingle with others. For tourists to Hawaii, the evening's Halloween events in Lahaina will be a memorable occasion for all. Entrance to the Lahaina Halloween event is free of charge.
Gather at the Kohala Mountain Farm Pumpkin Patch every weekend in October to find the perfect pumpkin. There is the "House of Horrors" haunted house on the weekends in Puna. Dog-owners can explore the island on the Humane Society's "Howl-Ween Dog Walks" in Hilo and Kona. The Hope Christian Fellowship Event hosts a party where kids can play games and witness a volcano erupt with candy.
The Kukui Grove's Freaky Fridays and Saturdays offer fun Halloween adventures for families. Children can enjoy a carnival, watch live performances and race around a haunted house. At the Ghoulish Golf Halloween Celebration at Anaina Hou Community Park, you can golf at half price with a costume. For adults, there are costumed dance parties at places like Café Portofino, Trees Lounge and Rob's Good Times Grill.
Kauai visitors can also attend the Lihue Boo Ball where there are photo booths, dancing, and costume competitions. For families with young children, the Kauai's Christian Fellowship Koloa Corn Maze is a great option. Here, kids can explore the maze with flashlights. Another festive option is the Annual Fall Festival where families can wear costumes, eat candy, play games and ride ponies.
Awards & Affiliations