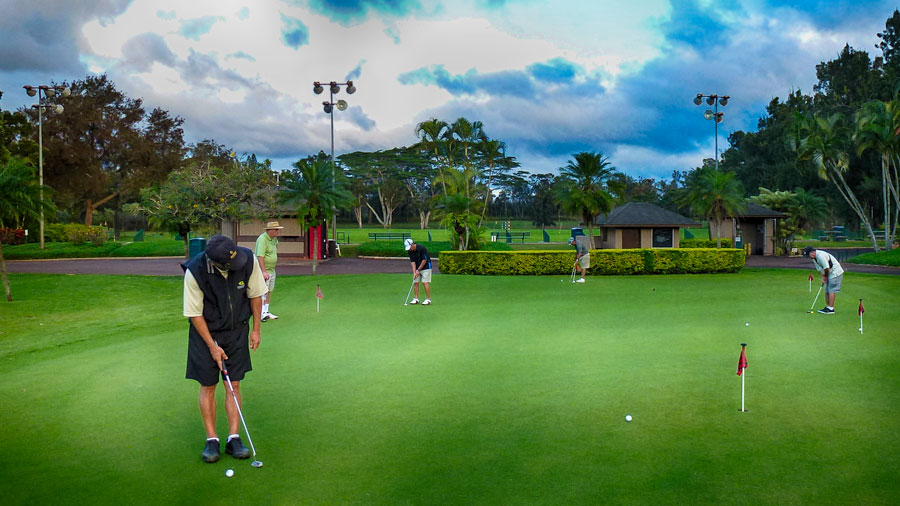 If you're eager to hit the links in beautiful Hawaii, you're in luck because Hawaiian Islands has some spectacularly beautiful courses that are open to the public, particularly on the neighbor islands of Maui, Kauai and the Big Island of Hawaii. Maui has the Kapalua Plantation Course, which is showcased as a PGA Tour stop every year in January.  The Big Island has Hualalai, which is home to an annual PGA Champions Tour stop. Kauai has the venerable Princeville golf complex which offers breathtaking cliff-side views of the Pacific ocean and the mountains. Other noteworthy course are Wailea and Ka'anapali on Maui; Waikaloa, Mauna Kea and Mauna Lani on the Big Island.
Of course, the island of Oahu has great courses too. Oahu has Ko'olina which now hosts a new LPGA tournament. Oahu also hosts the Sony Open, which is a PGA Tour stop each year. But the event is held at the Waialae Country Club, which is a private, members-only course. Other popular public courses on Oahu include: Kapolei, Makaha West and Turtle Bay.
However, be prepared to pay a premium for the privilege on playing on some of these challenging courses. Most will be in the $100 range unless you are a local resident. Locals typically enjoy a "kama'aina" rate, which is significantly less than what non-locals pay.
If you are in the Waikiki area, you can clearly see a municipal golf course facility across the Ala Wai Canal, appropriately called Ala Wai golf course, a local favorite.  We recommend that, if you're a tourist, that you think twice about playing here.  Not because it's expensive; but because it's too hard to get on to.  Ala Wai is reputed to be the busiest golf course in the world; so you time is probably better spend looking at playing at some of the other resort courses on Oahu.
So if you're eager to hit the links in the beautiful Aloha State, check out the many discounted Hawaii vacation packages that Panda Travel ® has to offer on it's website.  Fore!