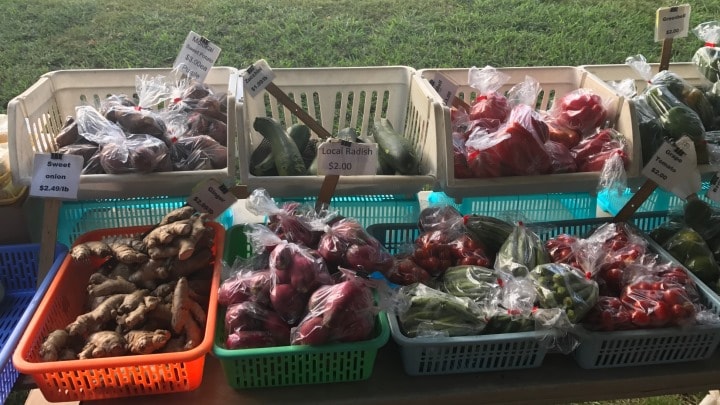 One of the most alluring aspects of Hawaii is the matchless landscape of the misty mountains and lush green valleys. Farmers from around the world have found both the nutrient soil and the perfect balance of rain and sunshine in the Hawaiian Islands to comprise ideal farming opportunities. Maui in particular has farms and plantations all over the island, growing a wide range of fresh produce like dragon fruit, pineapple, onions, lavender, coffee and grapes. As Maui's farmers regularly gather at open air markets to sell their produce, you can experience grassroots Hawaii by visiting some of these places on your next trip to the Valley Isle.
Upcountry Farmers Market: Arguably of the most beloved farmers' markets on the island, the Upcountry Farmers Market has been running every Saturday from 7 am to 11 am for the last 40 years. Over 50 vendors gather to sell their unique Hawaiian flowers, organic produce, fresh seafood, baked cookies, pastries and breads. Specialty butters, jams, honeys, juices, flavored coffees, candies, and chocolates can also be found in this crowd-pleasing market at the Kulamalu Town Center in Pukalani.

Makawao Farmers Market: Head to the town of Makawao at 9 am on Wednesdays for a truly organic food experience. One of the purposes of this market is to provide an outlet for local farmers that adhere to organic growing standards. Wander through the booths and taste exotic fruits, organic sweets and candies, fresh coconut juice, taro spreads and jams, all while you listen to musicians playing live music.

Napili Farmers Market: This is the perfect place for visitors in West Maui to enjoy a mid-week breakfast. Open on Wednesdays from 8 am to 11 am, a plethora of products from fruits to fresh and dried herbs are for sale. If you are more in the mood for a refreshing drink than a hearty meal, order Maui-grown coffee or grab a bunch of Maui-grown veggies and fruits and have them juiced on the spot.
Farmers Market of Maui in Honokowai: The Farmers Market of Maui in Honokowai has been rated as the best open-air exchange in West Maui. Visit Monday, Wednesday and Friday mornings to stock up on locally-grown lemons, bananas, onions, tomatoes, cucumbers and Maui Gold pineapples. There is also an abundance of baked goods, home-canned fruits, jellies, preserves, dried fruits and other vegetarian delights.
Maui Mall Farmers Market and Craft Fair: If you plan to sleep in on your vacation, but you still want to experience a farmers market on the island, then visit the Maui Mall Farmers Market and Craft Fair in Kahului. Open Tuesdays, Wednesdays and Thursdays from 7 am to 4 pm, there is plenty of time to stroll through the booths and collect Hawaiian-made candles, baskets, lotions, soaps and artworks. For culinary-inclined guests, many rare ingredients found in Asian recipes may be sourced here at this diverse market.
Other good Maui farmers market options for you to consider include: Lipoa Street Farmers Market in Kihei, Farmers Market of Maui in Kehei, Launiupoko Farmers Market in Lahaina, UHMC Farmers Market in Kahului, One Love Farmers Market in Paia and Kula Country Farmers Market. With all these remarkable farmers markets, perhaps you should consider packing some grocery bags on your next vacation to Maui.