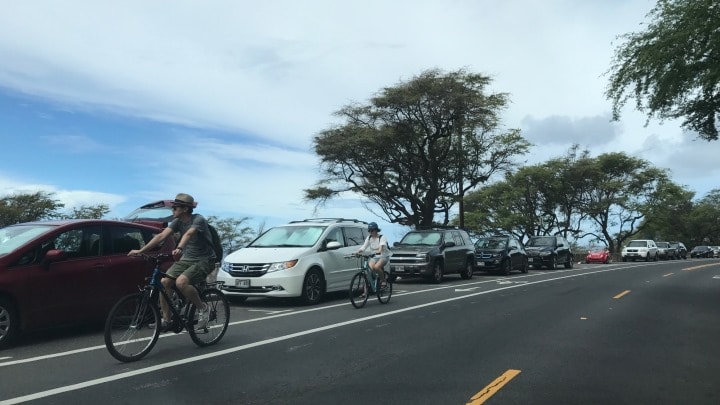 Biking in Hawaii is one of the great ways to explore the Aloha State. When touring with a bike, travelers can see more of the beauty that Hawaii has to offer than they can on foot. Doing so can help keep Hawaii pristine by not adding pollution, provide great mobility at a highly affordable price and help you burn all those extra calories from tasty Hawaiian cuisine, snacks and deserts.
An Overview of Biking in Hawaii
Travelers to Hawaii are not very likely to bring their own bicycles with them on vacation; but that is perfectly fine since there are plenty of bike rental companies which offer bikes of varying sizes and types. Renting a bike is relatively inexpensive, especially if you stick to renting a basic bike for getting around—prices can start from as low as $20 per day, with a significant drop in rental rates for subsequent days.  Most bike rentals include safety gear at no additional cost.
While biking in Hawaii poses some challenges, due to its many narrow and, often times, congested roads and streets, it could be a great way to see Hawaii, particularly when you are on its rural and less congested areas away from the crowds and traffic of larger towns, such as Honolulu.  As in all places, follow the rules of the road and avoid high traffic areas especially on crowded city streets, especially in the Honolulu metropolitan area.
Biking in Hawaii by Island
Bike riders are encouraged to seek the relative safety of venues offered on the less congested and probably more visually stunning areas, such as those found on the Neighbor Islands of Maui, Kauai and especially the Big Island of Hawaii. There are a variety of places you can visit on a bike including scenic routes that take you through the wonderfully lush Hawaiian landscape, like the Hawaii Volcanoes National Park on the Big Island. The Ke Ala Hele Makalae on Kauai is a safe and popular paved path that stretches for over seven miles on the eastern coast of the island. Maui offers escorted bike tours where you being at the top of 10,024 foot Haleakala dormant volcano and leisurely glide down its slopes through scenic Haleakala National Park.
The Big Island of Hawaii offer some exciting challenges for experienced and athletically able bike riders.  One well-regarded Internet biking websites says the 42 mile ride up to 13,796-foot Mauna Kea, the tallest mountain in the world when measured from its base at bottom of the ocean, is the most difficult bike ascent in the world. Another biking site claims the 45 mile ride up 13,678-foot Mauna Loa is the fourth most difficult bike climb in the US.
But even if you're on Oahu, you can take a leisurely ride on a dedicated bike path that runs past historic Pearl Harbor. This bike path starts near the USS Arizona Memorial and takes riders from Pearl Harbor through a variety of scenic and open road stretches.
For the truly adventurous and experienced, there are plenty of mountain biking paths, many of which can be found on the island of Oahu, to keep even the most experienced mountain biker busy for the duration of most vacations.  Some of the most popular ones include the:  Pupukea Trail in the Waimea area of the North Shore of Oahu, the Kealia Trail in the Mokuleia area southwest of the North Shore and the Kuli'ou'ou Trail in the Kuli'ou'ou area of eastern Honolulu.